Melina Daskalaki, President of the City of Athens Reception & Solidarity Centre, Source: K.Y.A.D.A
Melina Daskalaki: Our mission is to promote the social reintegration of homeless individuals
An interview with the President of the City of Athens Reception & Solidarity Centre
What can European cities do to help vulnerable citizens (such as homeless people) regain control of their lives? President of the City of Athens Reception & Solidarity Centre (K.Y.A.D.A.) Melina Daskalaki spoke to TheMayor.EU to reveal what the Greek capital is doing to support those facing homelessness and poverty.
Ms Daskalaki, as the President of the City of Athens Reception & Solidarity Centre (K.Y.A.D.A.), could you please share what the main functions of this body are?
The City of Athens Reception & Solidarity Centre (K.Y.A.D.A.) is a local authority organization providing help to people facing homelessness and poverty. It started its operation in November 2005 and until now it has a significant role in the social policy sector. Its mission is to address the problems of the vulnerable populations who are affected by poverty and experience exclusion and social isolation.
K.Y.A.D.A. provides a range of services, supporting approximately 26,000 vulnerable citizens per month. Briefly, it offers practical support to the city's vulnerable groups (provision of food, housing, clothing, and health services). More specifically, we run a Feeding Center which offers about 5,000 food packages per month, a Social Pharmacy, a Social Grocery, a Social Laundry, a Social Hair Salon, the Citizens' Mutual Aid Hub, the "Athenian Market" (free supply of clothes, shoes) and a Social Book and Stationery Store.
Two years ago, just after the outbreak of the pandemic, we created a 24/7 homeless shelter, the "Multipurpose Homeless Centre", which is located in the heart of Athens. It consists of a Dormitory, a Day Center and a Hostel and it provides a wide range of services for people in need. In order to cover more needs, we have also created a social doctor's office and a social dentist's office.
Social laundry (Source: K.Y.A.D.A)
What is the latest data on homelessness in the Greek capital? Has there been a decrease or increase in the number of homeless citizens?
Based on the data collected by our social services, the number of homeless citizens has decreased since 2020. Undoubtedly, fewer people are sleeping in the street due to the creation of the Multipurpose Homeless Centre which provides accommodation facilities. For the time being, 223 people are hosted in our homeless shelter and about 100 people are hosted in a new shelter named "My Athens", created for drug users.
At the same time, the needs are continuous, thus, the City of Athens via K.Y.A.D.A. decided to encourage street work teams in order to ensure that the homeless have access to all services. Our mission is to promote their social reintegration and their transition to an independent life.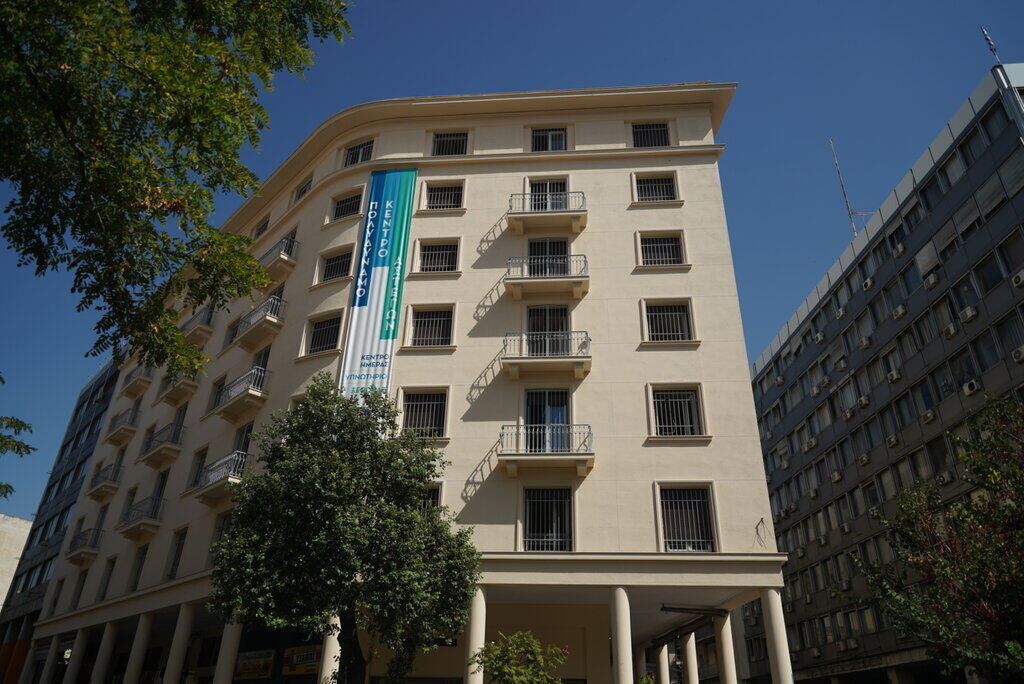 Multipurpose Homeless Centre (Source: K.Y.A.D.A)
How are K.Y.A.D.A. and the City of Athens working to eradicate homelessness and help vulnerable individuals reintegrate into society?
K.Y.A.D.A.'s social service and street work teams are our main tools against homelessness. Our teams, consisting of social workers, psychologists, and a psychiatrist, map the city's homeless, record their needs, build relationships of trust with them and promote the transition to our homeless shelter.
They operate in the city's streets, and they provide practical assistance to vulnerable people, such as food, clothing and blankets. In order to better support homeless people, they perform on-site interventions six times a day, both morning and night.
Our goal is to convince the homeless to visit our shelter, where they can find accommodation, food supply, psychological support and medical care. Moreover, we are working in partnership with the Ministry of Labor and Social Affairs, which is running a Housing program that is covering the rent for two years and the salary for one year for vulnerable fellow citizens. The overall purpose is the social reintegration of vulnerable citizens.
Russia's invasion of Ukraine has resulted in a large influx of refugees; is the capital prepared to welcome migrants and can they receive support from K.Y.A.D.A.?
After Russia's invasion, the Greek Government reacted rapidly and welcomed displaced persons from Ukraine. The Ministry of Migration and Asylum has created a digital platform where Ukraine citizens can apply for temporary protection, accommodation and education access for their children.
K.Y.A.D.A.'s Social Service supports Ukraine citizens mainly by connecting them with the government facilities.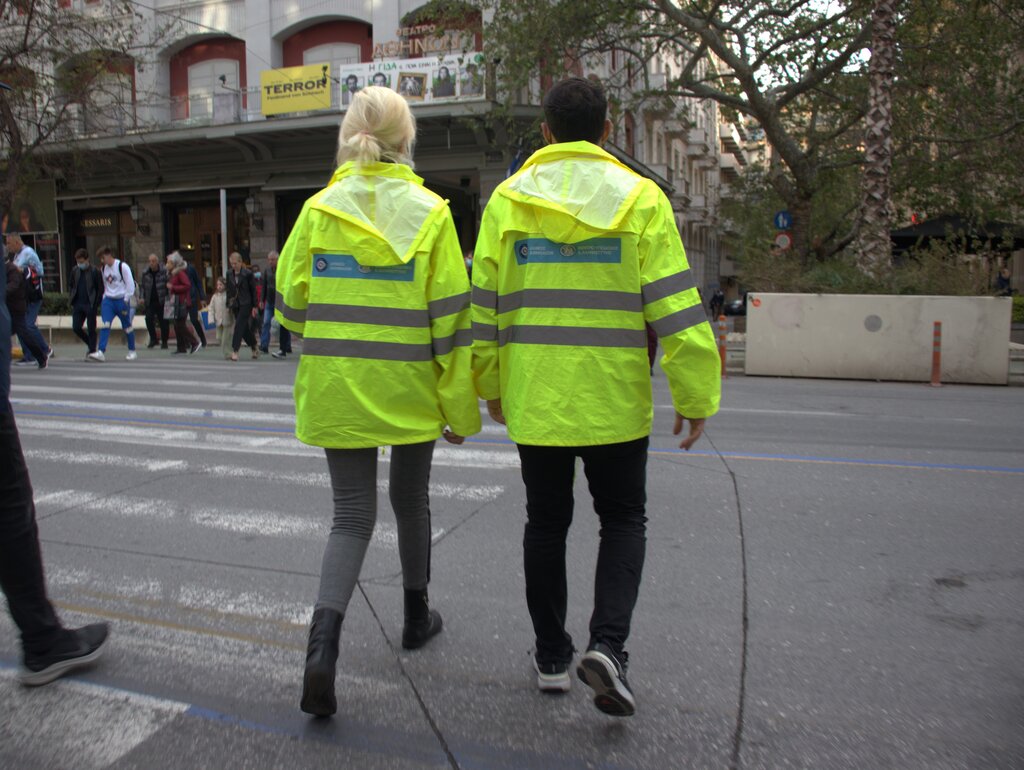 K.Y.A.D.A's team helping homeless individuals (Source: K.Y.A.D.A)
Finally, are there any upcoming projects or initiatives supporting vulnerable citizens that you would like to share with our readers?
At the moment, the biggest project of K.Y.A.D.A. is street work. We increased our team members in order to cover most of the homeless people's primary needs and to connect them with all the services of the Municipality.
Our aim is that no one feels alone in our city. As mentioned above, our teams are able to communicate with homeless people and create strong bonds with them. Their mission is to support them until they are ready for the next step in life. On top of that, the project will be supported by specific software, which will help team members to work effectively under one platform.
Netherlands / Amsterdam / Development / Public Spaces
It involves all the five senses, apparently
Germany / Mobility / Politics and Reforms
Germany's new approach has convinced hundreds of thousands of people to start using public transport for the first time
Bulgaria / Sofia / Mobility / Politics and Reforms
Drivers will be legally required to push their scooters manually in pedestrian areas and parks
Bulgaria / Greece / Athens / Sofia / Thessaloniki / Digital transformation / Mobility
Greece and Bulgaria are set to build one of the first 5G cross-border corridors in Europe
Finland / Digital transformation / Welfare and Health
The feline registry is expected to start operating in 2026
Luxembourg / Culture and Tourism / Innovation and Research
The team presented the final report about a year, which was supposed to put the Luxembourgish city on the cultural map of Europe
Netherlands / Amsterdam / Development / Public Spaces
It involves all the five senses, apparently
France / Lyon / Public Spaces / Social City
What you pay for having your car resting in the city will now depend on several different factors
Germany / Mobility / Politics and Reforms
Germany's new approach has convinced hundreds of thousands of people to start using public transport for the first time
France / Lyon / Public Spaces / Social City
What you pay for having your car resting in the city will now depend on several different factors
Denmark / Mobility / Social City
Fredensborg Municipality is inviting residents to take the bikes for a spin…lasting up to 3 months
Culture and Tourism / Mobility
After all, sleeping carriages are basically hotels on wheels
Estonia / Tallinn / Green City / New European Bauhaus
The practical art objects are competing for one of the 2023 New European Bauhaus Prizes
New European Bauhaus
Cast your vote before 24 May and do your part in promoting the NEB values
New European Bauhaus
The new itineraries are part of the DiscoverEU programme, which lets 18-year-olds travel by train between important European sites

Interviews / Read Twice
An interview with the president of the European Federation of Journalists

Interviews
A talk with the head of Mission Zero Academy on the benefits for municipalities if they go the zero waste way

Romania / Cluj-Napoca / Digital transformation / Interviews / Politics and Reforms
A talk with Nicolae Urs, one of the key figures behind the city's new data platforms and online services strategy