Bikes near the Piazza del Duomo, Milan
Milan to have possibly the largest urban cycling network in the world
From puzzle pieces to connectedness
Next month, it is expected that the first section of Milan's new cycling mobility plan – Cambio – will break ground. This will be the first to create 750 kilometres of cycling roads connecting and interlocking in a thoughtfully designed web – quite similar to a subway system.
The ultimate goal? Make Italy's economic capital a city that is a benchmark for sustainable micromobility and where at least 20% of the population would opt for that mode of transportation for their primary moving needs.
Expected to be complete by 2035
The Cambio plan itself was adopted on 29 November last year by the Metropolitan Council of Milan, but currently, there are still ongoing presentations in district municipalities. The budget planned for the large network will amount to 250 million euros and the expected horizon of completion is the year 2035.
The layout resembles an intricate spider web that will connect the city core to its suburbs and from there extend to the surrounding municipalities. It will feature 4 ring roads, 16 radiating lines and 4 greenways.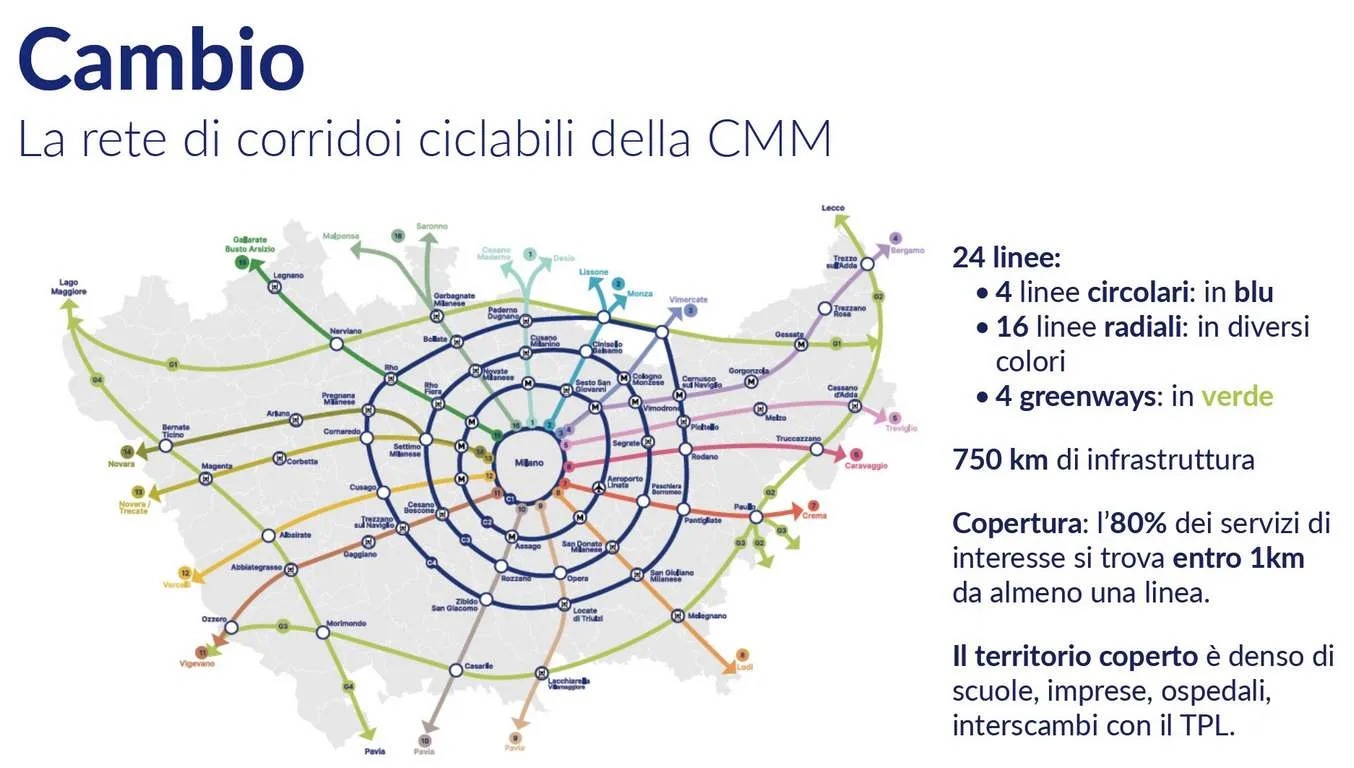 A map of the Cambio network superimposed over the Milan metropolis. Source: Milan Municipality
The idea is that 80% of essential urban services relevant to Milanese residents will be located no further than 1 kilometre from any given line on the network.
"Over the next few years, we will invest around 250 million euros to create a capillary network of cycle paths that will integrate with other existing modes of travel. The aim is to bridge the gap we have with respect to the most virtuous European metropolitan areas. This will lead to fewer emissions and traffic, but also more road safety since cyclists and motorists will not have to share the same roadway," explained the delegate councillor for mobility of the Metropolitan City, Beatrice Uguccioni.
The high-speed cycle paths of the Cambio network will be equipped with optical fibre to offer citizens smart solutions through the use of some of the most innovative applications that this infrastructure allows, from low-impact lighting system (at night it will light up when cyclists pass nearby and recharge during the day) to information provided in real-time (thanks to displays placed along the routes).