Bruges, Belgium, an emblem of medieval European architecture
More than half of EU citizens think governments will fail reaching 2050 climate goals
A recent study by the European Investment Bank offers a deep dive into the attitudes of citizens towards the slow transition to sustainability
Recently, the European Investment Bank released the results of a survey it conducted among EU member states, as well as China and the US. The survey is about climate change and it explores attitudes towards government action, transition fuel and support for more regulation, as well as some additional consumer measures.
The big takeaway from the survey is that a majority of Europeans think that climate change is the biggest challenge for humanity in the 21st century and that their particular country will fail to meet the goals set out by the Paris Agreement.
Furthermore, an amazing 75% of EU citizens believe that they are more concerned about climate change than their governments. 51% also say that government inactivity is the reason why the crisis is so hard to solve.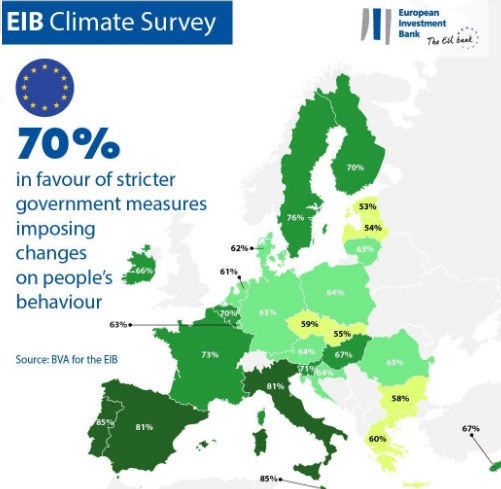 A map showing population in favour of stricter government measures
to fight climate change,
Source: the European Investment Bank
It is no surprise then, that 70% think that stricter government measures regulating people's behaviour to fight climate change are a good idea.
Failing to meet 2050 climate goals
Around 58% of EU citizens feel that their country will fail to meet the Paris Agreement's climate goals for 2050. The top three most sceptical citizens by country are:
Slovenia (68%);

Croatia (67%);

Austria (67%).
The most optimistic citizens, on the other hand, are in Denmark (47%); Finland (49%); Hungary (49%) and Malta (49%).
An overwhelming majority (75%) of Europeans think that they care more about the climate crisis than their governments. This could partially be attributed to the relatively slow transition to green energy and sustainable means of transportation, coupled with lacklustre laws on plastic consumption.
The sentiment is echoed by the fact that many (91%) believe that electric or electronic appliances should have a minimum 5-year warranty and 69% are in favour of adopting climate taxes on goods and services that contribute the most to the problem.
The energy transition
Most Europeans (63%) are in favour of a consolidated push to increase renewable energy as a way to tackle climate change. However, not everyone supports natural gas as a transitional energy source. This sentiment largely echoes the criticism that a build-up of natural gas capacities would lead to a slower, more expensive transition, while Europe swaps coal addiction with gas addiction.
According to the survey, only 6% of citizens in the EU support a switch to gas, which is radically different from what is on most policymakers' agendas these days. At the same time, a small 12% of people believe that nuclear is a viable transitional energy source. Furthermore, only 17% think that energy savings should be the goal of the energy transition.
The Vice-President of the European Investment Bank, Ambroise Fayolle, was quoted in a press release, saying: "Despite some generational and sociodemographic divides, a strong majority of people in all countries polled want stricter measures and tools, such as cleaner energy sources, to help them fight climate change. In the run-up to COP 26, this strengthens our determination to increase our efforts and accelerate the ecological transition."