The communication cards, Source: City of Pilsen
Pilsen invests in communication cards to help paramedics treat foreigners
They contain information in 5 languages (English, German, Russian, Vietnamese, Mongolian)
On 25 April, the Czech City of Pilsen announced that it has purchased and provided anamnestic health and language communication cards to the Medical Rescue Service of the Pilsen Region (ZZS PK). With these cards, paramedics will be able to treat people who do not speak Czech and those who are not able to talk as a result of their medical conditions.
Promoting integration
The municipality first invested in this communication tool in 2011 when it provided paramedics with these cards with the goal of promoting the integration of foreigners. Now, ZZS PK has asked for more cards to be printed as the war in Ukraine has resulted in a large influx of refugees. As such, all the vehicles of the Medical Rescue Service will now be equipped with these communication cards.
"Medical and language communication cards are translated into five language versions – English, German, Russian, Vietnamese, and Mongolian. Currently, the City of Pilsen has provided 80 sets of cards for the Medical Rescue Service of the Pilsen Region at its own expense," explained Deputy Mayor Eliška Bartáková.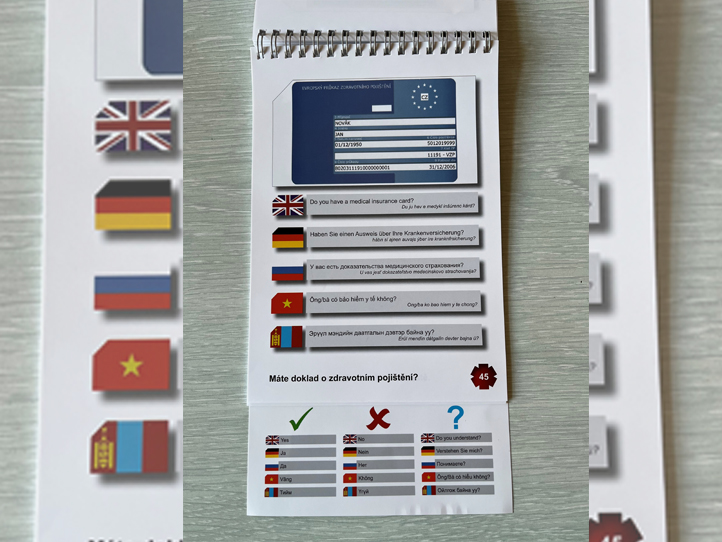 An example of a question in the communication card (Source: City of Pilsen)
The cards contain basic questions (in the aforementioned 5 languages) that allow paramedics to find out all the information that is necessary for a pre-hospital emergency. Some of these questions include, "Do you have a medical insurance card?", "Do you remember what happened?", and "Are you in pain?".
"It is difficult to find a single communication tool for similar situations because the language skills and abilities of health professionals and patients are very different and in stressful situations, it is sometimes very difficult to find the right terms in the native language. These cards can serve as a crutch in communication," shared the head of PK ZZS, Jana Vidunová.
Netherlands / Amsterdam / Development / Public Spaces
It involves all the five senses, apparently
Germany / Mobility / Politics and Reforms
Germany's new approach has convinced hundreds of thousands of people to start using public transport for the first time
Bulgaria / Sofia / Mobility / Politics and Reforms
Drivers will be legally required to push their scooters manually in pedestrian areas and parks
Bulgaria / Greece / Athens / Sofia / Thessaloniki / Digital transformation / Mobility
Greece and Bulgaria are set to build one of the first 5G cross-border corridors in Europe
Finland / Digital transformation / Welfare and Health
The feline registry is expected to start operating in 2026
Luxembourg / Culture and Tourism / Innovation and Research
The team presented the final report about a year, which was supposed to put the Luxembourgish city on the cultural map of Europe
Netherlands / Amsterdam / Development / Public Spaces
It involves all the five senses, apparently
France / Lyon / Public Spaces / Social City
What you pay for having your car resting in the city will now depend on several different factors
Germany / Mobility / Politics and Reforms
Germany's new approach has convinced hundreds of thousands of people to start using public transport for the first time
France / Lyon / Public Spaces / Social City
What you pay for having your car resting in the city will now depend on several different factors
Denmark / Mobility / Social City
Fredensborg Municipality is inviting residents to take the bikes for a spin…lasting up to 3 months
Culture and Tourism / Mobility
After all, sleeping carriages are basically hotels on wheels
Estonia / Tallinn / Green City / New European Bauhaus
The practical art objects are competing for one of the 2023 New European Bauhaus Prizes
New European Bauhaus
Cast your vote before 24 May and do your part in promoting the NEB values
New European Bauhaus
The new itineraries are part of the DiscoverEU programme, which lets 18-year-olds travel by train between important European sites

Interviews / Read Twice
An interview with the president of the European Federation of Journalists

Interviews
A talk with the head of Mission Zero Academy on the benefits for municipalities if they go the zero waste way

Romania / Cluj-Napoca / Digital transformation / Interviews / Politics and Reforms
A talk with Nicolae Urs, one of the key figures behind the city's new data platforms and online services strategy