The eco mural in Bydgoszcz does the work of 374 trees, Source: Bydgoszcz City
Polish cities are fighting smog with art
Bydgoszcz just became the latest city to acquire a mural painting that purifies the air
For most European countries, the arrival of winter is associated with beautiful snowy landscapes, mountain tops dressed in white garments and the sparkling lights of Christmas markets. Poland's Warsaw, Krakow or Gdansk are typical examples of this picture.
But while Polish cities offer some of the most beautiful winters on the old continent, they are often associated with a much less pleasant phenomenon – air pollution.
Over the years, TheMayor.EU has been reporting on the various ways cities are tackling smog, ranging from ban on burning coal and wood, to renewing the public rolling stock with electric vehicles. Lately, there have been more creative solutions, that can be particularly attractive.
A dozen of Polish cities now have the so-called eco murals: large façades or walls of buildings, covered in air-purifying paint. Last week, Bydgoszcz became the latest city to get one of these.
Bydgoszcz gets its very own eco mural
Last week Bydgoszcz reported of the completion of an eco mural on the façade of a high-rise building on Nowowiejski street. The mural was created with the use of ecological paints which have a positive impact on the environment - purifying the air from harmful gaseous pollutants (based on photocatalytic mineral paints).
According to the city website, one square meter of anti-smog paint absorbs 0.44 g of nitric oxide, which is a very poisonous substance, emitted by cars, factories and power stations. The same amount is absorbed by one tree per day. The wall area is 374 square metres, which to air quality is equivalent to planting 374 trees, and in an urbanised area where this is hardly possible.
The author of the project is Michał Sztybel from Krakow, to whom the city offered a prize of 5,000 zloty (around 1000 euros). The title is "The Source" because the water source depicted in the painting supplies vital energy to animals, plants and people.
However, the author believes that water, as a natural resource, is not very appreciated despite the era of a climate catastrophe. Thus, he wanted to draw attention to this important aspect of raising ecological awareness for the well-being of the next generation.
Eco murals are trendy in Poland
The eco murals have gained momentum in Poland, as one of the countries struggling the most with air pollution. For instance, one year ago, Bielsko-Biała painted an air-purifying mural to tackle the issue, while Katowice and Zabrze followed suit in 2021 (discover them in the Gallery above).
Warsaw got a similar piece of artwork as part of a collaboration project with Converse City Forests in September 2020, in a global effort involving over 25 cities worldwide: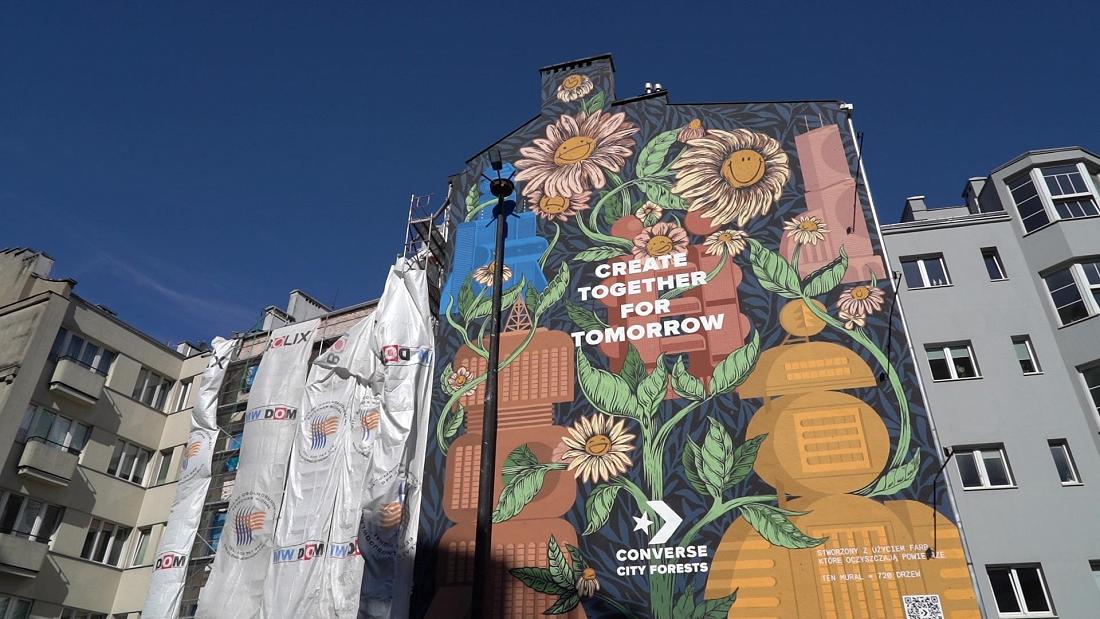 The eco mural in Warsaw is the product of Polish artists Dawid Ryski and Maciek Polak and can be found opposite the Politechnika metro station. Image: Converse City Forests
Luckily, Polish cities are not alone in approaching the issue so creatively. Eco murals exist in many locations within and beyond Europe, and are growing in popularity. Whether or not they are the key to tackling air pollution in dense urban environments, is yet to be seen.
What about your city? Let us know how your mayor is tackling air pollution at office@themayor.eu