Construction work will finish this summer, Source: Salling Group
Rooftop city park to open in Aarhus this summer
It will cover an area of 1,400 square metres and offer panoramic views of the area
Yesterday, Denmark's largest retail company Salling Group announced that it will unveil a new green space in Aarhus on 17 June. Titled "Salling Roofgarden", the green oasis will be located on a rooftop in the city and offer panoramic views of the area. What is more, it will cover 1,400 square metres and serve as a city park where residents and tourists can seek comfort in nature.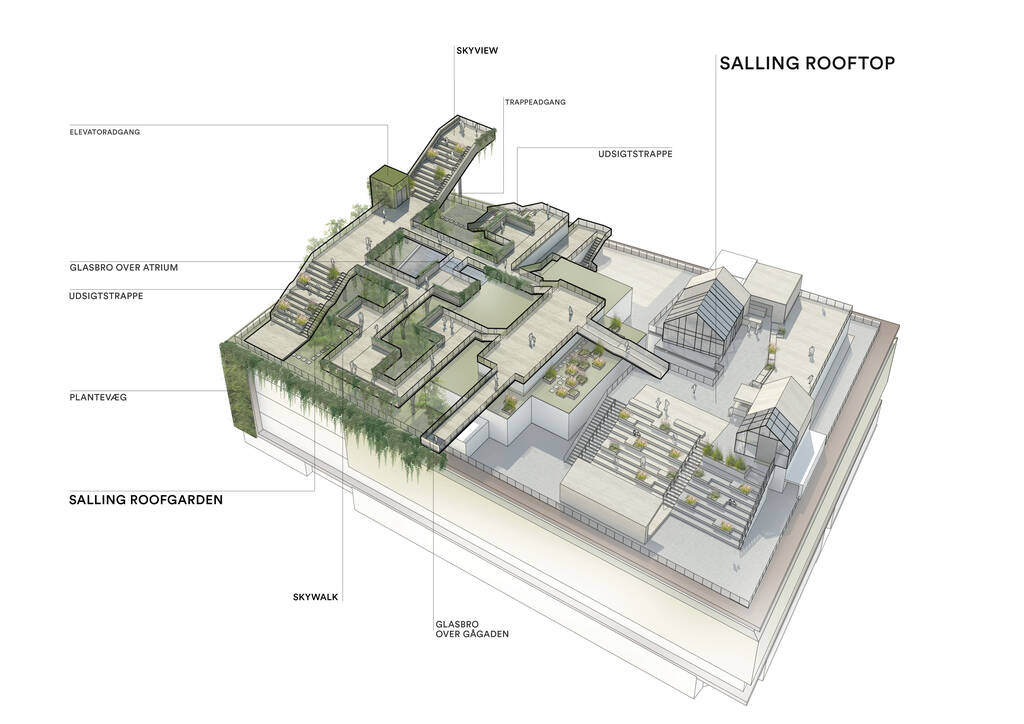 Salling Roofgarden plans (Source: Salling Group)
Rethinking urban spaces
Ever since the outbreak of the pandemic and the subsequent introduction of lockdowns, people have begun to place more and more emphasis on being outdoors. In turn, many turned their backs on big cities and sought peace in nature. Rethinking urban spaces, "Salling Roofgarden" will soon make it possible for people to find the comfort they seek right in the city.
Discussing the past several years, the Director of Salling Marianne Bedsted explained that the pandemic deprived us of being close to our friends and families. In addition to this, it showed us the importance of pausing and reflecting during stressful times.
Sharing that the company's new development will allow people to come together and breathe in the fresh air, Bedsted said: "When we open Salling Roofgarden in June, it is with the hope that we can make room for both."
Attracting tourists
It is important to stress that, unlike Aarhus, metropolises worldwide are struggling to preserve the few green areas they have. It follows then that the rooftop garden will also positively impact the tourism sector as the Tourist Board of Aarhus believes a green space in an urbanised area will undoubtedly attract attention.
"With the establishment of Salling Roofgarden, Aarhus adds another significant and important attraction. A spectacular, green oasis like this in the urban space will receive international attention and recognition," shared Pia Lange Christensen, Director of VisitAarhus.
Ireland / Growing City
Despite the good news, preliminary data from the national census reveals a dire shortage in the housing market that will not go away anytime soon
France / Development / Public Spaces
The innovative project received funding from the participatory budget in Lille, France
Denmark / Copenhagen / Development / Social City
This was decided after an unprecedented agreement between the national and city governments
Croatia / Digital transformation
The town of Makarska has recently launched a new mobile service, aiming to cut down on paper use and stimulate citizens to go contactless
Finland / Vantaa / Green City / Innovation and Research
The invention promises to be revolutionary as it can decouple food production from agriculture and its environmental impacts
Spain / Innovation and Research / Mobility
Commercial unmanned aerial vehicles will far outnumber their crewed counterparts by the end of the decade and solutions are urgently needed
Finland / Vantaa / Green City / Innovation and Research
The invention promises to be revolutionary as it can decouple food production from agriculture and its environmental impacts
Finland / Energy efficiency
The country wants to become a leader in hydrogen production and export
Italy / Milan / Green City
The arid weather phenomenon is affecting the agricultural sector in Northern Italy to almost unprecedented levels
Lithuania / Vilnius / Culture and Tourism / Public Spaces
The splendid initiative that turns advertising spaces into art canvases is back for its third edition
Finland / Helsinki / Green City / Welfare and Health
Dust particle concentrations can still present a tough challenge to beat, though
Germany / Munich / Culture and Tourism / Mobility
The cancellation hits in the middle of the travel season and is caused by serious labour shortages coupled with a sudden rise of Covid cases
New European Bauhaus
These will be spread across 11 EU countries and will serve to support the EU Missions
New European Bauhaus
The European Commission has accepted to develop the idea
Portugal / Matosinhos / Interviews / New European Bauhaus
An interview about AYR, one of the 2021 New European Bauhaus Prize winners

Portugal / Matosinhos / Interviews
A conversation with the Mayor of Matosinhos, Portugal's first UN Resilience Hub

Interviews
An interview with Nigel Jollands and Sue Goeransson from the European Bank for Reconstruction and Development

Greece / Athens / Interviews / Welfare and Health
An interview with the President of the City of Athens Reception & Solidarity Centre