A seatrac ramp on the island of Skiathos, Source: Mayor Thodoris Tzoumas on Facebook
Skiathos makes the sea accessible to all
Four special ramps ensure that people with limited mobility can independently enter the sea
Going on a holiday to the seaside is often perceived as everyone's ideal summer vacation. The sun, sea, and sand provide tourists with the perfect setting for relaxation. However, while this may be true for many, it is not the case for those with limited mobility.
For people with disabilities, going to the seaside can be rather challenging and stress-inducing. Often, this is due to the fact that many beaches lack the infrastructure necessary for users of wheelchairs or other transport devices. Acknowledging the difficulties faced by people with disabilities, the Greek Municipality of Skiathos has now installed special ramps to make the sea accessible to all.
The ramps encourage independence and ensure equal opportunities
4 Seatrac ramps can now be found on the beaches of Koukounaries, Agia Paraskevi, Agia Eleni and Megali Ammos. In a press release, the municipality reported that the first ramp cost 45,000 euros and was funded by the region of Thessaly in 2013. At the time, the need for such infrastructure was recognised by Regional Governor Konstantinos Agorastos.
Thus, the first ramp was installed on the beach of Agia Eleni. At the end of the summer season, it was uninstalled and moved to a warehouse on the island of Skiathos. There, the municipality conducted repairs worth 7,500 euros before installing it on the beach of Koukounaries in 2020.
This year, three more Seatrac ramps have been installed to facilitate access to the sea. It is important to highlight that this equipment will allow people to enter the sea by themselves. Therefore, it will encourage independence as users will not need to rely on the support of others.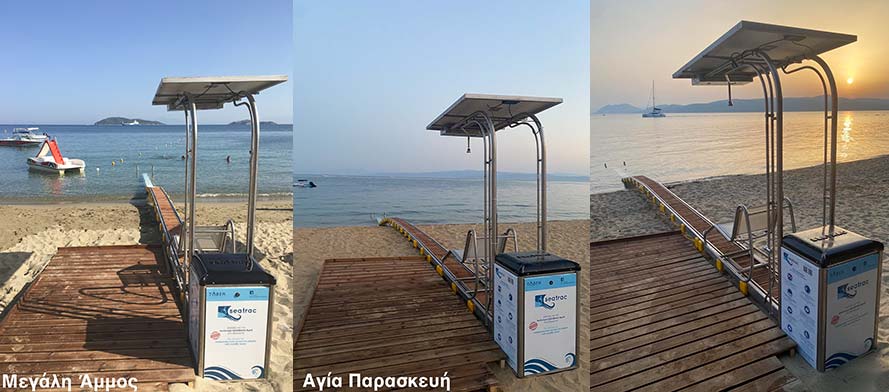 The Seatrac ramps on the island of Skiathos (Source: Skiathos Municipality)
Commenting on the need for such infrastructure, the Mayor of Skiathos Thodoris Tzoumas shared: "With this action, as well as others that will follow in this direction, we aim to help our fellow citizens and visitors with disabilities to enjoy our beautiful coasts independently, without the help of a companion.
We aim to improve the tourism product, build infrastructure, and offer services based on international accessibility standards for people with disabilities. With over 1 billion people with disabilities, ensuring equal access, apart from human rights, is the responsibility of every place. We are very happy that through this cooperation, we contribute to the creation of a different culture around tourism."