The Automobile club will offer roadside assistance to bicycles , Source: ADAC on Facebook
The German Automobile Club – offering help to cyclists in roadside accidents
The project debuted in Berlin and Brandenburg on 12 July
The General German Automobile Club (Allgemeiner Deutscher Automobil-Club - ADAC) is testing roadside assistance for bicycles in Berlin and Brandenburg. The company launched the pilot project on Monday (12 July 2021) and it will run until the end of October 2021.
The whole of Berlin and Brandenburg will be the testing ground for the new and free service as the company needs to acquire sample data and experiences with different types of the operational procedure coming from both rural and urban environments.
The ADAC plans to expand to the whole of Germany in the near future, with club member cyclists able to get assistance from a trained professional who will assist with everything from chain problems to recovery after an accident.
Many of the ADAC members use their bikes more and more
For years now, the trend of getting people out of their cars and onto public transport or bicycles has been gaining traction in Germany and in the rest of the continent. Thus, it comes as no surprise that ADAC – one of the biggest automobile clubs in the country - is seeing more and more of its members turning to cycling.
This, in theory, could pose a problem for ADAC, most well known for its roadside assistance, and whose stated purpose is "the representation, promotion, and advocacy of motoring, motorsport, and tourism,", a bundle of interests that tend to be rather unfashionable nowadays.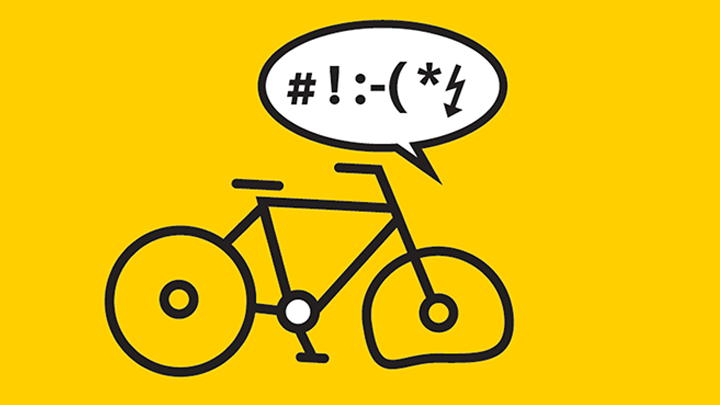 Don't Swear, just call the ADAC is the motto of the new initiative, Source: ADAC website
However, they have made the decision to adapt, as more and more of their members decide to leave their cars behind, extending their roadside assistance to bicycles. The Automobile club wants to offer assistance to cyclists who have bike problems, such as tire, chain, brakes, or battery issues.
They will be offering their members access to a crew of trained and equipped technicians, ready to offer help in any emergency case directly on the spot. They will also offer transportation of the bike to the nearest workshop and luggage and cargo recovery.
The head of ADAC breakdown assistance, Thomas Reynartz explained in a press release that "the point is to enable the member to continue their journey as quickly as possible after a breakdown and to save inconvenience. That is why we now want to find out how great the need for this assistance is and how it is received by the people."
Ireland / Growing City
Despite the good news, preliminary data from the national census reveals a dire shortage in the housing market that will not go away anytime soon
France / Development / Public Spaces
The innovative project received funding from the participatory budget in Lille, France
Denmark / Copenhagen / Development / Social City
This was decided after an unprecedented agreement between the national and city governments
Croatia / Digital transformation
The town of Makarska has recently launched a new mobile service, aiming to cut down on paper use and stimulate citizens to go contactless
Finland / Vantaa / Green City / Innovation and Research
The invention promises to be revolutionary as it can decouple food production from agriculture and its environmental impacts
Spain / Innovation and Research / Mobility
Commercial unmanned aerial vehicles will far outnumber their crewed counterparts by the end of the decade and solutions are urgently needed
Finland / Vantaa / Green City / Innovation and Research
The invention promises to be revolutionary as it can decouple food production from agriculture and its environmental impacts
Finland / Energy efficiency
The country wants to become a leader in hydrogen production and export
Italy / Milan / Green City
The arid weather phenomenon is affecting the agricultural sector in Northern Italy to almost unprecedented levels
Lithuania / Vilnius / Culture and Tourism / Public Spaces
The splendid initiative that turns advertising spaces into art canvases is back for its third edition
Finland / Helsinki / Green City / Welfare and Health
Dust particle concentrations can still present a tough challenge to beat, though
Germany / Munich / Culture and Tourism / Mobility
The cancellation hits in the middle of the travel season and is caused by serious labour shortages coupled with a sudden rise of Covid cases
New European Bauhaus
These will be spread across 11 EU countries and will serve to support the EU Missions
New European Bauhaus
The European Commission has accepted to develop the idea
Portugal / Matosinhos / Interviews / New European Bauhaus
An interview about AYR, one of the 2021 New European Bauhaus Prize winners

Portugal / Matosinhos / Interviews
A conversation with the Mayor of Matosinhos, Portugal's first UN Resilience Hub

Interviews
An interview with Nigel Jollands and Sue Goeransson from the European Bank for Reconstruction and Development

Greece / Athens / Interviews / Welfare and Health
An interview with the President of the City of Athens Reception & Solidarity Centre