The Ferris wheel blends seamlessly with local architecture, Source: Ville de Bruxelles on Facebook
The new permanent Ferris wheel in Brussels will offer people the best view in the city
The Belgian capital joins the likes of London, Vienna and Paris as a European Ferris wheel city
Recently, the city of Brussels installed its first permanent Ferris wheel. The wheel is located on Place Poelaert and currently has a planning permit until at least 2028. As the RTBF reports, the permit has been issued yesterday, while Alderman for Trade, Fabian Maingain, in the City of Brussels explained that it will offer both residents and visitors some of the best views of the Belgian capital.
The Ferris wheel on Place Poelaert was first installed in 2019 and then in 2020 by one René Bufkens. However, it was removed after just three months. Back then, authorities claimed that this was a test period to see whether a Ferris wheel made sense for the district.
Nevertheless, with this new addition, Brussels will join the likes of other infamous European capitals like London, Vienna, Paris and Budapest.
A view from above
One of the people who have been involved in installing the Ferris wheel is Alderman Trade Fabian Maingain, who explained that the project would work to bring in more tourists into the area. The area in question covers the Sablon and Marolles districts, both historic spaces.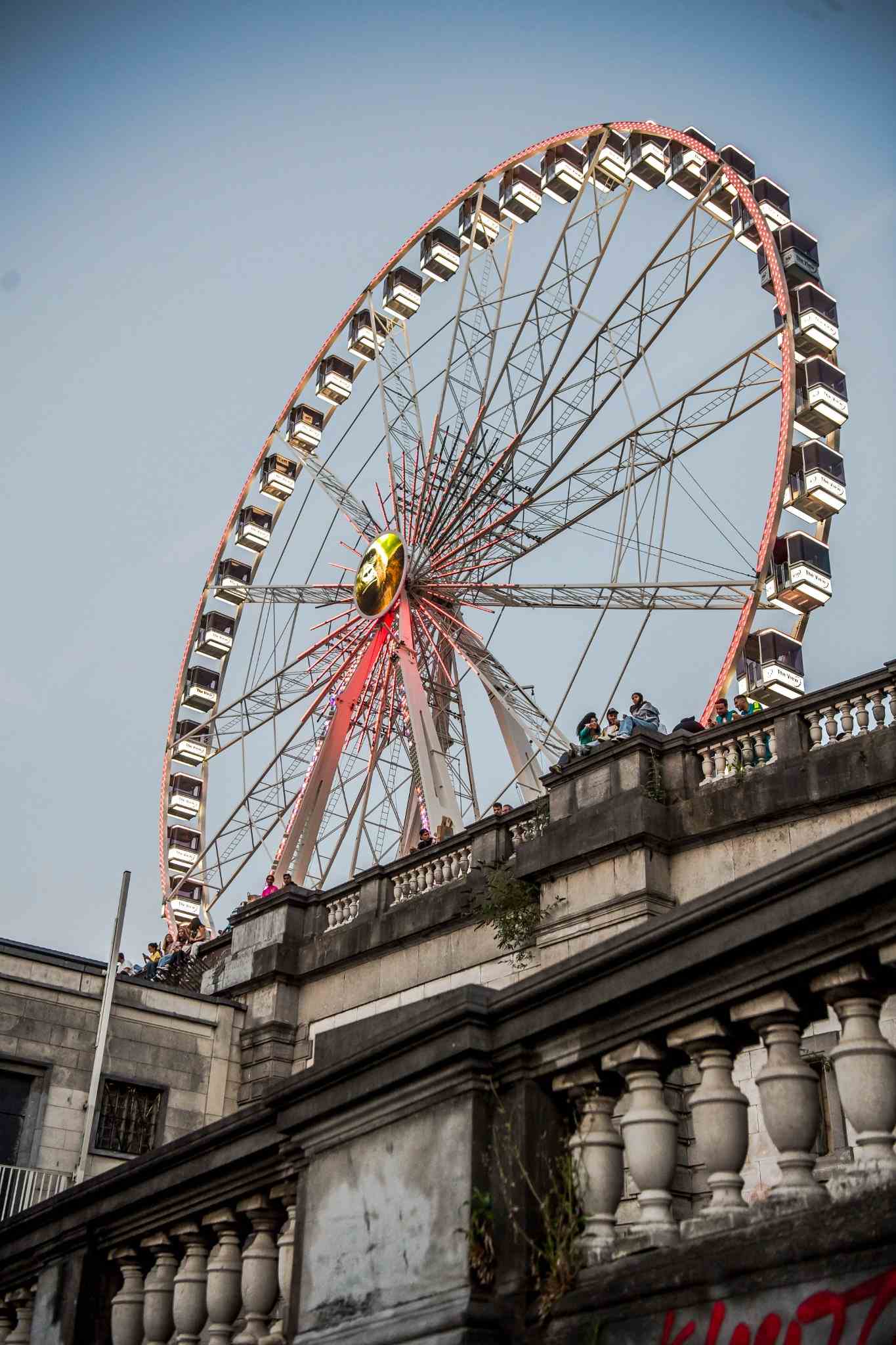 The installation is already part of local culture with the 'In the Streets' festival,
Source: Ville de Bruxelles on Facebook
The Sablon has been part of Brussels since at least the 13th century when the district lay just outside the first walls of Brussels. Before it became urbanised, the district was a grassland and sandbank floodplain. It was used as a cemetery and gradually became part of the city, as various professional guilds, like the Crossbowmen, began using the space.
The Marolles, on the other hand, is currently one of the more popular tourist destinations in the city. It too has been populated since the 13th century, however, for a significant portion of its history, Les Marolles has been home to the city's most vulnerable and rebellious inhabitants, responsible for many riots throughout history.
Netherlands / Amsterdam / Development / Public Spaces
It involves all the five senses, apparently
Germany / Mobility / Politics and Reforms
Germany's new approach has convinced hundreds of thousands of people to start using public transport for the first time
Bulgaria / Sofia / Mobility / Politics and Reforms
Drivers will be legally required to push their scooters manually in pedestrian areas and parks
Bulgaria / Greece / Athens / Sofia / Thessaloniki / Digital transformation / Mobility
Greece and Bulgaria are set to build one of the first 5G cross-border corridors in Europe
Finland / Digital transformation / Welfare and Health
The feline registry is expected to start operating in 2026
Luxembourg / Culture and Tourism / Innovation and Research
The team presented the final report about a year, which was supposed to put the Luxembourgish city on the cultural map of Europe
Netherlands / Amsterdam / Development / Public Spaces
It involves all the five senses, apparently
France / Lyon / Public Spaces / Social City
What you pay for having your car resting in the city will now depend on several different factors
Germany / Mobility / Politics and Reforms
Germany's new approach has convinced hundreds of thousands of people to start using public transport for the first time
France / Lyon / Public Spaces / Social City
What you pay for having your car resting in the city will now depend on several different factors
Denmark / Mobility / Social City
Fredensborg Municipality is inviting residents to take the bikes for a spin…lasting up to 3 months
Culture and Tourism / Mobility
After all, sleeping carriages are basically hotels on wheels
Estonia / Tallinn / Green City / New European Bauhaus
The practical art objects are competing for one of the 2023 New European Bauhaus Prizes
New European Bauhaus
Cast your vote before 24 May and do your part in promoting the NEB values
New European Bauhaus
The new itineraries are part of the DiscoverEU programme, which lets 18-year-olds travel by train between important European sites

Interviews / Read Twice
An interview with the president of the European Federation of Journalists

Interviews
A talk with the head of Mission Zero Academy on the benefits for municipalities if they go the zero waste way

Romania / Cluj-Napoca / Digital transformation / Interviews / Politics and Reforms
A talk with Nicolae Urs, one of the key figures behind the city's new data platforms and online services strategy