The Volta Zero will help with pollution in cities, Source: Volta Trucks
The world's first 16-tonne fully-electric truck is here
Volta Trucks debuts the heavy Volta Zero in Munich and Frankfurt
The world's first fully-electric 16-tonne truck build specifically for urban environments, The Volta Zero made its commercial debut in Munich and Frankfurt earlier this month. The Swedish company, Volta Trucks launched the product back in September 2020 and has already presented it in France, Italy and Spain. The first vehicles will be operational by the end of the year.
A clean-air option for the city
For as long as cities have existed, they have been epicentres of disease and pollution, exposing their inhabitants to toxins detrimental to human health. This is even truer since the Industrial Revolution when factories and power plants dotted the skylines with their smog-producing chimneys.
Lungs seem to be the human organ that civilisation brutalises preferentially, as the effects of pollution seamlessly integrate with our daily lives and we adapt to them often without noticing it.
In fact, to this day, most of the globe is dangerously polluted, according to the World Health Organisation's (WHO) standards.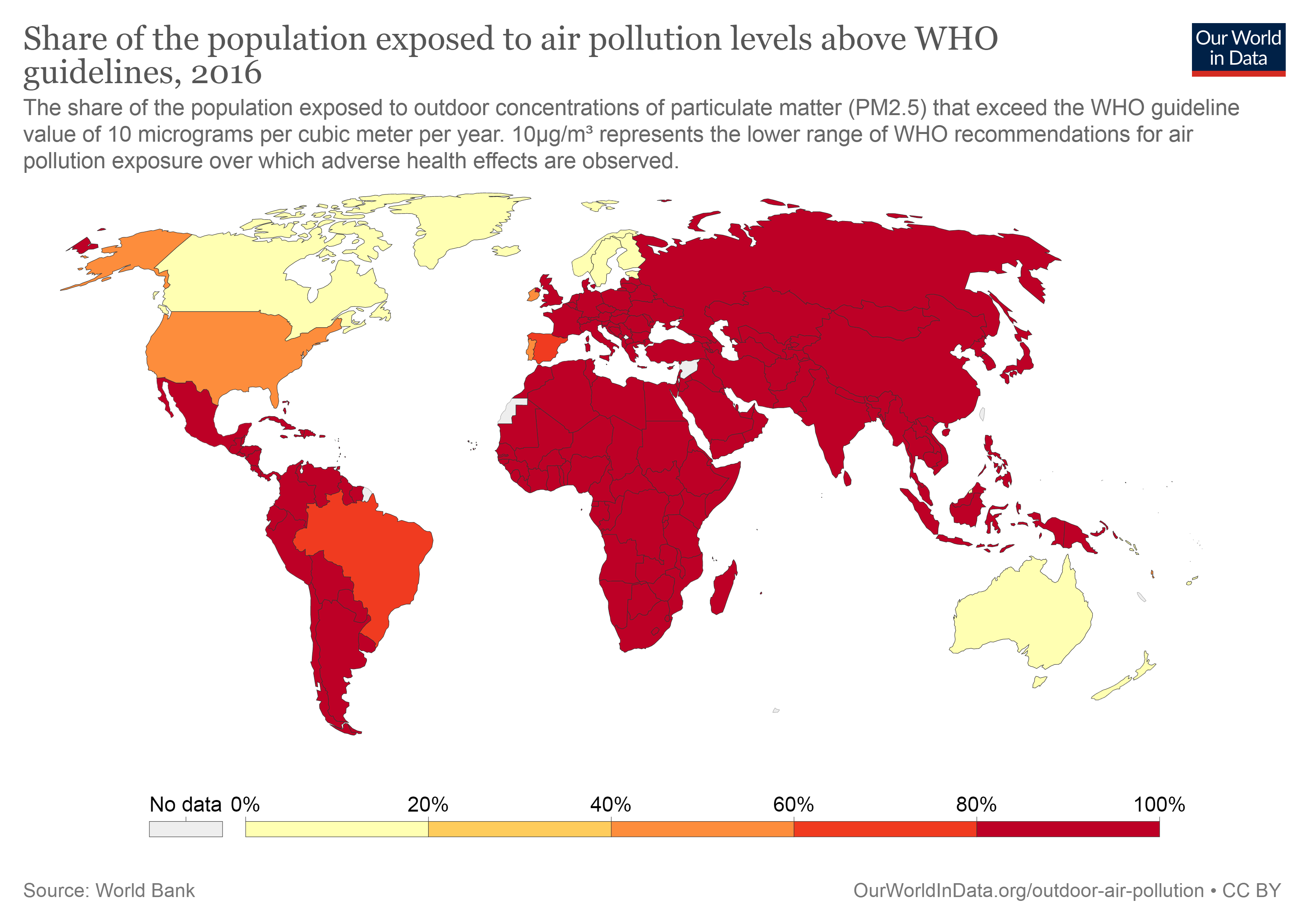 Share of the population exposed to air pollution above WHO guidelines 2016. Source: Our World in Data
Trying to mitigate harms and find a solution
Volta Zero is part of a wider trend of solutions to the problem of air pollution. The number and popularity of electric cars on the roads have been rising, yet there are not that many options when it comes to heavy hauling vehicles.
Electrifying truck fleets can no doubt have a massive impact on air quality. The Volta Zero is the first fully-electric truck to be designed specifically for urban environments and city-centre deliveries.
Its 220⁰ glasshouse-style cabin and cameras in place of rear-view mirrors make it very adaptable to the narrow streets and corners of a crowded city. The Volta Zero has a range of 150-200 km before it needs to be recharged, so its adoption can help cities with their contaminated air issues.
This comes at a time when the EU is pushing hard on decarbonising the continent. Many cities have already announced the introduction of low-carbon zones, such as Madrid in Spain with its "zona de bajas emisiones", and Germany with its "Umweltzone". Italy and the Netherlands have also joined the fray.
Europe is trying to fix the problem and make cities liveable, yet, alarmists have been pointing out that this is a case of doing too little and too late when it comes to climate change. All we can do is wait and see if solutions, such as this one can revert the negative climate tide.