Valter Glavičić, Source: Labin Municipality
Valter Glavičić: Let us turn our history into a heritage and build upon it the Labin of tomorrow
Interview with the mayor of Labin in Croatia
Valter Glavičić was born in Vinež on 15 November 1973. Until his election as the mayor of Labin, he worked as the Head of the Labin electrical distribution plant.
He entered politics in 2010. In the 2013 local elections, he was elected to the Town of Labin Council and became the president of the IDS-HNS-HSU Councilors' Club.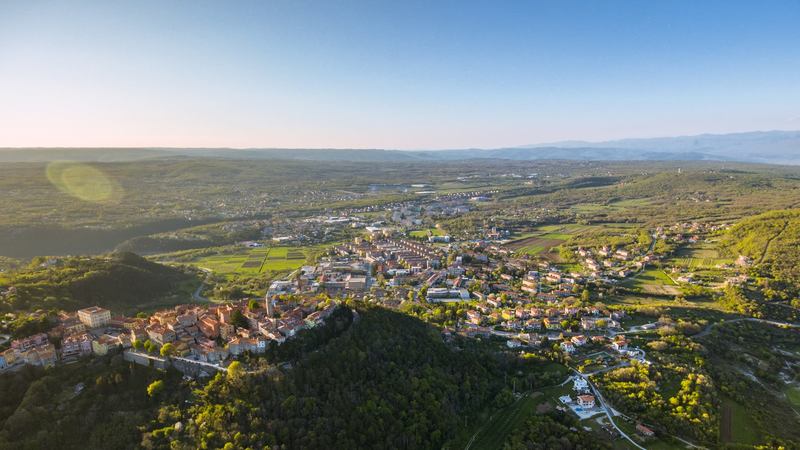 The combination of the old and new town makes a walk through the streets of Labin like a visit to a museum. Photo by Labin Municipality
Mayor Glavičić, please describe Labin in a few sentences.
It is difficult to describe in words the town where I was born, received my education, started a family, the town that I breathe and feel every day, but since I am usually very direct and concise, I will try to describe Labin as I experience it today.
From the first historical records that mention Labin and date back to the 2nd century BC, through the rule of various governments (Frankish, Aquileian, Venetian, Austrian, Italian) to the present day, Labin has, of course, undergone many transformations. The past has bequeathed us with an important historical and cultural heritage, as well as with remarkable figures whom we value today and, on whose foundations, we continue to build a place with a prosperous and bright future.
From a global point of view, the relatively small territory of Labin has experienced significant events: Matija Vlačić Ilirik (Matthias Flacius Illyricus) was born in Labin, and so was the revolutionary Giuseppina Martinuzzi. The world's first anti-fascist uprising started by miners in 1921 took place right here in Labin... I am glad that today's generations of Labin's men and women have grown up precisely with these values, which show how to fight for oneself and for what is yours!
As I said, let us turn our history into a heritage and build upon it the Labin of tomorrow; a place for everyone – artists, entrepreneurs, adventurers, innovators, revolutionaries! A city is made up of its people, that's why I mentioned Labin's deep roots, but to experience Labin – the alleys of the old town, former mining complexes, seascapes, rich gastronomic offer – you have to visit us, and we will be delighted to host you!
Currently, Croatia is the safest country in the Mediterranean, and Istria the safest region in the country. How is Labin economy coping with the consequences of the Covid-19 pandemic?
Somehow, we always tend to think that something like this cannot happen to us because it all feels like we are watching a sci-fi film of some kind. However, history has always been the teacher of life, so we should try to accept this current situation in a calm and sober-minded manner, no matter how difficult it may be in certain situations.
As to others, I believe that our goal has always been the same, and that is to protect the people and the overall way of life, both the personal and the professional aspects of it. It's true, the COVID-19 crisis has not gone past us, but from the very start, the entire Istrian peninsula has joined forces for one purpose, and that is a responsibility and, in a way, also a sacrifice. While thinking of this, a Dalai Lama saying comes to my mind – "Judge your success by what you had to give up in order to get it" – and I now truly believe more than ever that some things happen for a reason.
Labin was among the first cities to react and offer a variety of measures to affected entrepreneurs because we know that the economy is the driver of development. All competent services reacted promptly from the very beginning because we are constantly in coordination, but what's most important is the human factor – the entire community offered help to people that needed it the most...
Unfortunately, there is no magical recipe and I am aware that we cannot please everyone, but the system is trying, and the people make up that system, and that's why I'm grateful to everyone, from the employees of our utility company, who make our town a nicer place every day, to all entrepreneurs who, despite the problems, continue to work, and to the public services, who relentlessly work so that citizens are not deprived of them. The same goes for each individual resident of Labin who remains responsible, helps the less fortunate, and contributes to the circular economy.
Labin has undergone serious development in recent years. What does the Town Hall do right to attract new investors and strategic projects?
I consider Labin to be the ideal place for the coexistence of the "big" and the "small", that we are the balancing point of encounters that can offer everything needed for livelihood. The past has given us industry, some call it "black" - referring to coal mines and mining.
Today, Labin hosts renowned world clean industry companies, which are in a way technological leaders in their sectors, and they are all located in the Vinež Entrepreneurial Zone, which was declared among the best 3 entrepreneurial areas of this type in Croatia last year. This is a confirmation for all our investments and efforts so far. Certainly, we won't stop there; we're moving forward, challenging ourselves daily and considering all possible perspectives, because we are aware of the importance of brownfield and greenfield investments.
We are also proud of our craftspeople and small companies that create added value to the overall image of the town. Recently, a very strong ICT platform has also started developing, and I believe that new and younger generations will be the miners of our future economy. All of the above results in the fact that today Labin is one big construction site: new residential buildings, commercial buildings, shopping malls are all being constructed - the city lives and invests in the future.
Croatia has been a member of the EU for only a few years, but your municipality has already managed to implement numerous very successful EU funded projects. How have those raised the quality of life in Labin?
Unlike the majority of Croatian cities, Labin was doing very well and was prepared for membership in the EU. It should be mentioned that we are a city whose public company for the management of residential buildings, Labin Stan, is the most successful company in Croatia in terms of the number of renovated buildings (energy renovation). Since the opening of the possibility of ensuring grants, the company has renovated 81 residential buildings, thereby embellishing the urban scenery.
This is just one example of how joining the EU has significantly facilitated the lives of citizens and enabled them to make expensive investments, such as renovating buildings and houses, something that is an everyday occurrence. In addition, the design of probably the largest project in our area in the last 50 years is currently underway - the project of the Labin Raša Rabac Agglomeration worth more than half a billion kuna, which would certainly have not been possible without help from the EU.
We have implemented numerous projects, many are in preparation, and we believe that the EU's new financial envelope will bring about many more good projects for our city. We must also not forget how we recently renewed the symbol of our city, the mining shaft. We continue to develop a story that connects tourism and our history in a special way, as a form of a tourist attraction that links Labin and Rabac with the underground tunnels of our former mine.
This truly is a topic we can talk about extensively and, of course, our wishes are countless, but we are working on priorities with a certain dose of "reservation" since we still do not know what exactly the upcoming financial period will bring. We do not lack creativity, and I like to believe that we are ready for everything that the future bestows upon us, because I know my team very well, and I know that they will do everything to win projects that bring value to the city and the people.
At the same time, the Municipality is implementing good practices in the field of education and youth. Please tell us about the most important initiatives among them.
This topic is very important to us, and the best proof of this is the fact that in the last two years we were named the best medium-sized town in Croatia, precisely in the category of demographics, youth, and education. In other words, from the very beginning, respectively my campaign, we have been saying that we want our children to raise their children in Labin, and we have completely dedicated ourselves to this cause.
In the last three years, through EU funds, as well as with our own, we have invested more than 4 million kunas in the renovation of kindergartens and schools and thus ensured that all the children residing in the area can attend a kindergarten. Each year, we allocate one million kunas for scholarships.
We provide certain things considered to be above standard, such as the procurement of school equipment, speech therapists, special needs experts, extended school stay, etc. We do not perceive these to be a luxury but something that our citizens deserve, so we enable it. I always like to point out that investing in our youngest citizens is the best possible investment! They are the ones who will continue our work, they are the ones who we will entrust our town to.
You are in your fourth year of office. How would you describe the previous period and how do you see the future development of Labin?
Well, yes, almost four years have passed since our citizens elected me as their mayor. I can confirm that this intense period has gone by very quickly, but when I look at everything that has happened, I see we have done a great job.
We started, but also concluded many projects. After years of waiting, this year we will begin the construction of a retirement home for our senior citizens. We give so much to our young citizens, and every year we build even more upon it. We have established a department for EU projects, and after a short period of time it has proven to be a success, so we are ready to welcome the new budgetary period. Infrastructure for ultra-fast internet is being built throughout Labin, and last, but not least, the agglomeration has been launched, so Labin and the wider Labin area will soon get a drainage system worth half a billion kunas.
In short, I believe that a significant and very productive period is behind us, and in the next one we will continue to develop our Labin of the future. As the saying goes - it's been one hell of a ride! (laughter) And frankly, I hope it continues, because I believe we have done so much. Going back to what was said before, I am aware we cannot please everyone because projects such as building a retirement home for the elderly or the agglomeration of water supply are, in a way, lumped together with installing a light pole at some intersection or taking care of good neighbourly relations. All of this, whether "big" or "small", requires equal engagement from me and my team, and our goal is to solve the problem.
What are your thoughts on TheMayor.EU portal as a unifying platform for European municipalities and how can it be useful to you and your citizens?
I have always based myself on the principle of "think locally, act globally", and this portal is its embodiment. For small communities like Labin, it is important to know what the big cities are doing, because it gives us encouragement and inspiration in regard to what we could do, but it also represents a challenge to raise the bar higher in all our efforts.
It is certainly important to be able to see what other medium European cities are doing well and to potentially seek networking partners for various projects that we have in mind. I believe that with some of our projects or concepts we can also serve as an example to others.
Today, we are all one big family, we are given the opportunity to create networks, make contacts, design projects, act and work together to achieve a better future. I commend your initiative and, as we like to say in Labin, "Neka vam bude kovarski sretno" (miners' good luck greeting) and we will do our best to provide you with our shovels, knowledge and skills on your way!
To find out more about Labin, visit the profile of the municipality.