Freie Mitte will be Vienna's biggest park since 1974, Source: Gugerell on Wikipedia, CC0 1.0
Vienna began construction of largest park since 1974
"Freie Mitte" will combine conventional park concepts and a novel urban wilderness dynamic
Vienna's largest park since 1974 had its official ground breaking on Thursday. "Freie Mitte", as the park is called, will be built on the site of the former north station in Vienna-Leopoldstadt by the year 2025. The City plans to create an amalgamation between a recreational area with skateparks and bike lanes and a wildlife reservation site.
A 93,000 m² nature and park area will be created on the site of the former Nordbahnhof by 2025. When "Freie Mitte" is complete, it will be the largest new park in Vienna since the Vienna International Garden Show in 1974, from which the Kurpark Oberlaa was born.
A new vision for the urban wilderness
The project aims to preserve parts of the old railway, as well as the unique local biodiversity and topographical distinctness. "Freie Mitte" will be home to many protected animals and plant species like green toads, brown hares, sand lizards, kestrels, various types of butterflies and grasshoppers.
The area with its distinctive old trees will be largely preserved and has already been upgraded with ponds and spawning habitats for the toads and the lizards. The wild part of the park will be reachable via a multitude of wooden walkways – perfect spots for gazing at the diverse flora and fauna.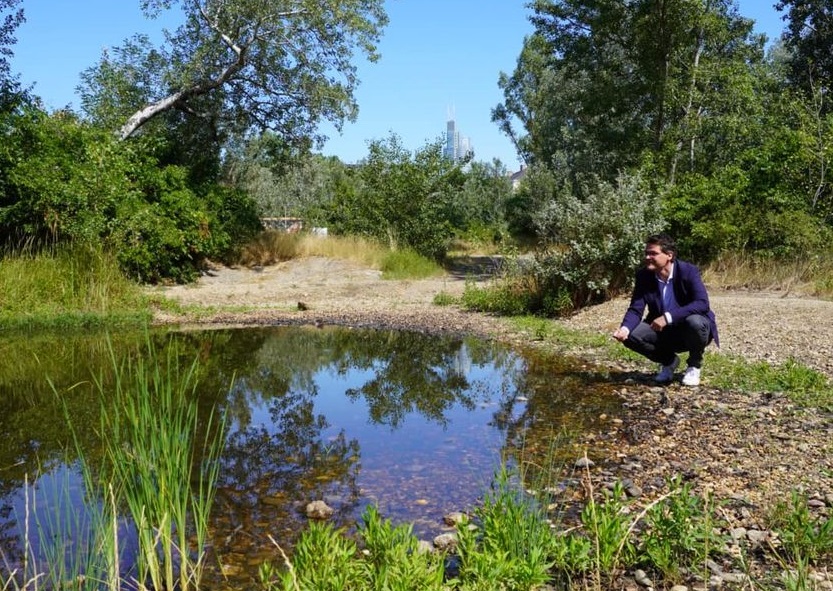 City Councilor for Climate Change Jürgen Czernohorszky admiring the wildlife habitat,
Source: Jürgen Czernohorszky on Facebook
At the same time, another part of the park will be developed more conventionally with sunbathing lawns, sports facilities, a bicycle course, a community garden and much more.
This phase of the park is called Park Belt 1 and is supposed to be completed in the fall of 2021. The area is along the side of the ÖBB railway line and will be separated from the rest with bushes. Park Belt 1 will make use of the hilly terrain with zip lines, hillside slides and more.
City Councilor for Climate Change Jürgen Czernohorszky expressed his admiration for the project's ambition: "The "Freie Mitte" will not be a "gschniegelter" (meaning neat or sanitized) park, but a completely new type of recreational and natural space for the Viennese. This is ensured, among other things, by the urban wilderness and the remaining tracks of the old north station".
Ireland / Development / Digital transformation
The government's new Living Islands Policy wants to reinvigorate offshore communities
Netherlands / Amsterdam / Development / Green City
The five islands have a combined area of more than 700 square metres
Croatia / Zagreb / Development / Energy efficiency
A new project calls for photovoltaics, charging stations and energy-efficiency renovations
Ireland / Development / Digital transformation
The government's new Living Islands Policy wants to reinvigorate offshore communities
Austria / Salzburg / Digital transformation / Education and Sport
It will show all open-air sports facilities in the city, plus 12 running routes
Lithuania / Digital transformation / Innovation and Research
The Baltic country prepares to respond to rising air traffic and to futureproof the sector
Spain / Madrid / Mobility
Locally designed, a prototype will be created next year so that the residents of the city can have their say as well
Spain / Mobility / Social City
The special offer popularizing railway journeys among the 18-30 age group will be available until 15 September
Belgium / Brussels / Mobility / Welfare and Health
The camera and goggles system helps patients to receive emergency specialised care, while they are still en route to the hospital
Spain / Mobility / Social City
The special offer popularizing railway journeys among the 18-30 age group will be available until 15 September
Italy / Florence / Culture and Tourism / Social City
In fact, in the UNESCO-protected old town priority will be given to long-term tenants
Belgium / Brussels / Mobility / Welfare and Health
The camera and goggles system helps patients to receive emergency specialised care, while they are still en route to the hospital
Estonia / Tallinn / Green City / New European Bauhaus
The practical art objects are competing for one of the 2023 New European Bauhaus Prizes
New European Bauhaus
Cast your vote before 24 May and do your part in promoting the NEB values
New European Bauhaus
The new itineraries are part of the DiscoverEU programme, which lets 18-year-olds travel by train between important European sites

Interviews / Read Twice
An interview with the president of the European Federation of Journalists

Interviews
A talk with the head of Mission Zero Academy on the benefits for municipalities if they go the zero waste way

Romania / Cluj-Napoca / Digital transformation / Interviews / Politics and Reforms
A talk with Nicolae Urs, one of the key figures behind the city's new data platforms and online services strategy