The City of Vienna is gradually opening 25,000 m2 of sunbathing lawn on the Upper Old Danube, Source: City of Vienna
Vienna is adding beaches on the Danube
About 25,000 m2 of new riverbank beaches will be free for everyone in the city
Vienna is reclaiming 25,000 m2 of previously privatised land so that it can offer it back to the citizens, providing them with even more free access to the water. On 14 July, the city council revealed the first redeveloped area on the left bank of the Upper Old Danube (Alte Donau).
Apricots and cherries for the visitors
A lot of properties owned by the City of Vienna around Mühlschüttelpark have been leased out for decades now. After some of the contracts started to expire in 2020 and the 21st district showed interest in their reclamation as public property, the city has started the process to reinvigorate the Upper Old Danube with an additional 25,000 m2 of public beaches on the river.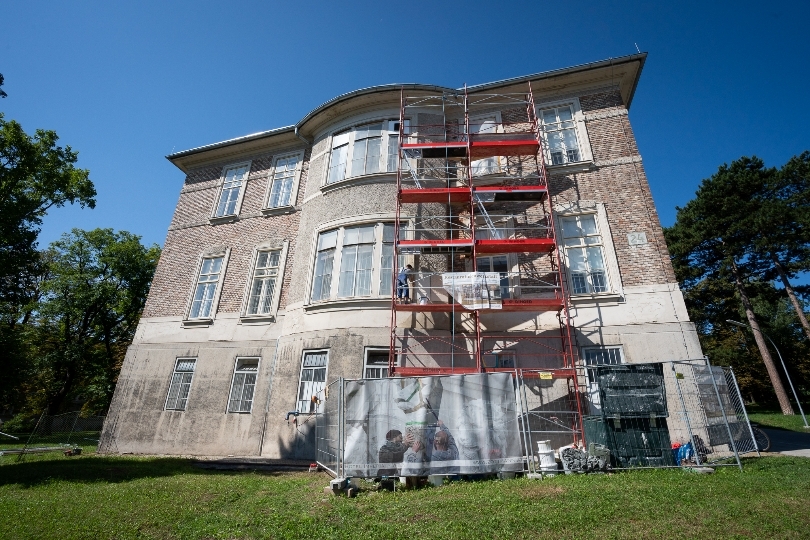 Visualization of the "Obere Alte Donau recreation area", Source: City of Vienna
The Vienna Water Department, which is responsible for all the territory around the city's waterways began a gradual beautification and adaptation of the area this spring. First, a new sunbathing spot covering nearly 5,000 m2 was levelled and greened.
Then trees were planted for shade with some of them being fruit trees, meaning apricots and cherries are freely available to the new beachfront visitors. Now the area is ready for the public and will open in mid-July.
Free water access for the Viennese
While some cities in Austria are increasing the amount of privatized water-adjacent properties, Vienna is swinging the other way. In addition to the already impressive 60-kilometre beachfront, a new 25,000 m2 will gradually be added along the Old Danube.
District Mayor of Floridsdorf Georg Papai has campaigned for reclaiming the areas in his district and is happy about the new development.
He was quoted in a press release, saying: "The Old Danube is an important local recreation area not only for Floridsdorfers but for everyone in our city. Freely accessible areas by the water without any need to consume are valuable commodities. With this project, we are setting an example that we in Floridsdorf know how to deal responsibly with this heritage."
Ulli Sima, the City Councilor responsible for Vienna's waters seconded his opinion, adding: "Free water access for everyone is a central concern of ours, unlike in many federal states, we do not privatize riverbanks, but open them and thus offer a free holiday feeling in the metropolis".
Belgium / Development
And it will also advise you on the right way to do this
Ireland / Growing City
Despite the good news, preliminary data from the national census reveals a dire shortage in the housing market that will not go away anytime soon
France / Development / Public Spaces
The innovative project received funding from the participatory budget in Lille, France
Malta / Green City / Innovation and Research
Abandoned fishing gear is one of the most dangerous threats to the marine environment, but also to divers and underwater heritage
Croatia / Digital transformation
The town of Makarska has recently launched a new mobile service, aiming to cut down on paper use and stimulate citizens to go contactless
Finland / Vantaa / Green City / Innovation and Research
The invention promises to be revolutionary as it can decouple food production from agriculture and its environmental impacts
Malta / Green City / Innovation and Research
Abandoned fishing gear is one of the most dangerous threats to the marine environment, but also to divers and underwater heritage
Italy / Culture and Tourism / Mobility
Trenitalia has announced that it wants to reduce the phenomenon of domestic animals being left behind alone while their owners go on holidays
Italy / Turin / Public Spaces / Social City
The property, together with others that have been confiscated, will be converted for social welfare uses
Italy / Culture and Tourism / Mobility
Trenitalia has announced that it wants to reduce the phenomenon of domestic animals being left behind alone while their owners go on holidays
Italy / Turin / Public Spaces / Social City
The property, together with others that have been confiscated, will be converted for social welfare uses
Portugal / Braga / Education and Sport / Green City
The city also led awareness-raising actions to show the impressionable youths how circularity is created first-hand
New European Bauhaus
These will be spread across 11 EU countries and will serve to support the EU Missions
New European Bauhaus
The European Commission has accepted to develop the idea
Portugal / Matosinhos / Interviews / New European Bauhaus
An interview about AYR, one of the 2021 New European Bauhaus Prize winners

Portugal / Matosinhos / Interviews
A conversation with the Mayor of Matosinhos, Portugal's first UN Resilience Hub

Interviews
An interview with Nigel Jollands and Sue Goeransson from the European Bank for Reconstruction and Development

Greece / Athens / Interviews / Welfare and Health
An interview with the President of the City of Athens Reception & Solidarity Centre