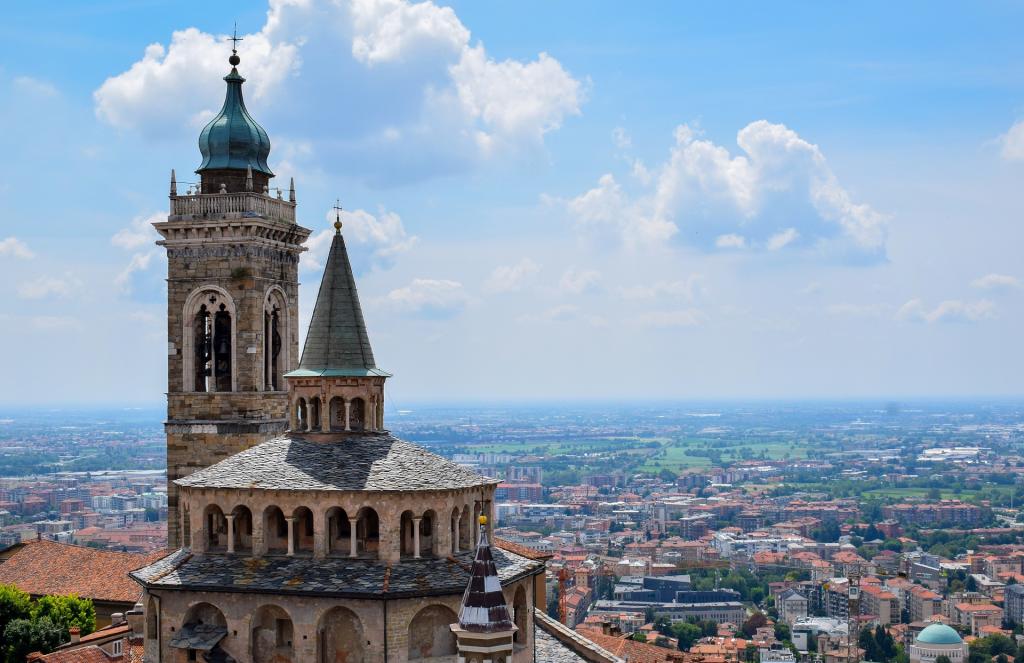 Bergamo
Win a trip for two in Bergamo
For 3 days, immerse yourselves in Upper Bergamo's charm and the masterpieces preserved on its territory
The Agency for Tourism Promotion and Development in the Province of Bergamo offers you a great opportunity to visit it for free through its latest competition that currently takes place on its website - visitbergamo.net.
Take your 3 days to discover Bergamo
The competition is open to all citizens from the EU (excluding Italy), the UK, Switzerland and Norway, so long as they are over 18 years old. Everyone hailing from the aforementioned countries has the opportunity to register and participate in this initiative which is giving away a total of 9 holiday packages in the city and province of Bergamo for 3 days / 2 nights each, including travel and accommodations for 2 people.
The purpose of the initiative is to promote knowledge of the city and province of Bergamo in order to strengthen the region's tourism development in the European market. The deadline for the competition is 8 November 2020.
Those eager to apply must register by filling in all the mandatory fields in the registration form (name, surname, email, country). They will then be asked to choose what type of holiday they would like to spend in the city and province of Bergamo. The list features a selection of:
Outdoor activities focused on finding wellness in the open air;
Gastronomy, allowing you to discover the typical dishes of Bergamasco cuisine;
Art and Culture, featuring visits to Upper Town and/or the Province and its history.
After choosing, applicants will be asked to press a key to access Instant Win. Once activated, they will immediately find out if they have won one of the prizes up for grabs.
Belgium / Development
And it will also advise you on the right way to do this
Ireland / Growing City
Despite the good news, preliminary data from the national census reveals a dire shortage in the housing market that will not go away anytime soon
France / Development / Public Spaces
The innovative project received funding from the participatory budget in Lille, France
Croatia / Digital transformation
The town of Makarska has recently launched a new mobile service, aiming to cut down on paper use and stimulate citizens to go contactless
Finland / Vantaa / Green City / Innovation and Research
The invention promises to be revolutionary as it can decouple food production from agriculture and its environmental impacts
Spain / Innovation and Research / Mobility
Commercial unmanned aerial vehicles will far outnumber their crewed counterparts by the end of the decade and solutions are urgently needed
Italy / Turin / Public Spaces / Social City
The property, together with others that have been confiscated, will be converted for social welfare uses
Portugal / Braga / Education and Sport / Green City
The city also led awareness-raising actions to show the impressionable youths how circularity is created first-hand
Finland / Vantaa / Green City / Innovation and Research
The invention promises to be revolutionary as it can decouple food production from agriculture and its environmental impacts
Italy / Turin / Public Spaces / Social City
The property, together with others that have been confiscated, will be converted for social welfare uses
Portugal / Braga / Education and Sport / Green City
The city also led awareness-raising actions to show the impressionable youths how circularity is created first-hand
Spain / Barcelona / Social City
This is just one of many measures that the municipal authorities have taken to tackle this social ailment
New European Bauhaus
These will be spread across 11 EU countries and will serve to support the EU Missions
New European Bauhaus
The European Commission has accepted to develop the idea
Portugal / Matosinhos / Interviews / New European Bauhaus
An interview about AYR, one of the 2021 New European Bauhaus Prize winners

Portugal / Matosinhos / Interviews
A conversation with the Mayor of Matosinhos, Portugal's first UN Resilience Hub

Interviews
An interview with Nigel Jollands and Sue Goeransson from the European Bank for Reconstruction and Development

Greece / Athens / Interviews / Welfare and Health
An interview with the President of the City of Athens Reception & Solidarity Centre