Major Mayors of Europe – Edouard Philippe
The former mayor of Le Havre and incumbent French Prime Minister has one of the toughest jobs in Europe – being Emmanuel Macron's Number 2. How did he get here?
December 18, 2019 11:30
Anton Stoyanov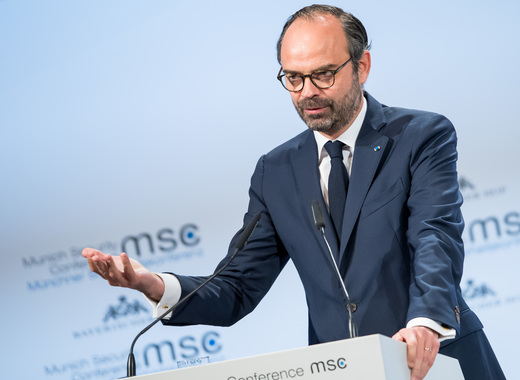 Source: Edouard Philippe MSC 2018 by Mueller / MSC [CC BY 3.0]
One can hardly imagine Emmanuel Macron's presidency without his loyal and dutiful Prime Minister. Eduard Philippe has constantly proven to the nation and to the world that despite his lack of a flashy political background, he's got what it takes to handle one of Europe's toughest jobs.
Who is Edouard Philippe?
Much like his boss Emmanuel Macron, Edouard Philippe is fairly young for a politician. Born on 28 November 1970, he grew up in a left-leaning family of dockworkers who played a key role in his early political development.
Philippe's political career began during his studies at Science Po. At the time he was infatuated and heavily influenced by Michel Rocard, the then-leader of the French Socialist Party and Prime Minister under Francois Mitterrand. Rocard's ousting from the party led to Philippe's own permanent break with the leftist parties in politics.
After a brief break from politics, Edouard Philippe staged his return in the municipal administration at Le Havre. He was appointed deputy mayor of the city in charge of legal affairs in 2001 under Antoine Rufenacht who would go on to serve as mayor until 2010.
In 2002 Philippe met Alain Juppe and immediately found a new "guiding light" in his political development. In Juppe, Philippe recognized a man whose political positions were similar to those of his previous mentor – Michel Rocard.
Over the years, Edouard Philippe served in many different capacities in the local government of Le Havre – as deputy mayor for responsible for economic and port development, employment, training, higher education and international relations and later as deputy mayor in charge of town planning, housing and port development. Thanks to his exemplary work in the municipal administration of the city he becomes widely recognized as the heir-apparent of long-serving mayor Antoine Rufenacht, whom he succeeds in 2010 after the former's retirement. Just a couple of years later in 2012, he is also elected as Member of Parliament following the death of the local MP. In the 2014 local elections, Edouard Philippe manages to solidify his mayoral position by securing over 52% of the vote in the first round.
Dynamic Duo
Meanwhile, Edouard Philippe's relationship with Alain Juppe endured through trying and changing circumstances for quite a while. At first, Philippe supported Juppe's efforts in creating the Union for a Popular Movement in 2002, after which he briefly aided him during his stint as Minister of Ecology, Sustainable Development and Energy in 2007 and he returned for a final duet during the 2017 presidential primaries, serving as Juppe's spokesman.
Following the failure of Alain Juppe to win the Les Republicans primaries and after the presidential elections themselves, Edouard Philippe was approached by the victorious Emmanuel Macron with an offer one can not refuse – to become Prime Minister of France.
Sinking ship(s)
If you've been keeping up with our Major Mayors series, you might have caught on to the fact that most politicians who began their political life in municipal politics before venturing onto the national stage are quite flexible when it comes to ideology, which allows them to survive in circumstances that would have proven fatal to other leaders – just take a look at another French Prime Minister and mayor, Manuel Valls.
Edouard Philippe is of a similar breed of flexible politicians. Having started his political career backing the Socialist Party, he was quick to jump ship to the centre-right and then onto the centrist Third Way-esque platform of Emmanuel Macron. The reasons for Philippe's ideological "ambiguity" can be traced to his first mentor Michel Rocard, who was an advocate for more centrist policies and was an avid opponent of hardline leftist ideology within the Socialist Party.
After Rocard's ousting, Philippe seamlessly transitioned into the fold of the centre-right under Alain Juppe – who much like Rocard was a believer in keeping his party near the centre and away from the political fringes. Juppe's numerous stumbles over the years never did shake Edouard Philippe's conviction, however, and he remained loyal right up until the very end – that is when Juppe failed to secure the centre-right Les Republicans presidential nomination.
Philippe's refusal to become engaged with Francois Fillon's presidential run proved pivotal as the then-frontrunner quickly became embroiled in corruption scandals that completely decimated his chances of emerging victorious. Having narrowly avoided disaster, Edouard Philippe would live on to fight another day.
Answering the call
The next couple of years would prove the ultimate undoing of the Socialist Party and lather the conservative Les Republicans. Emmanuel Macron's arrival on the political stage sapped both of their respective centrist bases and left them as mere husks and shells of their former selves. Amidst all the chaos, however, the man who had been a member of both parties still stood. Edouard Philippe's time was far from over.
The new French president had one word on his mind – upheaval. He decried the old right-left divide and claimed that it was dead as he appealed to citizens to vote based on reason, not on ideological conviction. He managed to secure a sweeping majority and vowed to bring together representatives from the two traditional parties under his wing in order to fight the nationalist threat.
With many former socialists (including the aforementioned Manuel Valls) already supporting Emmanuel Macron, the newly elected president was in search for a conservative – and he found the perfect fit in the then-mayor of Le Havre – Edouard Philippe.
Biding his time
In Philippe, Macron found the perfect Prime Ministerial candidate – he was young, ideologically flexible, yet unwavering from his course, a member of the centre-right – and most importantly he had never managed to build up a real support base, acting as a follower more so than as a leader over his years in politics.
Edouard Philippe's main task as Prime Minister would be to be the main executor of his President's will – more specifically, his main task included implementing Emmanuel Macron's ambitious and incredibly controversial reform agenda – including the now infamous pension reform and gas tax. In his spare time, Philippe also has the opportunity to go look after Macron and attempt to clean up his boss's messes – an extremely unenviable task, seeing as there are a lot of them.
Yet if everything does not go up in flames over the next few years, Edouard Philippe might be in the perfect position to move up even higher on the ladder. The odds of Emmanuel Macron securing a 2nd presidential mandate are in his favour – despite how unpopular he might seem, everyone else at the moment at least, appears far worse If the relationship between the President and his Prime Minister does not implode, Edouard Philippe would be in the perfect position to inherit his boss's position – after Macron's constitutionally mandated retirement.
Yet overly ambitious Prime Ministers have a bad track record in France and Emmanuel Macron still has a long way to go before fading into the pages of history. That means there's plenty of time for things to go wrong for Edouard Philippe. Yet the former mayor of Le Havre has proven time and again that he is a survivor who can surmount the challenges thrown at him – and all we can do is wait and see what he's up to.
TheMayor.EU stands against fake news and disinformation. If you encounter such texts and materials online, contact us at info@themayor.eu