Split Advent 2019 promises an abundance of music and fun
Offering five weeks full of surprises, free transportation and new lines
November 18, 2019 21:30
Monika Dimitrova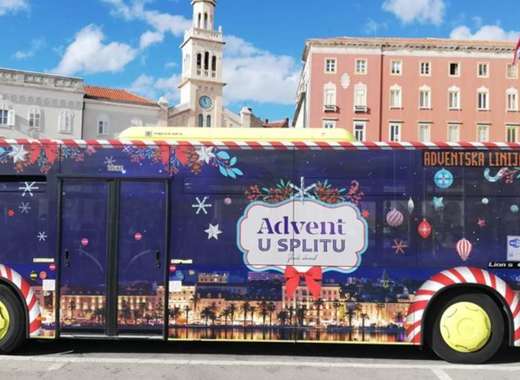 Source: Split Municipality
Between 30 November 2019 and 2 January 2020, visitors of the Croatian city of Split will have the wonderful opportunity to hop on a retro time machine and recall some of the forgotten verses, games and flavours of the city.
During these exciting five weeks, Advent guests will able to enjoy a big variety of Christmas delicacies at different Advent locations. They will have the unique opportunity to send thousands of postcards to the world from photo corners on Vidilica and Matejuska.
A new edition of Split Advent was announced by the representatives of the City Hall on a branded bus that will run on the free Advent line. They have emphasized the importance of good cooperation with the Split Tourist Board, on whose initiative two free Advent lines will be introduced this year.
Free transportation and new lines
The new lines will run all day long on Saturdays and Sundays. In addition to Promet, every weekend, HZ Passenger Transport, in cooperation with the Split Tourist Board, will be offering free return rides to the citizens of Split, Kastel, Solin and Trogir to the city centre. Free transportation on Saturday and Sunday mornings and afternoons will be provided by the suburban train between Kastel Stari - Split and Kastel Stari.
In this regard, Andro Krstulovic Opara, Mayor of Split stated:
"We are proud that Advent is becoming one of the most important manifestations of Split, which is confirmed by the increasing involvement of numerous institutions, associations, local communities. We are sure that it will attract a large number of visitors, especially citizens. We are breaking records during the tourist season, even this time when almost the entire Adriatic was in the minus. Christmas time is the time for us, our children and our citizens."
Like the article? Subscribe to our newsletter to receive the latest from the EU cities right into your inbox.