Arranging matters with the city of Krakow becomes safer and smarter
Many documents can now be collected 24/7
Yesterday Krakow made another step towards making access to administrative services easier and safer. Thanks to a donation by InPost, it is possible to deposit or collect documents safely in a parcel locker – 24/7, without the need to get in contact with or meet a municipal officer.
Simple solutions with noticeable effects
As of Monday, residents of the Polish city can perform many municipal services in a contactless way, without the need to enter the city hall or the administrative buildings of the municipality, without speaking to anyone, queuing and most importantly by picking the most convenient time of the day to perform a task - as easy as dispatching a parcel.
This all was made possible by a donation to the City of Krakow by the leading logistics provider InPost. It consists of three specialized Parcel Lockers Office 24. Via these devices, one can collect vehicle registration certificate, driving license, registration plate, etc.
The lockers will be installed at the three offices of the Vehicle and Driver Register Department which received the donation - at 10 Powstania Warszawskiego str, at 2 Zgody estate in Nowa Huta and at 28A Wielicka str. The documents can be collected in the machine located at the office where the application was submitted or at 10 Warsaw Uprising street, if the application was submitted electronically.
In order to use the machine, one needs to make sure, in advance, that a particular document can be collected at the lockers. Once their documents are ready to be collected, citizens receive an SMS displaying the code needed to open the locker and the maximum deadline for receiving documents from the machine. It is also possible to use the InPost Mobile app to avoid touching the lockers' screens.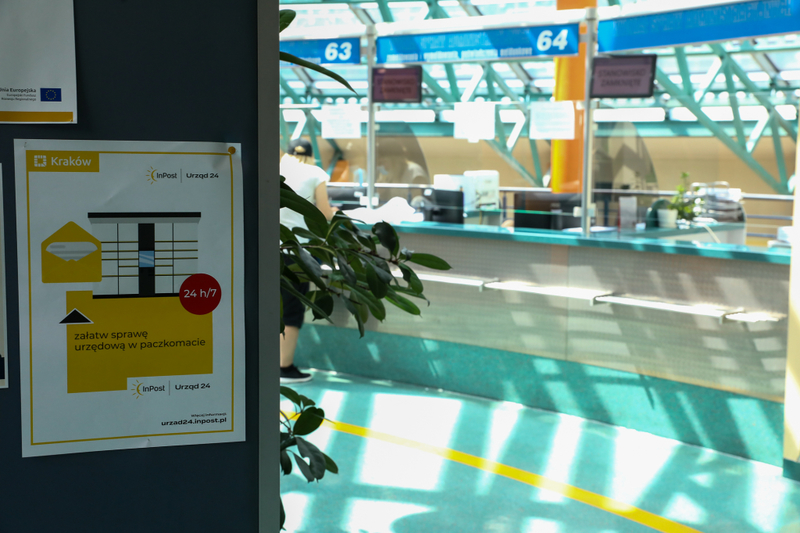 Contactless services are getting more popular in the context of the coronavirus pandemic. Office 24 is just one of many examples. Image: Krakow.pl
The Mayor of Krakow Jacek Majchrowski explained that the solution comes in response to the growing demand for contact-free and convenient handling of administrative matters during the Covid-19 pandemic. He described it as much safer for both residents and officials and claimed that if it grows in popularity, more devices will be installed at other departments of the city hall and other organizational units.
Krakow will be the first large city to use the new service provided by InPost, but with time the service will be expanded at other places – according to Rafał Brzoska, founder and president of InPost dozens of other cities have expressed interest in the service already.
By expanding the municipal services with contactless ones, Krakow not only acts to protect its citizens from the new coronavirus but also makes a big step in smart city management, showing its dedication to considerably improve their standard of living.