Commissioner Gabriel: We need increased citizen involvement in the whole cycle of policy making
The EU Commissioner on the success of European Research and Innovation Days 2021 and the challenges ahead
Mariya Gabriel (European Commissioner for Innovation, Research, Culture, Education and Youth) is in charge of the implementation of Horizon Europe, Erasmus+ and the cultural strand of the Creative Europe programme (2021-2027). Her main priorities, with particular attention to young people and regions, are achieving excellence in research, innovation and education (by reinforcing the European Research Area and building the European Education Area), and making Europe a leader in strategic innovation areas through the digital and green transitions.
In this interview, she discusses the main achievements of European Research and Innovation Days 2021, including the launch of the Coronavirus Global R&I Collaboration Portal and the EU Knowledge Valorisation Platform. She also calls for greater citizens' involvement in EU policymaking.
Commissioner Gabriel, another successful edition of the European Research and Innovation Days is behind us. What issues powered the debates most this year? In what way was the COVID pandemic an influence?
Indeed, the European Research and Innovation Days have once again been an immense success with over 21,000 participants from 105 countries. The coronavirus pandemic shaped our world massively in the past 1.5 years which of course left its mark on our discussions.
Next to having it in a virtual format, many debates were powered around how we can build back better after the crisis and take advantage by having our challenges turn into opportunities and solutions for a greener, more digital and more resilient Europe. Specifically, citizens need to be on board with our actions to drive a fast and inclusive recovery.
Discussion points included for instance the new European Research Area and promoting excellence at the heart of knowledge. Other debates proposed giving Europe's many innovators every opportunity to build their companies and support them through the European Innovation Council, turning Europe into a powerhouse of innovation while building an ecosystem focused on education and skills.
Our European Partnerships, EU missions and support of basic research through the European Research Council will also help increase our knowledge and deliver solutions to societal challenges. Additionally, synergies are key to achieve our goals - for example, a synergy between Horizon Europe, the Recovery and Resilience plans and cohesion policy funds to ensure that we can build back better.
Working closely together with Member States and regions will also push us further, especially when regions bring concrete examples of how to create jobs with research and innovation. Finally, the importance of international cooperation was also discussed, together with how our global approach ensures that science stays open and able to achieve progress and develop vibrant innovation ecosystems.
You opened the event by saying that this time, the Commission is determined to give voice to cities and citizens, calling for their greater involvement. How do you intend to do that?
Yes, we are indeed determined as we need increased citizen involvement in the whole cycle of policy making - from initial design to implementation and beyond. The Conference on the Future of Europe plays a key role as it is the first time in history that a constitutional process in the EU is taking place with the European citizens as co-creators.
I am very proud that we are able to contribute so much, in content and also with a multilingual digital platform designed by the Commission's Joint Research Centre. This platform is a place for citizens to share ideas, provide feedback, and take part in discussions. Member States have also access to the platform for the events they organise at the national level. In practical terms, it is expected that citizen panels will start taking place in the autumn of this year. It is a process that will culminate next spring.
Other pioneering examples of Commission initiatives are the EU missions and the New European Bauhaus. Both will promote the design and implementation of solutions with those who have a genuine experience of the problems, in particular local authorities and citizens. I will come back to EU missions in more detail for the next question.
Culture and creativity can be important drivers and enablers of innovation as well as an important source for entrepreneurship - cultural tourism being one of the largest and fastest growing tourism segments. The synergies also imply close cooperation between European, national, regional and local levels and the maximization of EU funding impact.
That is why, recently, I launched a network between the European Capitals of Culture and European Innovation Capitals, with the potential to later link with the New European Bauhaus initiative. Other cities might join and become part of this network too.
Speaking of cities specifically, they are the level of governance that is closest to citizens. They can articulate a local vision and rally local support behind it, which is why they are so important for us.
Many cities are looking to re-invent themselves as green and smart places. For instance, as we speak, they are remaking busy streets into pedestrian areas and deploying new e-government tools. We support city ambitions and ownership by deploying locally adapted research and innovation solutions, providing guidance to access financing and funding, and creating twinning opportunities for mutual learning.
Let's work together now for the "tomorrow" we would like to live in!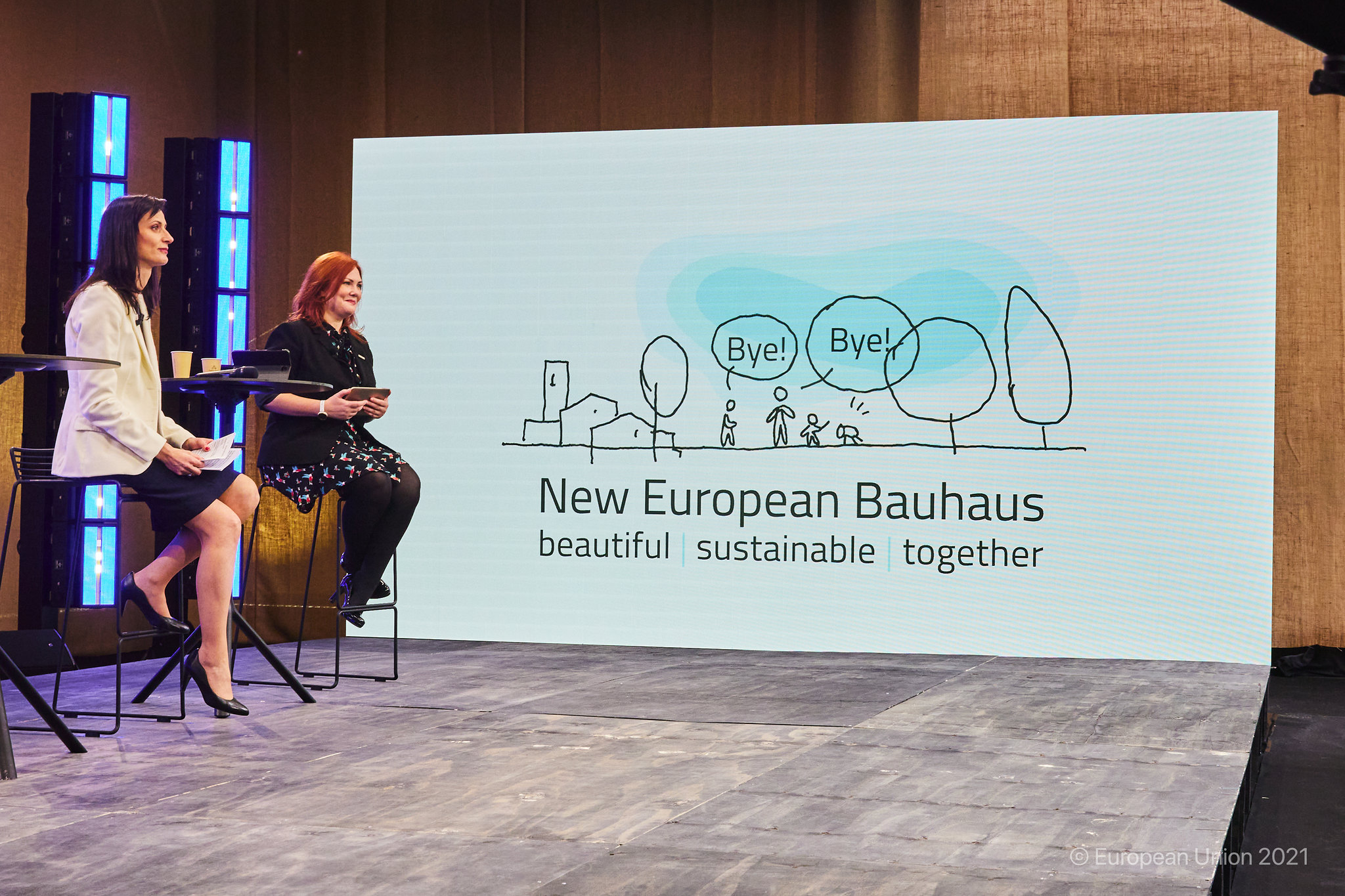 Cities are regarded as key actors in the implementation of the New European Bauhaus Initiative. Source: European Union
Expanding on the previous question, the very first event plenary was dedicated to the role of cities and citizens in carrying out the EU missions. What message do you want to send with this agenda? How will this impact the new programming period?
EU missions are not about what the EU can do for you, they are about what we can do together to shape the future we want to live in. Missions are one of the main novelties of Horizon Europe, but they go far beyond research and innovation. They are innovative as they combine ambition with concrete goals, require joint efforts and are fully bottom-up organized. This means that our citizens are at the heart of these initiatives.
Five missions are currently being prepared for launch in the areas of Climate change adaptation, soil health and food, cancer, healthy oceans and waters, and climate-neutral and smart cities. Goals are very concrete and close to the citizens, for example, saving at least 3 million cancer patients, having 75% of our soils in good health, or achieving 100 climate-neutral cities. Since the start, missions engage people at the European, regional and local levels in designing our actions and priorities together, putting them at the steering wheel of policymaking.
The engagement of all Member States, regions and local authorities will be crucial. The success of missions will require innovative governance, co-creating ecosystems, coordinating R&I agendas, and ensuring synergies with other funding sources.
Two important milestones for the implementation of the missions have been achieved this year. These are the adoption of Horizon Europe in April and the adoption of our work programmes for 2021 and 2022 in June. Each mission will now count with 5 million euros to enable its rapid launch. We are finalising the implementation plans for each one of them. I can already share with you some of our ideas.
If I could summarise my key messages in 3 words, these would be ambition, inclusiveness and impact.
So many announcements were made in just two days. Let us talk about the common European response to the pandemic, first. What will be the role of the new Coronavirus collaboration portal and the Knowledge valorisation stakeholder platform? Why now?
Now more than ever, there is a need to work together. The role of both the Coronavirus Global R&I Collaboration Portal and the EU Knowledge Valorisation Platform is that they will help us join forces in the coronavirus recovery.
First of all, the new Coronavirus Global R&I Collaboration Portal is responding to an urgent need focusing on matchmaking and international collaboration to jointly face the pandemic. It offers matchmaking opportunities for researchers and research projects worldwide focusing on the socio-economic aspects of the coronavirus crisis where a gap has been identified. However, it also includes broader fields of research such as natural sciences, engineering and technology, medical sciences, and social sciences.
I would like to emphasise that creating this portal reconfirms Europe's commitment to a level of global openness that is needed to drive excellence, pool resources towards scientific progress and develop vibrant innovation ecosystems. Moreover, the Portal serves for matching EU projects with international partners, but it also allows international partners to network with each other. Participation in the Portal is voluntary, based on crowd sourcing, and open to researchers and all types of organizations from all over the world. I warmly welcome and encourage participation from countries far and wide.
Secondly, the EU Knowledge Valorisation Platform will help the uptake of research results and accelerate it by working together with Member States and key stakeholders. The lessons learned in rapid sharing and uptake of results during the pandemic can now be applied also in other areas where solutions are urgently needed, for example in tackling climate change and improving resilience.
The Platform provides an interactive forum to stimulate cooperation across borders and sectors by involving all actors of knowledge valorization, from academia and industry to public policy and civil society. It enables the sharing of best practice, knowledge and expertise, thereby improving policies and enhancing capacities and skills. This will foster a strong culture of entrepreneurship, inclusive innovation in Europe, and knowledge valorisation that will turn research results into sustainable and economically viable solutions.
Furthermore, the Platform offers a 'Repository of Best Practices', including the outstanding examples presented at the Knowledge Valorisation Week 2021, and it encourages stakeholders to signal their interest in joining the exchange. Last but not least, as one of the actions under the new European Research Area Communication, the Platform invites stakeholders to get involved in the development of the Code of Practice for the smart use of Intellectual Property.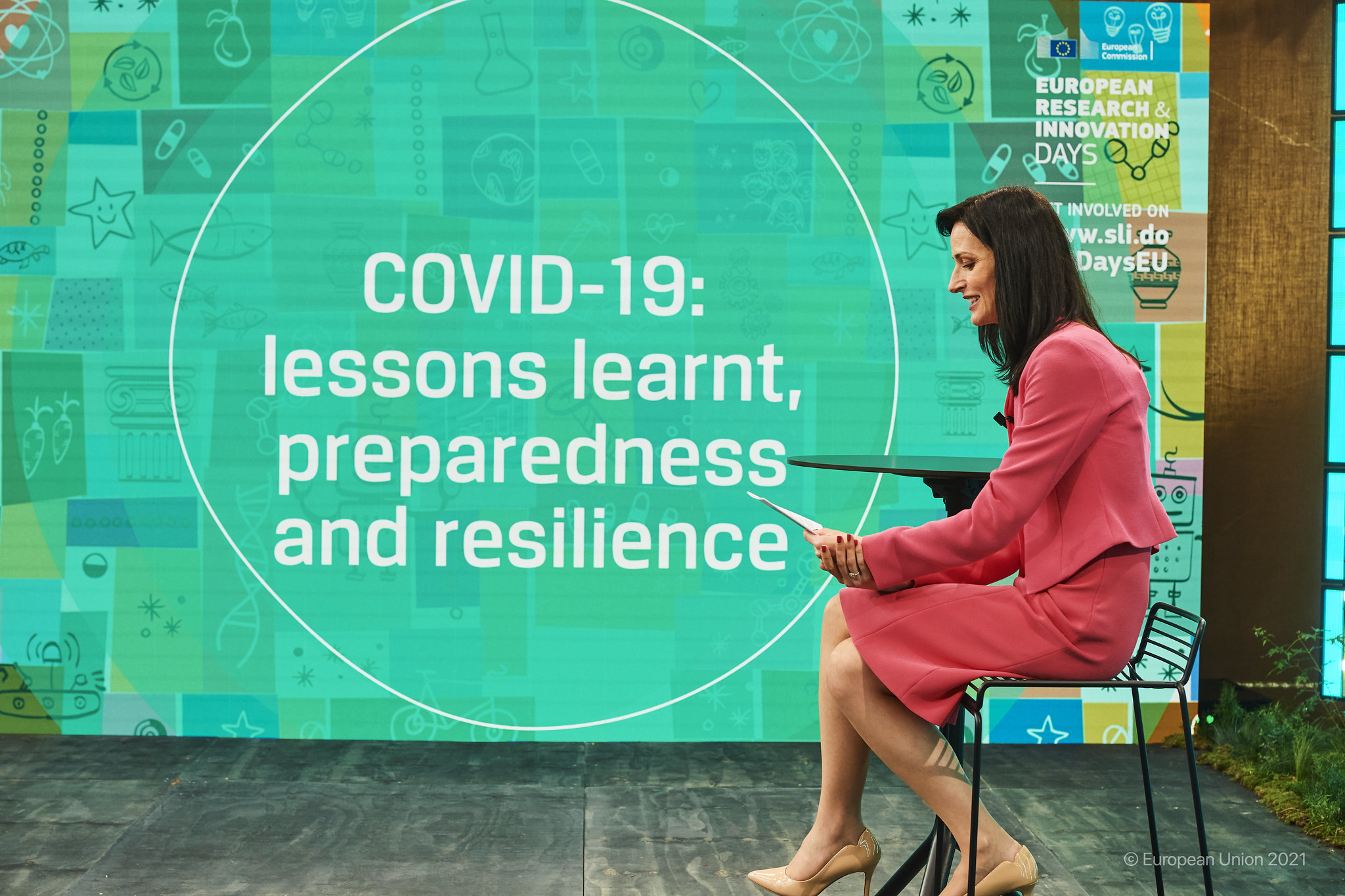 The event offered numerous possibilities to discuss the challenges and the opportunities that arose in the wake of the coronavirus pandemic. Source: European Union
Second, what challenges is the European Strategy for Universities supposed to resolve? Can we already envision its concrete goals?
The European Strategy for Universities will focus on inclusion, innovation, connectivity, digital and green transition, international competitiveness, fundamental academic values and high ethical principles, employment and employability. At the European Research and Innovation Days, we focussed on the digital and global dimensions of the Strategy.
Currently, there are several challenges to address. In the first phase of the coronavirus pandemic, while observing a great resilience by higher education institutions, we also saw that they had different levels of digital capabilities across the EU. They also faced varied challenges with regard to keeping learners engaged, ensuring staff had the support they needed, adapting the curriculum to online learning, depending on the institutional and national capacity.
There is also an issue with interoperability between systems. Institutions often need to resort to ad hoc solutions. As a result, students and staff have to navigate a complex landscape where access is restricted or cumbersome. Higher education institutions in Europe are also often reliant on multinational companies that do not always take into proper consideration data use and protection, ethics and privacy.
In developing our policies for the digital transition, I intend to work together with universities and Member States building on the Digital Education Action Plan 2021-2027, adopted by the Commission in September 2020. This covers all sectors of education and presents a vision for boosting digital capacity and enhancing digital competencies.
In higher education, this includes supporting digital transformation plans and the development of digital pedagogy and expertise including in emerging technologies, such as artificial intelligence. It also addresses the development and sharing of high-quality digital education content. A further priority is a focus on increasing the participation of women in STEM studies and careers.
Support for the digital transition – and understanding what it involves – is emerging as a key priority in consultations with stakeholders and Member States on the European Strategy for Universities. I will be seeking to learn from best practices, especially from the European universities, which are pioneering approaches to managing the digital transition and look forward to further discussion on this very important topic. The digital transition also lends itself as a concrete area of synergies between higher education, research and innovation.
We also need to attract and retain talented students, academics and researchers to European higher education institutions. This is key for knowledge creation and diffusion, as well as for skills development across the EU.
In this regard, cooperation in education and training is an important instrument for the implementation of EU external policies, based on European values, trust and autonomy. We aim to make the EU an even more attractive destination and partner, both in the global race for talents as well as in promoting strategic cooperation with international partners to provide inclusive and quality education for all.
A strong international dimension under Erasmus+, linked to the European Education Area and the Digital Education Action Plan, will allow education and training institutions across our Member States to cooperate through their work in different parts of the world, strengthen Europe's reputation, support the green and digital transitions, and tackle current and future crises.
In response to current global trends, the EU wants to lead by example, promoting rules-based multilateralism, pursuing reciprocal openness in research and innovation cooperation to facilitate global responses to global challenges, and exchanging best practices. We will aim for a Team Europe approach, which will strengthen Europe's positioning as a key partner in education at the global level and cement the links between the European Education Area and the rest of the world.
The event coincided with the launch of the first Horizon Europe calls, which featured numerous cooperation opportunities. Do you think this will contribute to a more successful geographical distribution of the successful proposals in the current funding period?
One of the Horizon Europe objectives is to foster excellence-based participation from all Member States and to facilitate collaborative links in the European Research and Innovation landscape. This objective is supported on one hand by specific measures aimed at increasing participation from lower R&I performing Member States and, on the other, by a number of simplifications in procedures.
Specific widening actions under Horizon Europe will improve the research and innovation capacities in lower R&I performing Member States. The Widening actions will receive 3.3% of the total Horizon Europe budget amounting to almost €3 billion.
The core Widening Actions will be continued. These are: 'Teaming' - creation and modernisation of centres of excellence, 'Twinning' - networking to develop excellence in a particular domain; ERA Chairs - excellent researchers and their teams as game changers in host organisations; and COST actions - widespread scientific networks as pre-portal for European research programmes.
Additionally, new actions will be launched. For instance, they include strengthening the National Contact Points system, proposal pre-checks, matchmaking services, possibility for participants from countries catching up in R&I to join already existing consortia, as well as strengthening the capacity for excellence in universities and surrounding ecosystems. Finally, to maximise impact, synergies are also pursued with the Cohesion policy programmes, Marie Sklodowska Curie grants and the European Excellence Initiative.
In addition, applicants are advised to carefully read the call for proposals' requirements and to pay special attention to the three evaluation criteria – excellence, impact and quality of implementation - taking into account not only the objectives and scientific methodology but also the expected impact and the quality of the participants and consortium.
Our aim was to make the programme as user-friendly and open as possible. Those who already participated in previous framework programmes are already familiar with its main features. But we also need newcomers, those excellent research and innovation entities that are ready to raise their research to the European level and are open to collaboration with entities from Europe and beyond. Horizon Europe creates an opportunity to do that.
Finally, after RiDaysEU 2021, what is the next big step for research and innovation in the EU?
First and foremost, we will further assess the thoughts and ideas expressed during the event to see how we can possibly include them in our future plans and actions. In the coming weeks, the Horizon Europe Information Days will take place, featuring an agenda of exclusive discussions and hands-on sessions, dedicated to different clusters or parts of our programme.
In the coming months, we will start work on the next Horizon Europe work programme for 2023-2024 and will continue our efforts on the European Research Area, European innovation ecosystems, the European Strategy for Universities, EU missions, European Partnerships, and more.
To stay up to date on concrete projects, I welcome everyone to visit the online European Research and Innovation Exhibition. It presents examples of how research and innovation shape cities, education, food and agriculture, healthcare, the future of work, green manufacturing and industry, as well as the environment.
I look forward to keeping research and innovation at the heart of our European, national and regional efforts for a sustainable future.
Check out the gallery above to re-live the experience of European Research and Innovation Days 2021.