Facebook buys immense area of land worth over EUR 37 million in Esbjerg
The tech giant mulls building a data centre in the Danish municipality
On 13 October, the Danish Municipality of Esbjerg revealed that Facebook has officially purchased 212 hectares of land worth DKK 27 million (EUR 37,228,770). The tech giant will now begin conducting research and exploring the possibility of establishing a data centre in Andrup.
Esbjerg to become an important digital hub
Facebook first began investigating the area in 2018/2019. However, it chose not to purchase the land and ceased the development of its project. Following this, the Esbjerg City Council decided to acquire the land as part of a strategy to attract investors who would help the municipality realise its vision of becoming a digital hub.
Mayor of Esbjerg Jesper Frost Rasmussen commented on Facebook's investment, noting: "I am very happy that Facebook is back in Esbjerg and now again investigating the possibilities of establishing a data centre in Andrup. The signing of the purchase contract is the first milestone in this process.
The establishment of a data centre will be completely in line with our ambitions to become a data hub, and at the same time, the construction and operation of a new data centre will be able to attract additional companies in the field to Esbjerg and create synergies with our current companies."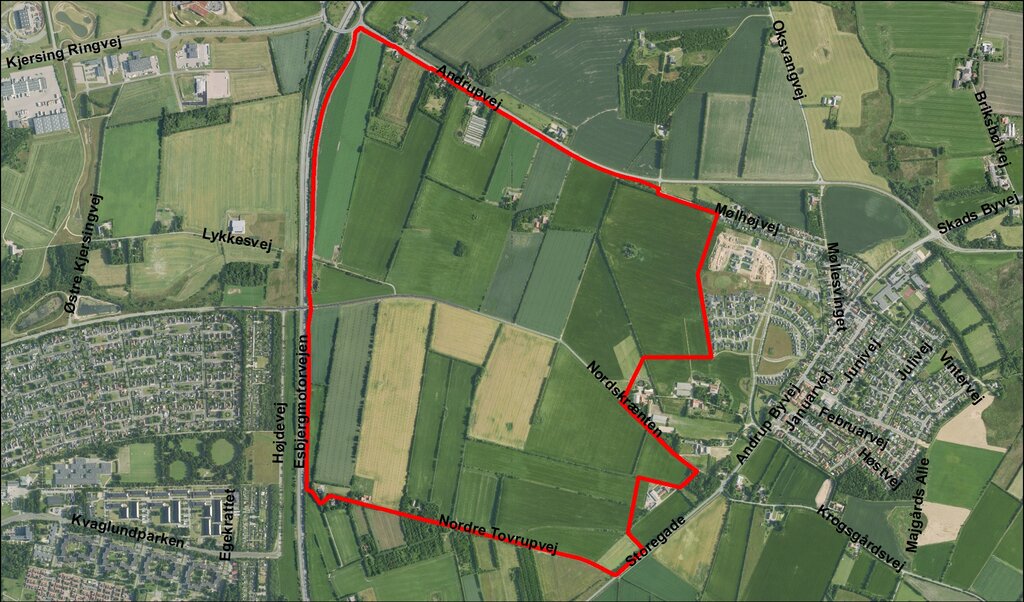 The area purchased by Facebook is outlined in red
Source: Esbjerg Municipality
Lukasz Lindell, spokesman for Facebook, also officially confirmed the company's investment, disclosing the next steps of the tech giant. According to Lindell, preparatory work and studies must be carried out for several months before the company makes a final decision regarding the construction of the data centre.
Facebook's interest and investment in Esbjerg will undoubtedly attract a lot of attention in the area. What is more, signing an agreement with one of the world's largest tech companies proves that the Danish Municipality is on its way to realising its vision of becoming a northern European digital hub.