Firefighters in Pilsen get ultramodern support truck
The CZK 6,5 million purchase will better prepare the city to face a variety of risk situations
Professional firefighters in the Pilsen Region now boast a brand-new ultra-modern service truck. Purchased thanks to the City of Pilsen, the vehicle can carry out a variety of saving interventions. These include assistance in fires, traffic accidents, liquidation of dangerous substances leaks and the like.
Crucial financial support by the city
The key to unlocking the CZK 6.5 million vehicle was handed over to the representatives of the Fire Rescue Service of the Pilsen Region at an official ceremony.
"The City Council and its representatives consider it their duty to support you as far as possible. One of the expressions of our will and gratitude is the contribution of this new Scania, which will serve you and therefore also the citizens of our city of Pilsen," said Mayor Martin Baxa, quoted by the municipal website.
"The city of Pilsen has been contributing to the improvement of equipment for the intervention unit here in Pilsen for 15 years every year. Thank you very much, because it is not one-time assistance, but rather a long-term, concept and it is directed to the benefit of all Pilseners.
On behalf of myself and my colleagues, I promise to use this technique with the utmost care and effort to help the citizens of Pilsen. Nevertheless, I wish that citizens do not need our help" has also said František Pavlas, Director of the Fire Rescue Service of the Pilsen Region.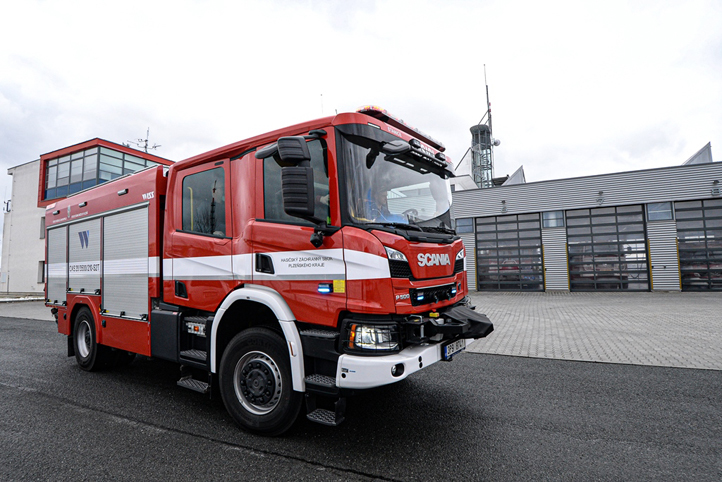 The 18-tonne machines will make the Czech city better prepared for a variety of risk situations. Photo by Martin Pecuch / City of Pilsen
Characteristics
The new CAS 20 Scania P 500 B 4x4 has an engine output of 368 kW, weighs 18 tonnes, holds 210 litres of foaming agent, 3500 litres of extinguishing water. It is adapted to situations involving hazardous chemicals. This is why the vehicle is equipped with pressurized Trellchem chemical suits and an expanded range of tools to detect pollutants.
The new truck can carry up to six persons on board and will replace the existing truck at Plzeň Košutka station which was already 12 years old. The latter, however, will still be used, but by the volunteer firefighter brigade of Pilsen.