Masks become mandatory in Brussels as of today
This affects all 19 municipalities in the region
In Brussels wearing a face mask is mandatory as of today, 12 August, the Prime Minister of Brussels-Capital Region Rudi Vervoort announced in a press release. The measure comes in response to the high number of coronavirus cases, which exceeded 50 for every 100,000 inhabitants over the last seven days. The new rule was consulted with all local mayors and applies to all 19 municipalities.
Preventing a surge in new cases
Wearing a mask covering the nose and mouth is therefore now compulsory in public and private places accessible to the public for everyone in Brussels above 12 years of age. If wearing a mask or other similar fabric is not medically possible, a face shield may be used.
The only exceptions to the rule are during sports practice, performing intensive physical work on public roads and for people with a disability that does not allow them to wear a mask or face shield. In all cases, social distancing remains the norm.
According to the latest coronavirus update from the epidemiologic bulletin of Sciensano, the Belgian health institute, as of 11 August, all key indicators for the country were on the rise during last week – there was an 11% increase in new cases, a 56% surge in related deaths and a 15% increase in the number of hospitalized patients.
Respecting protective measures, even if it is hard to do
In line with making the population aware of the new rule and law enforcement, the Region launched an informational campaign last week, targeting young people. Branded with the hashtag #mylifedifferently, the campaign of the Common Community Commission (COCOM) aims to keep the collective spirit high and remind that the progress made so far can be easily lost when the protective measures are not respected.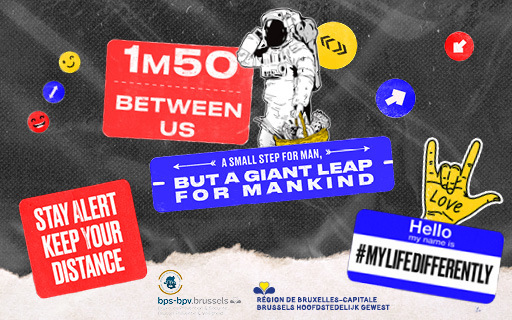 '1m 50 between us, but a giant leap for mankind' is one of the messages of #mylifedifferently campaign. Image: COCOM
The latest numbers related to the propagation of Covid-19 in Belgium can be consulted on the Info-Coronavirus.be website. Finally, COCOM, which is in charge of health issues in the Brussels Region, will also organize a press conference tomorrow, August 13 at 11 a.m. to give details related to testing and tracing.