New rail research cluster will open in Graz
The public and private sector will join forces to push for a more competitive rail system
The Research Cluster Railway Systems (RCRS) research initiative was founded in Graz on Wednesday. The Technical University (TU) in Graz, voestalpine, ÖBB, Siemens Mobility and Virtual Vehicle join forces in establishing a collaborative hub aiming to increase the competitiveness of railways. This would make the region of Styria an international research and innovation centre for the industry.
The plan for the cluster is that it should benefit specific areas of rail technology, such as rail infrastructure and rail operations with a focus on synergy potential and digital transformation.
A collaborative synergy for the future of rail
RCRS will be established in TU Graz to maximise its potential as an influence on the sector, getting involved in the training and forming of the new generation of engineers and experts.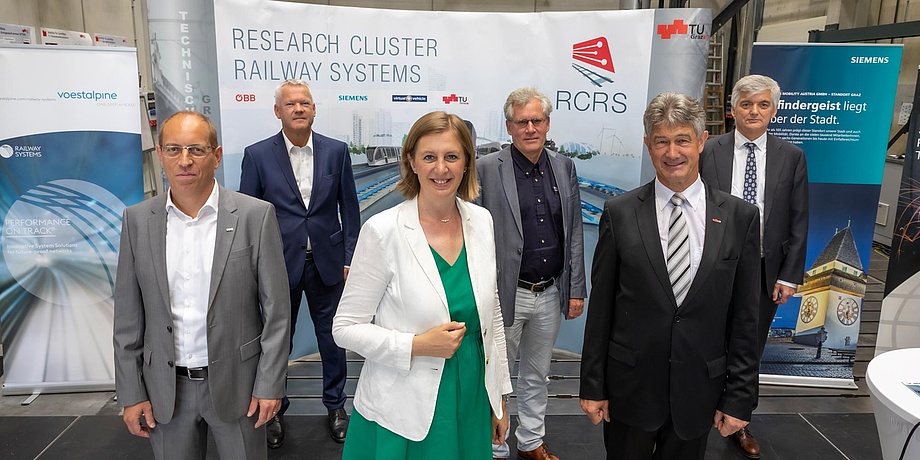 Jointly presented the Research Cluster Railway Systems research initiative (from left to right): Mark Topal-Gökceli (ÖBB), Franz Kainersdorfer (voestalpine), State Councilor Barbara Eibinger-Miedl, Jost Bernasch (Virtual Vehicle), Harald Kainz (Graz University of Technology), Arnulf Wolfram (Siemens Mobility Austria). © Lunghammer - Graz University of Technology
This will go hand in hand with the planned simulation facilities and the two new professorships opened in the university – one for fatigue strength and rail vehicle technology and the other for rail infrastructure design.
The cluster's debut project is the Austrian Research Promotion Agency (FFG)-funded COMET project "Rail4Future", which started in the spring under the leadership of ÖBB. The project is working on a new virtual platform with which new scenarios and developments in the rail sector can be simulated under operational and environmental impacts.
Mark Topal-Gökceli, CTO of ÖBB, shared some statistics in the press release on the university's website: "In terms of climate protection, there is no way around the railway. In the transport sector alone, Austria must save an additional 8 million tonnes of CO 2 by 2030. And ÖBB is clearly part of the solution here. Therefore, every step that we take today for the mobility of tomorrow is extremely important."
According to Harald Kainz, Rector of TU Graz railways are a particularly sustainable, intelligent, safe and comfortable means of transportation. Through investment and development, it can become a major contributor to the goals of the European Green Deal - climate neutrality by 2050.
Recently, TheMayor.EU interviewed Constanze Bannholzer, one of the key figures behind the rail digitalisation push in Austria. You can check out that interview over here to gain more insight.