Phase 3 of lockdown de-escalation in Spain begins today
Very few territories, however, will advance to the last stage towards "the new normal"
The third and last phase of the coronavirus lockdown de-escalation plan of Spain begins today, 1 June 2020. This, however, does not concern all territories and does not mean the end of the coronavirus treat.
Yet, it is good news for a large portion of the Spanish territory, which now enjoys more relaxed measures than last week. See which parts of the country can today further alleviate the confinement measures, adopted in response to Covid-19.
Final stage of the lockdown in Spain, but…
The Health Minister of Spain Salvador Illa has announced on Thursday the territories that will move to phases 2 and 3 today. In his words, 70% of Spain will enter phase 2, which is the last but one in the government's strategy towards exiting the lockdown.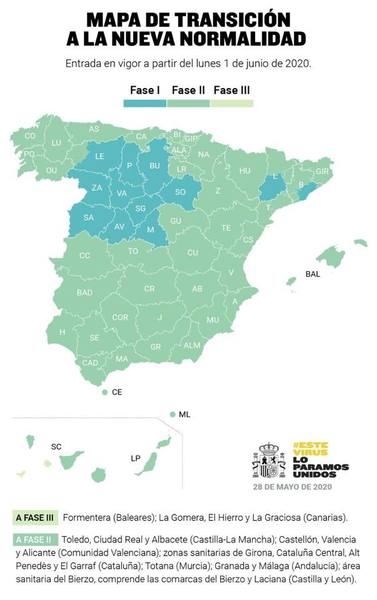 For the most part, Spain is currently in Phase 2 of the lockdown de-escalation plan. Image: La Moncloa
By the beginning of last week, all of Spain was officially at some point of the de-escalation process, including Madrid which was finally allowed to enter Phase 1. As of today, most of the territories proceed to stage 2 (or remain there) and very few alleviate restrictions further to Phase 3.
Phase 2 allows for all commercial premises, retailers and professional services to reopen at 40% of their capacity, including shopping centres. Travel within the respective territory is also relaxed.
As of 1 June, just 4 territories are allowed to enjoy the far less restrictive measure associated with Phase 3, the most advanced towards the "new normal". These are Formentera (Balearic Islands) and La Gomera, El Hierro and La Graciosa (Canary Islands).
The territories that were allowed to advance from Phase 1 to Phase 2 today are:
Toledo, Ciudad Real and Albacete (Castilla-La Mancha);
Castellón, Valencia and Alicante (Valencian Community);
Girona, Central Catalonia, Alt Penedès and El Garraf (Catalonia);
Totana (Murcia);
Granada and Malaga (Andalusia);
El Bierzo Health Area (Castilla y León).
Unfortunately, Madrid will remain in Phase 1 for at least another week. Same goes for the Sanitary areas of Barcelona City - Metropolitana Nord and Metropolitana Sud and Lleida (Catalonia), Avila, Burgos, León (except the Bierzo health area), Palencia, Salamanca, Segovia, Soria, Valladolid and Zamora (Castilla y León).
The risk of coronavirus outbreaks is still there
As we explained previously, not all Spanish territories will proceed together to the more advanced phases of lockdown de-escalation, as not all regions were equally affected by Covid-19. To decide this, each week the Ministry of Health holds bilateral meetings with the autonomous communities that submit applications to change their phase or to earn greater flexibility of measures.
Finally, the minister Health minister reminded that "The risk of possible outbreaks exists and, therefore, caution is the best ally" and that "an equally responsible and exemplary behaviour as during confinement will be the best recipe for reaching the goal we seek: the defeat of the virus".