This year Pilsen becomes the city of festivals
Discover an overview of the best ones here
If you have visited Pilsen, then you are most certainly familiar with its bohemian charm. Hopefully, you associate the 4th largest Czech city with much more than its great beer. If this is not the case, 2020 is a wonderful time to visit as the festival programme of Pilsen promises to be spectacular.
European Capital of Culture – а life sentence
The festival year in the regional metropolis starts as early as February with an event dedicated to Bedřich Smetana, a famous composer, regarded at home as the father of Czech music. From 27 February to March 27 Smetana Days celebrate their 40th anniversary with classical music program, exhibitions, lectures and more.
In March, a Human Rights Documentary Film Festival will take place between 23rd and 28th, while the popular festival of light and art in the public space BLIK BLIK will light up the city from 27 to 29 March.
In April, Pilsen will be the venue for the 33rd annual Finále Plzeň Film Festival (16 to 22 April). In Měšťanská beseda Pilsen citizens and visitors will be able to meet Czech and foreign film stars and filmmakers.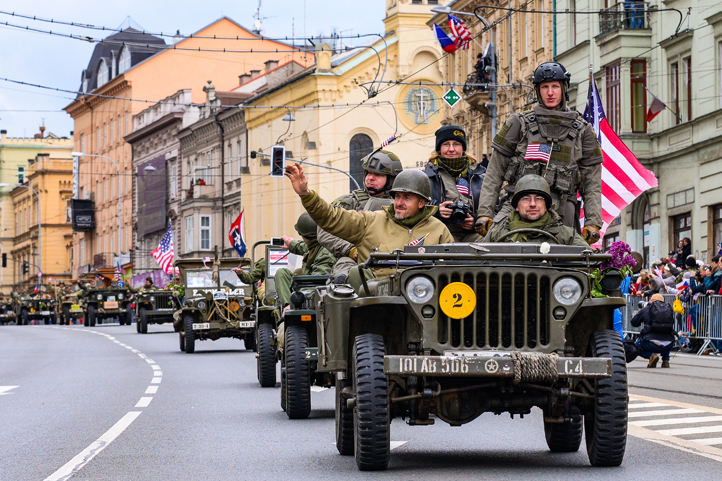 Freedom celebrations in Plzen, Czechia will be taking place in May. Photo by Cty of Plzen
75 years after the end of World War II, Pilsen will commemorate the liberation of the city by the US Army as part of the Freedom Festival (May 1-6). This year the festival also celebrates the 30th jubilee, hence it will be exceptionally six days long.
The beginning of June will be dedicated to the Historical Weekend. On 5-7 will be marked 700 years of the City of Pilsen. The event will allow visitors to travel back in time through a traditional fair or theatre and music performances.
The Pilsen tap dance festival in May (7-10), 24th International Folklore Festival CIOFFfrom 10 to 14 June, the 34th edition of the International Festival of Puppet and Alternative Theatre Skupova Plzeň 2020 from 10 to 14 June are also not to be missed.
An open-air opera can be seen on 26 June, at Night with Opera, while fans of the theatre could enjoy the open-air festival Theatre Summer, which starts on 27 June and will last until 23 July. Should you happen to miss it, there will also be a theatre festival in September (9-17).
The International Film Festival for Children and Youth will be held from 6 to 12 November. Its 13th year will take place in several cities - Pilsen, Dobřany, Domažlice, Přeštice and Horšovský Týn. November will also offer animation, at the 15th International Animation Film Festival Animania, at the Moving Station.
What to see and do in Pilsen
These and many other festive events prove that winning the European Capital of Culture 2015 title was no coincidence. If you are curious about more events supported by the City of Pilsen, make sure to visit the official website.