Disponible en:
Partager l'article
Croatia's Imotski region receives substantial government stimulus
Some 32 million euros will be invested in the region to help it recover from COVID-19
mardi 07 juillet 2020 21h30
Anton Stoyanov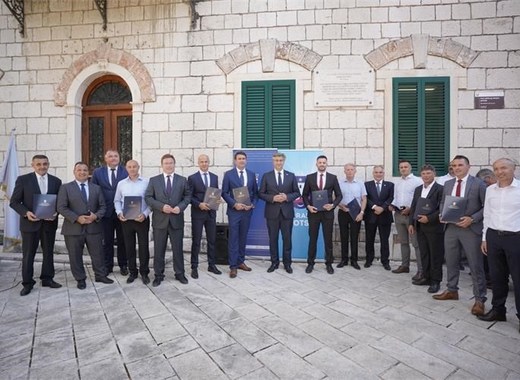 Source: Government of Croatia
In the aftermath of the coronavirus pandemic, authorities around Europe are scrambling to secure funding for the development of their countries' cities and regions. Many of them realize that in these extraordinary circumstances. economic revitalization can only be achieved through substantial public investments in different enterprises, projects and initiatives that are to the benefits of all citizens and will ensure growth and the creation of jobs.
Speaking directly to the regions in Croatia
The Croat government, headed by Prime Minister Andrej Plenkovic has been on a tour over the past few days of many of the country's regions delivering good news about financial stimulus packages that are meant to help them recover from the economic fallout of COVID-19.
In the region of Imotski, the PM presented the Intervention Plan for the region, worth some 242 million kunas (32 million euros) that is meant to ensure growth and promote investments in the area. The funding will be used for a total of 25 projects that have been deemed of special importance by authorities.
"This HRK 242 million is for numerous economic and social revitalization projects, for larger investments and greater dynamics of life economic activities in Imotski Krajina, this is a continuation of our dedicated commitment to help the development of this region with a policy of balanced development," Plenković stated during the official ceremony.
He continued further pointing to the government's recent history of working closely with Croatia's regions in stabilizing their economies and helping them reboot and resume growth. So far 12.8 billion kunas has been sent to 5 Slavonian regions and the government is planning on continuing its investments in the Dalmatian hinterland, Lika, Gorski Kotar and Banovina.
"We are convinced that these parts of Croatia need additional support for both demographic revitalization and economic development," continued the Prime Minister.
TheMayor.EU est contre les fausses nouvelles et la désinformation. Si vous trouvez de tels textes et documents en ligne, contactez-nous à info@themayor.eu