Lyon: les citoyens créent ensemble des dessins géants en temps réel
Le confinement ne peut pas freiner la créativité et l'esprit collectif
lundi 13 avril 2020 09h30
Aseniya Dimitrova
Source: The Live Drawing Project
Les artistes lyonnais invitent les citoyens à rejoindre un projet créatif collectif depuis leur domicile. Le Live Drawing Project permet à toute personne possédant un appareil smart de contribuer à de grands dessins qui sont ensuite projetées sur des bâtiments et qui évoluent en temps réel. L'idée va certainement remonter le moral des citoyens lyonnais, qui vivent pendant des semaines dans l'isolement social, causé par le coronavirus.
Comment participer au dessin collectif?
Tous les dimanches soir, une nouvelle session réunit les voisins lyonnais. Toute personne désireuse de participer est invitée à visiter le site Web de The Live Drawing Project à l'aide de son appareil intelligent (smartphone ou tablette).
Les utilisateurs seront donc présentés avec une toile sur laquelle dessiner ce qu'ils souhaitent. Une fois qu'ils ont dessiné leur peinture, les utilisateurs peuvent la soumettre à l'œuvre collective d'un simple geste. Leurs contributions seront projetées instantanément aux côtés de celles des autres participants.
De cette façon, l'œuvre d'art collective évolue en temps réel. Il apparaît, bouge, change de couleur ou disparaît graduellement. Il n'est pas nécessaire d'installer un logiciel ou de disposer d'un projecteur. Cependant, ceux qui en possèdent un, peuvent contacter les organisateurs et apprendre comment projeter des tableaux depuis leurs fenêtres.
Le système est assez intuitif et accessible à tous les publics. De plus, les organisateurs sont là pour aider, modérer le travail collectif ou corriger et sanctionner les comportements inappropriés. La technologie permet la participation des centaines d'utilisateurs en même temps.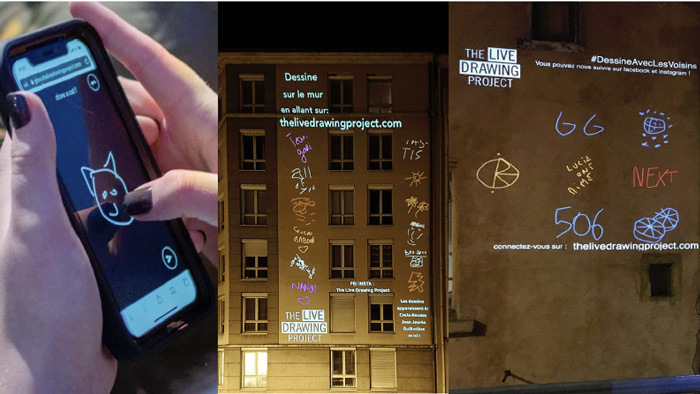 Des dialogues visuels ont lieu tous les dimanches soir à Lyon. Photo: The Live Drawing Project
À propos du projet
The Live Drawing Project est né à Lyon, France et est porté par une équipe de scénographes, ingénieurs et artistes. Ils visent à montrer que le dessin est une forme d'expression qui n'a pas de frontières. Grâce à ce projet, n'importe qui peut s'engager dans un dialogue visuel avec ses voisins sans risquer de contracter le virus.
Alors que ses origines datent bien avant la crise de Covid-19, c'est le bon moment pour prouver le pouvoir unificateur du dessin, dans les moments où nous sommes témoins des restrictions sans précédent sur nos interactions sociales.
TheMayor.EU est contre les fausses nouvelles et la désinformation. Si vous trouvez de tels textes et documents en ligne, contactez-nous à info@themayor.eu