Municipal sports facilities in Bansko remain free for residents and guests of the Bulgarian town
They can be booked in advance and for a limited time
dimanche 09 août 2020 16h00
Monika Dimitrova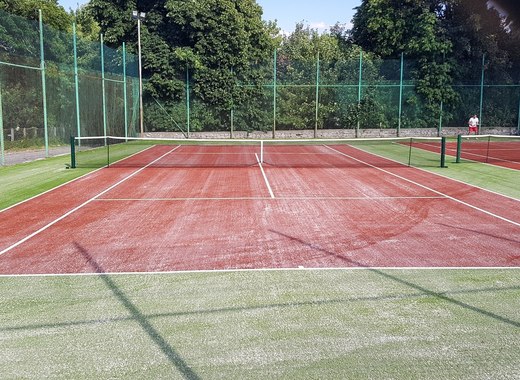 Source: Bansko Municipality
The municipal sports facilities in Bansko remain free of charge. This decision was made by the municipal council at its last regular meeting, as the press centre of the Bulgarian municipality announced. They added that in the last almost two decades municipal funds have been invested in the construction of sports facilities, which are used at no cost by the residents and guests of Bansko.
New rules for use
Until now there have been no rules for their use and they were accessible to all citizens. This was recently subject to change when the councillors adopted "Conditions for the use of municipal sports facilities".
The municipal tennis courts and football fields remain free, but their use will be possible after making a prior request and with a limited time of up to two hours, at the suggestion of Mayor Ivan Kadev. The "Conditions" adopted unanimously also provide for reservations and cancellations to be made through an application on the Municipality of Bansko website.
The Municipality also pointed out that citizens who regularly use the sports grounds had taken part in the preliminary discussion of the conditions. They even made a voluntary commitment to monitor compliance with the newly adopted rules.
Types of sports grounds in Bansko
The Municipality of Bansko has four sports grounds housing football pitches and tennis courts. The facilities are located at the four ends of the city and are absolutely free for anyone wishing to play sports outdoors.
In the Glazne district, the site is 18 m long and 36 m wide. It has high fences, modern flooring, lighting and rest area. It is suitable for football, volleyball and basketball.
The site in the Kostey Blata neighbourhood counts with a facility of the same dimensions. It has high fences, lighting, a special coating, and security. It is likewise suitable for football, volleyball and basketball.
A sports and leisure playground was also built in the central part of Bansko, in the immediate vicinity of Zdravets kindergartens - base №2, above the polyclinic. It has two tennis courts with specialized covering and a children's section with swings and climbing frames.
The sports ground in the kindergarten yard on Bulgaria Street also has a fence, special covering, children playground equipment, a gazebo, a mini football pitch and a volleyball court. It is used by the residents in the lower part of Bansko.
The sports installation on Drama Street has high fences, lighting and special covering. It has two tennis courts, a volleyball court and a football pitch. There is also a children's playground with facilities.
TheMayor.EU est contre les fausses nouvelles et la désinformation. Si vous trouvez de tels textes et documents en ligne, contactez-nous à info@themayor.eu