Disponible en:
Partager l'article
Un bateau à énergie solaire transportera des légumes vers le centre de Gand
Le projet innovant vise à rendre le système alimentaire local plus durable
samedi 15 février 2020 15h00
Aseniya Dimitrova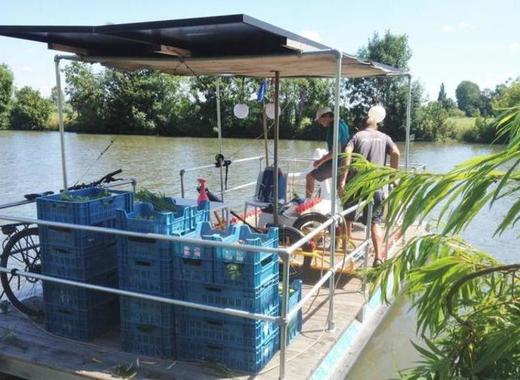 Source: City of Ghent
L'innovation arrive dans le Secteur de la restauration et de l'hôtellerie à Gand - très bientôt, un bateau alimenté à l'énergie solaire transportera des légumes vers les établissements de restauration locaux. Le bateau sera développé par Goedinge - une ferme biologique située dans le sud-ouest de Gand. Ils l'utiliseront pour transporter des produits frais par eau vers le centre-ville d'une manière plus écologique.
Innovations alimentaires promues par la ville de Gand
Le prototype du bateau a déjà été testé et le bateau solaire actuel devrait voir le jour en avril. Mais ce qui est encore plus spécial dans le véhicule, c'est qu'il est le produit d'un programme subventionné par la ville belge, visant à rendre le système alimentaire local plus durable.
2020 est la deuxième année consécutive que la campagne du Conseil alimentaire de Gand se déroule et subventionne des idées innovantes qui mettront en pratique la stratégie alimentaire locale. Les 30 membres du Conseil, issus du secteur agricole, d'organisations de la société civile, d'institutions du savoir et de représentants des commerçants et de la restauration de Gand, ont sélectionné 4 lauréats parmi 17 propositions de projets reçues. En conséquence, une subvention totale de 62 000 euros sera mise à disposition pour leur implémentation.
Les autres initiatives qui recevront des fonds cette année sont:
un projet qui prévoit des ateliers de cuisine et des activités de restauration qui combinent des aliments locaux, végétariens et halal;
un projet qui s'attaque au gaspillage alimentaire des ménages grâce à l'aide domestique en termes de formation sur le stockage et finalement
un projet qui transforme les surplus de nourriture et de récolte en repas à offrir à moindre prix.
Gand and Garde, la stratégie alimentaire de la ville de Gand, a été lancée il y a 6 ans. L'année dernière, le document a remporté le prestigieux Global Climate Action Award des Nations Unies. En 2018, il a également reçu le Transformative Action Award, un prix de la plateforme Sustainable Cities pour les villes ou régions qui œuvrent pour une société durable.
TheMayor.EU est contre les fausses nouvelles et la désinformation. Si vous trouvez de tels textes et documents en ligne, contactez-nous à info@themayor.eu