Disponible en:
Partager l'article
Urban planning and maintenance get high-tech treatment in Sant Cugat
This is possible thanks to the so-called 'mobile mapping'
lundi 26 octobre 2020 18h30
Tzvetozar Vincent Iolov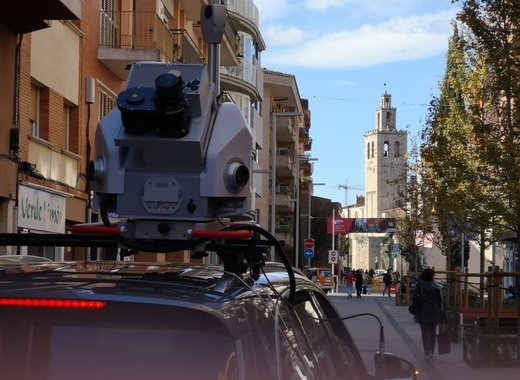 Source: Ayuntamiento de Sant Cugat del Vallés
Earlier today, there was a presentation of a technological innovation which will be put in service to the town authorities in the Catalonian municipality of Sant Cugat del Vallés. The technology in question, presented by the Deputy Mayor for Urban Development and Housing Francesc Duch, is called Mobile Mapping and involves the collection of a large base of 3D data from the town streets by a camera-equipped vehicle.
Mobile Mapping goes beyond GPS navigation
Apart from creating maps that help us with our driving or orientation, 3D mapping can have a beneficial impact in the fields of city management and road maintenance.
The visual data collection itself is carried out through the following sensors installed on a moving car: laser scanner, 4 side cameras, 1 spherical panoramic camera and 1 camera focused on the asphalt (with a shot range of 15 square metres).
This entire set allows capturing a cloud of continuous points of high density and 3600 panoramic images that can be combined to recreate the reality on the ground in different parts of the city.
"The use of this technology has a single objective: to help improve the city and provide a better service to citizens. With this capture of massive data we will be able to have a very precise photo of the public thoroughfare that will allow us to manage Sant Cugat better," said Mr Duch.
The data set that will be collected will be of special interest for different departments of the city administration, such as urban planning, cleaning and the management of green areas. It allows working on and planning possible models remotely and could be especially useful in our current times when too much unnecessary movement outside is discouraged.
Currently, the pilot project is tested out in the old town and the Monestir-Sant Francesc District, but soon it could be extended to other areas of Sant Cugat.
TheMayor.EU est contre les fausses nouvelles et la désinformation. Si vous trouvez de tels textes et documents en ligne, contactez-nous à info@themayor.eu