Paris Triumphal arch
54 departments in France with a curfew starting tomorrow
This is 38 more compared to a week ago
The rapid spread of Covid-19 in France has pushed the government to extend the curfew enforced on 17 October to another 38 departments. This way, a total of 54 departments in continental France and one overseas territory - French Polynesia - will fall under its mandate. The curfew applies starting midnight, tonight, Friday 23 October.
Curfew extended to 38 more French departments
Despite having placed the Region of Paris and another eight metropolises under curfew last Saturday, France is still observing a far too rapid spread of COVID-19. Prime Minister Jean Castex announced yesterday a twofold increase in the number of new positive cases within the last 15 days, while in the last six weeks the number increased three times among the elderly.
That is why on Thursday the National Defence and Security Council decided that what is likely the most restrictive measure – the curfew – will now extend well beyond the 9 largest cities, to include a total of 54 departments, out of 95.
The map displayed below, released by the Government of France, shows the red zones, where a curfew will apply from 21h in the evening to 6h in the morning: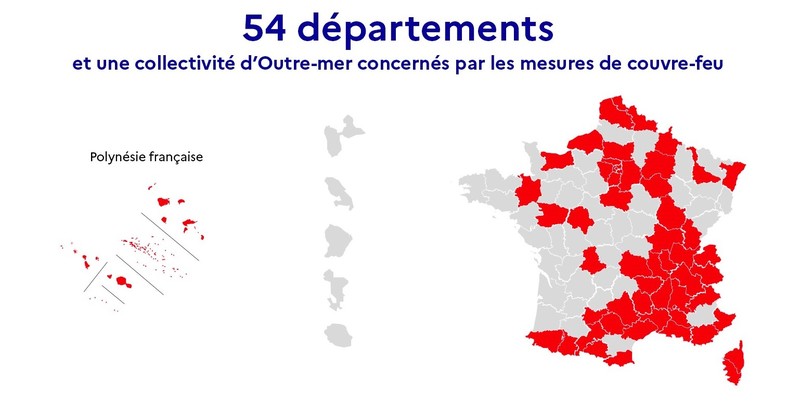 A total of 54 French departments will be under curfew starting from 21h on Saturday 24 October. This is 38 more than last week. Image: Government of France
As the state of health emergency over the entire French territory is still valid, the measures announced previously continue to apply throughout the country while the curfew will be enforced only for the most concerned departments. The rules will last for at least four weeks with the possibility of an extension, should the situation deteriorate.
As of yesterday 22 October, France has almost one million positive cases, which places it right after Russia and Spain in Europe, according to WHO data.