Beata Moskal-Słaniewska, Source: Beata Moskal-Słaniewska / Municipality of Swidnica
Beata Moskal-Słaniewska: Swidnica is common and each of us should put effort, ideas and creativity into our city
The Mayor of Świdnica speaks about cultural heritage, budget 2020 and smart city
Beata Moskal-Słaniewska has been Mayor of Swidnica since 2014. A journalist by education, member of the city council since 2010, she has been re-elected to the mayor's post in 2018.
Mrs Moskal-Słaniewska, how would you describe Świdnica briefly?
Świdnica is a specific, intercultural city, where in the past the fate of Czechs, Germans and Poles intertwined. They left behind incredible material achievements, including numerous monuments, the medieval old town, a beautiful cathedral or the Church of Peace that is on the UNESCO list.
But it is also a strong economic centre for a city of this size with modern factories, especially in the steel and metallurgical industries, as well as for companies that deal with automation and robotics today. So, on the one hand, it is a very attractive city in terms of tourism and on the other a good place to live, where you can find a well-paid job. A city in which recreational and green areas are beautifully preserved, where we can relax in our free time.
Świdnica is home to the fascinating Church of Peace, part of the World Heritage of UNESCO. Made of wood back in the 17th century, the construction is particularly vulnerable and difficult to maintain. How do you manage, who helps the city with the process, and will you be able to assure more funding for its renovation?
The Church of Peace is a separate institution. It belongs to the Evangelical Church of Poland. It has a very good and organized team, especially the Bishop, Waldemar Pytel who very effectively strives for various means, including the Norwegian funds, the European Union and Poland ministerial grants.
Świdnica for many years systematically supported the conservation works in this building. And we will continue to do so in the future. The work progress, especially in the last five years, is huge. A significant part of the church's interior has been renovated, restored and tidied up, among others the outer cemetery and other facilities that belong to the square around the Church of Peace. This increases tourist attractiveness.
Today, this place is the most recognizable symbol of Świdnica, which is an effective magnet for attracting newcomers to us not only from Poland but also from Europe, and actually the whole world today.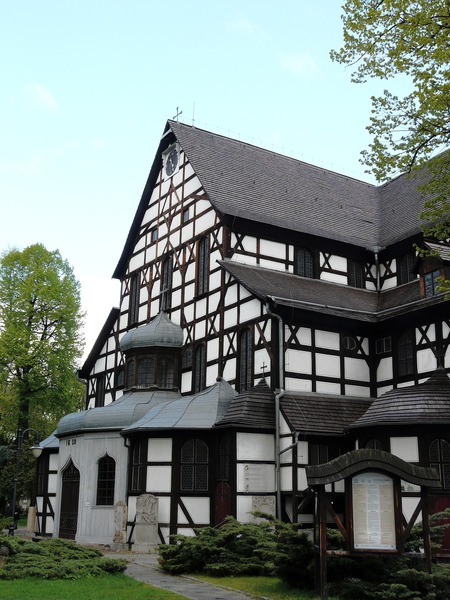 The spectacular Chruch of Peace in Swidnica is part of the heritage of UNESCO. Together with the one in Jawor, it is a testimony to the quest for religious freedom
At last year's European Business Forum in Katowice, the municipality was rewarded for the sixth time for the investments in improving social services and increasing the tourist attractiveness. Which projects or initiatives were recognised by the jury?
In recent years, we have been conducting intensive promotion of Świdnica by participating in regional and national tourist organizations, as well as cooperating with the media in the tourist industry. We are also the organizer of the Congress of Polish Tourism in our city.
Świdnica also participates in international projects that not only help us finance part of the renovation work but also increase the tourist attractiveness of the city. For example, we participated in "The Stone Trail", which on the one hand allowed us to renovate four historic fountains, and on the other hand, allowed Świdnica to participate in the new Polish-Czech tourist trail.
There are a lot of these activities, thanks to which the tourist activity observed by us has increased threefold since 2014. However, when it comes to investments, we try to make them concern different spheres of life. We do not focus on one area. On one hand, roads, parking lots, sidewalks are important to us, but on the other hand the condition of monuments and municipal buildings. We have donated a lot of funds to revitalize green areas.
We can say that today most of these areas in the city, have been renovated. What makes it not only beautiful but also create recreational areas for residents as well as tourists.
Changes in the tax system will largely affect the local budget in 2020. You expect a significant reduction of investment, as well as drastic savings in various fields, including the abolition of the Civic Budget. How will you manage to overcome the challenges?
Today, unfortunately, the only idea is savings. This year, due to changes in the tax system, Świdnica's budget dropped 7 million PLN compared to what we planned. The city also had to take over the burden of teachers' pay increases. That's another 5 million. In total, this makes 12 million PLN.
This, among other, meant that we would not, as we originally planned, carry out the extension of the central heating network, we will not carry out the conversion of coal heating into more ecological solutions in municipal buildings, we will certainly spend less money on renovations of historic buildings. We leave only necessary tasks in the budget, especially those with EU funding. We will closely monitor our income. We are also afraid of further increases, including electricity prices.
The municipality will be joining an EU co-funded project dedicated to smart cities aimed to involve residents and stakeholders in the creation of intelligent solutions. Could you tell us more about this and which spheres will the solutions be implemented in?
Smart City is a very broad and extensive topic. You can talk about it in the field of technological solutions; you can also talk about solutions for communication with residents.
For us, the number one task was to improve public transport. Creating such a system in which the passenger or resident will have instant information not only about the upcoming bus but also possible delays, will also have the opportunity to buy a ticket. We have already done it all. It works very well.
We also publish more and more data in open collections for residents to use. An increasing number of services can also be arranged online. In carrying out some tasks, we also consult via the Internet. I think there is a lot to be done, but in general, these first projects are very well received by the residents and let us hope that in a few years it will be possible to say that Świdnica is a smart city.
You scored 8th place in the Best presidents of Polish cities 2019 at the 10th Congress of Regions. In your opinion, what do you own this recognition to and what does it mean to you?
For me, it is a very prestigious distinction, all the more so because it is an assessment of my colleagues as presidents vote for presidents. I think one of the reasons is that I try to see my city holistically, as a whole, not omitting any sphere of life.
I care not only for the sphere of hard investments, improving or expanding the infrastructure, but also by engaging much in civic activity, supporting those who run NGOs, who create various types of initiative groups organizing events or small investments that improve the quality of life of the local community.
We also deal with such things as preventive healthcare, civic education, and ecological education. We try not to miss any important aspect in our self-government life and what is particularly important to me is to make the citizens believe that our city is common, something that each of us should put at least a little of our effort, ideas and creativity.
Finally, what are the projects and initiatives that you are looking forward to implementing this year?
The most important investment will be the revitalization of the last large green area within the city - Youth Park. This renovation was much awaited by our citizens.
However, the priority for me and many other local government officials is the issue of climate protection and taking all kinds of actions that we can to protect the climate and improve our living conditions and the parameters of the air we breathe. Hence, Świdnica will be the leader of a large EU project in which a total of 15 municipalities participate. It will be a program targeted at owners of single-family houses and ownership flats.
Thanks to our substantive support and EU money, we will be able to replace the coal-based heating method of a flat or house with a much more ecological one. These are absolute priorities to use all possibilities and means to reduce the amount of pollution that is thrown into the air and protect us, as well as future generations against the bad effects of global warming.