A visualisation of the new design, Source: Stephan Lenzen Architects via City of Berlin
Berlin unveiled plans to redesign city centre
The award-winning project sees the first redevelopment of the central Rathausforum since the fall of the Berlin wall
Yesterday, the city of Berlin announced the winning project for the overhaul of the city centre. This is a landmark event, as the district between Marx-Engels Forum and Alexanderplatz has not been redesigned since the fall of the Berlin Wall.
The winning project was selected through an open competition among 53 participants and was announced by the Senate Department of Environment, Transport and Climate protection. It was designed by RMP Stephen Lenzen landscape Architects, Bonn/Cologne.
Controversial district sees new development for the first time in 30 years
The project features the restructuring of the space into a green oasis between the government buildings and monuments spread out along the area. The design creates a compact interlinked square between Rathausforum, the television tower and Marx-Engels forum on the river Spee. The jury recommended the full implementation of the winning project.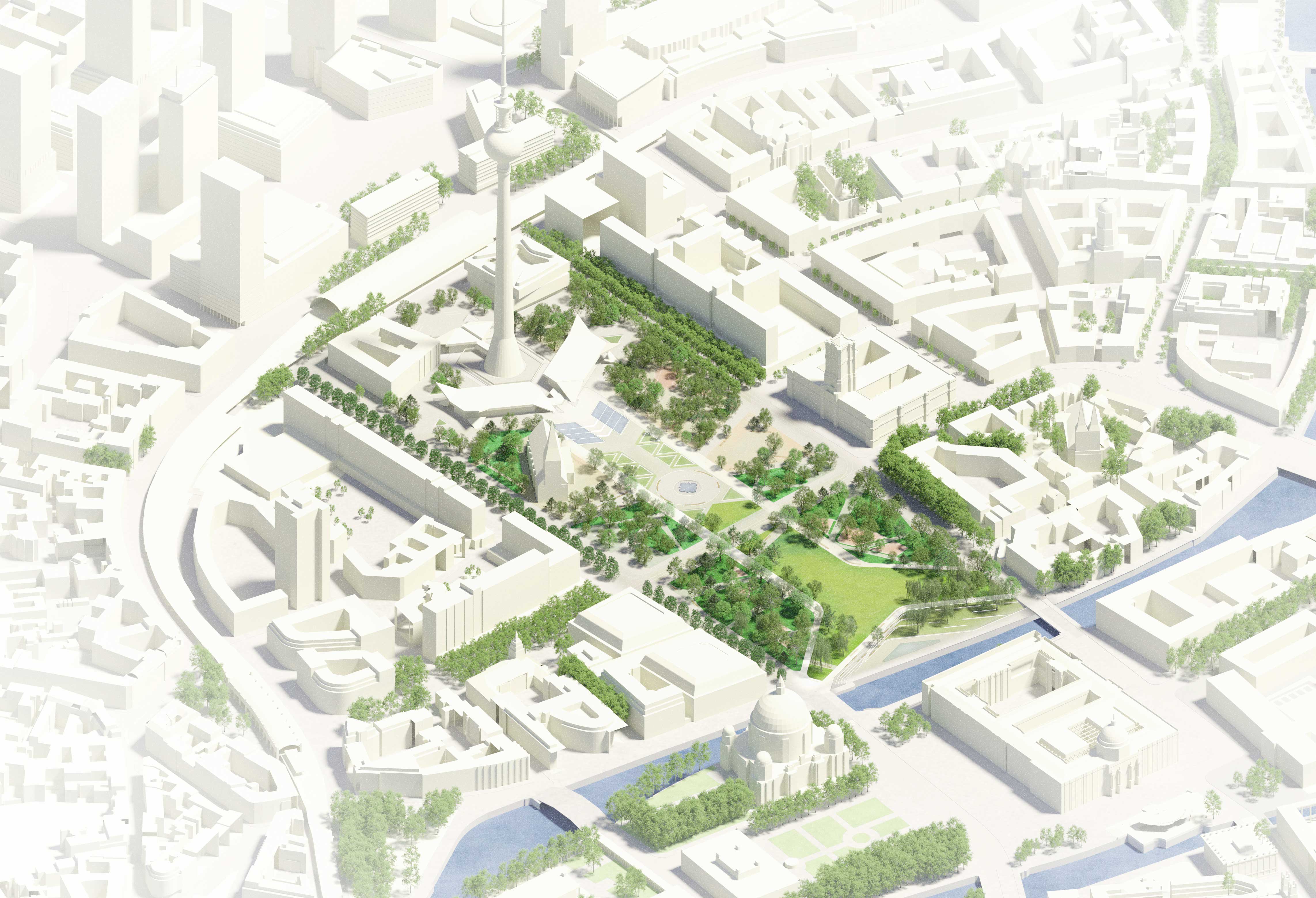 A visualisation of the design of the space,
Source: Stephan Lenzen Architects via City of Berlin
Ephraim Gothe, the city councillor for the Mitte District, explained that there was probably not a more controversial space in Berlin, since the end of World War II, than the square between Alexanderplatz and the Spree River.
He continued: "Overall, the city of Berlin acted correctly not to rush to implement plans here after the fall of the Berlin Wall."
Regine Günther, Senator for Environment, Transport and Climate Protection welcomed the greening of Berlin's centre, contributing to the city's fight against climate change: "The winning design offers a high quality of stay with areas for strolling, relaxing and enjoying the spectacular views of the cathedral, Humboldt Forum and television tower. Together with the wider environment, a modern, climate-resilient urban space is being created here, which enables a diverse range of uses in a diverse society."