IBA_Wien construction site tour Biotope City, Source: Jennifer Fetz, © IBA_Wien
Futuristic Viennese district cools passing air by 2 degrees
The Biotope City Wienerberg is the first project in the world to win the Greenpass Platinum award
Around 2,000 residents now live in Vienna's new Favoritner district, also known as The Biotope City Wienerberg and the place is already an international showcase eco-project. According to mathematical projections, air passing through the district should lower its temperature by 2°C by virtue of the greenery installed on and around the buildings.
980 of the district's apartments are inhabited and two-thirds of those are subsidized, providing a low cost, eco-friendly housing alternative for the city of Vienna.
The new Favoritner Quartier is located at a former Coca-Cola factory site on Triester Straße, near a park and lake area called Wienerberg. It is surrounded by a high-rise business park in the west and mostly single-family houses in the east. In the south, there is an area of ​​123 hectares boasting an impressive urban lake.
Construction began in the summer of 2017, with the city's funding amounting to around 32 million euros with total construction costs of around 100.5 million euros (subsidized residential projects).
The "cool" way to build a district
The project is the first to be awarded the Greenpass Platinum, because of its concept of covering the whole area - buildings included - in greenery.
Greenpass provides municipalities and developers with the right tools and expertise to make sustainable decisions on climate, water, air, biodiversity, energy and costs, to manage microclimates in an urban environment. Favoritner is recognised as an overachiever in all of these departments.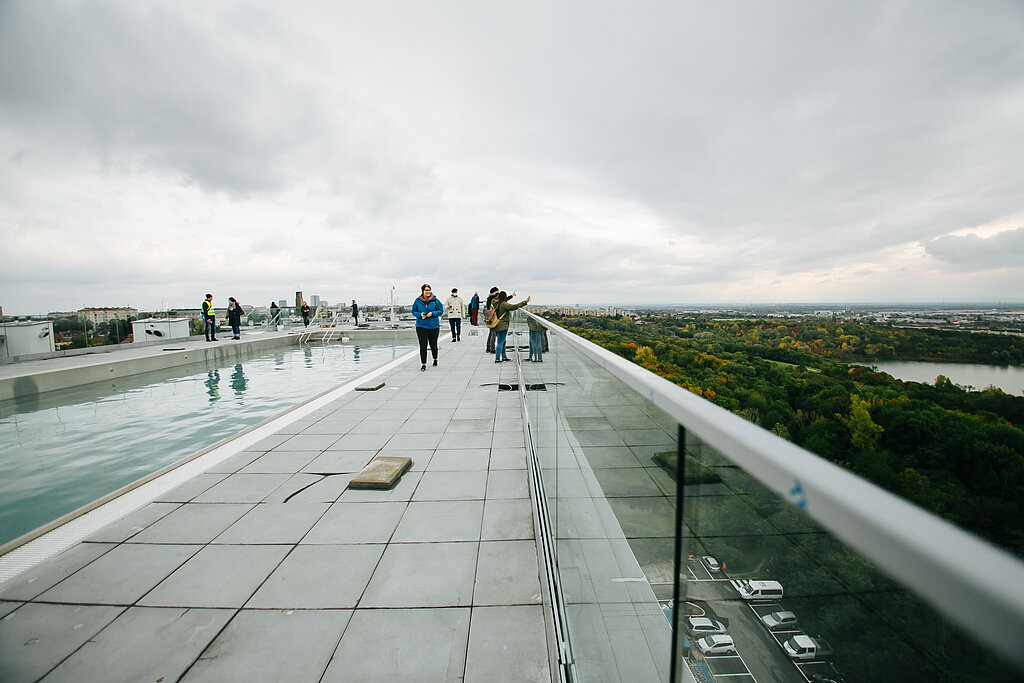 IBA_Wien construction site tour Biotope City,
Source: Jennifer Fetz, © IBA_Wien

Greenpass used its know-how during the development of the Biotope City to achieve the highest possible climate impact with the least resources. According to mathematical models and estimations at this time, the maximum climate impact provides a cooling effect of 2°C.
What this means is that air passing through the district will cool by 2 degrees thanks to the extensive greenery. From there the airflow will disperse into the surrounding neighbourhoods.
The city of the future is denser and greener
Walter Koch, a board member of the developer Wien-Süd, claimed in a press release: "The city of the future must be built more densely, but it also needs a connection to nature for its residents and a cooling response to global warming".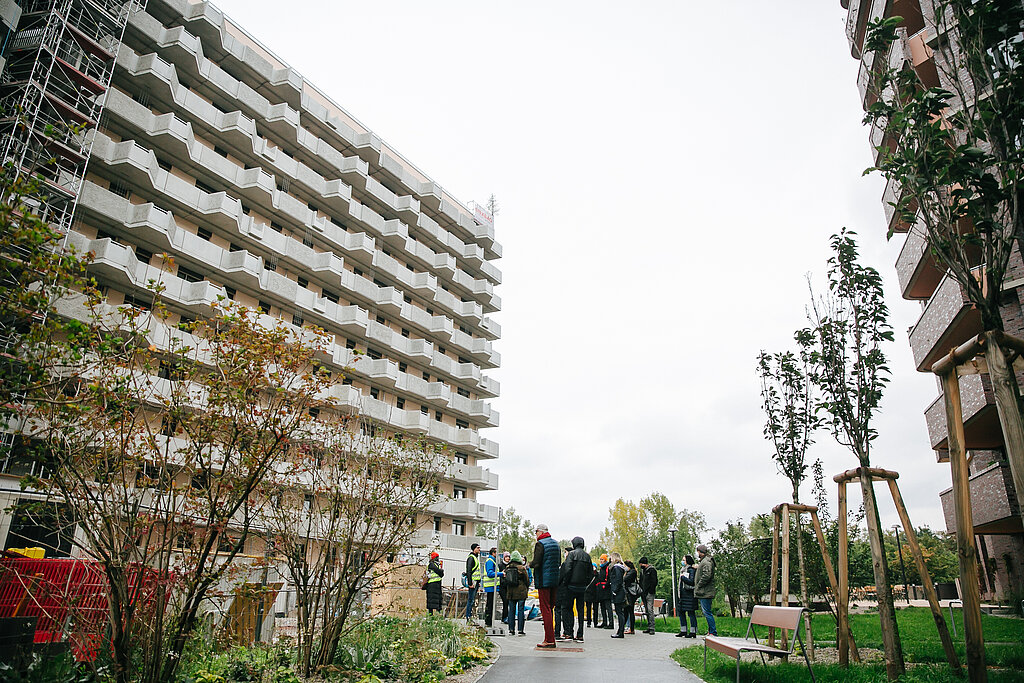 IBA_Wien construction site tour Biotope City,
Source: Jennifer Fetz, © IBA_Wien
The new district in Favoriten is a continuation and a contemporary implementation of the visionary goals of the architect Harry Glück, who has been responsible for many innovative residential buildings in recent decades.
In 2022, the IBA Wien (International Building Exhibition) will present the most exciting projects for social living in the Vienna of the future over a period of about five months. The Biotope City Wienerberg as one of the flagship projects in the field of climate adaptation and sustainability should not be missing from that agenda.