A butterfly in a wild meadow, Source: Horsens Municipality
Horsens is offering free flower seeds to associations
It is encouraging citizens to help increase biodiversity in the municipality
On Friday 4 February, the Danish Municipality of Horsens announced that it will distribute free flower seeds to various associations that can convert common areas and public spaces into green, wild meadows. More specifically, it will provide landowners' and housing associations (among others) with seeds that can cover an area of 1,000 square metres, the equivalent of 4 tennis courts.
Once an association receives and sow the seeds, the municipality will then allow them to put up a sign, notifying others that it is converting the area into a home for insects, plants, and animals.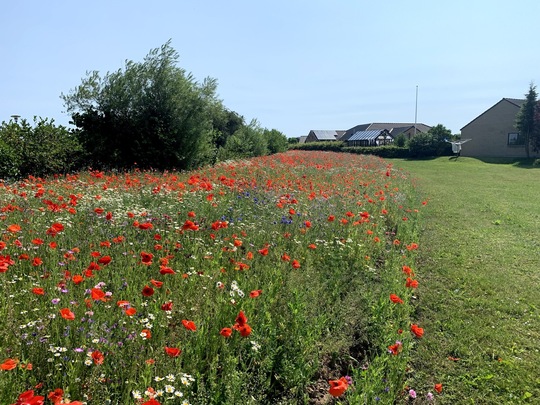 A landowners' association converted a grass area into a flower meadow in 2021
(Source: Horsens Municipality)
Denmark's Wildest Municipality
Last year, the Danish Minister of the Environment, Lea Wermelin, invited all of the country's 98 municipalities to participate in a competition to become 'Denmark's Wildest Municipality'. Since then, 92 have joined the contest and begun implementing green projects that will increase the biodiversity in their cities.
Taking a case in point, Horsens Municipality set aside 50,000 square metres of land for insects and plants in June 2021. Now, it hopes to further strengthen its position in the competition by distributing the aforementioned flower seeds, which will increase the biodiversity of areas it does not own or control. Malene Steen Simonsen, Project Manager in charge of Horsens' participation in the national competition, commented:
"Even small areas count when it comes to biodiversity. As a municipality, we have a responsibility to inspire and motivate, so that as many people as possible want to contribute to creating better conditions for our plants and insects."
In addition to increasing biodiversity in the municipality, the wild meadows will also make it more attractive for its residents and visitors. The associations interested in receiving free flower seeds must apply on the VildMedHorsens website no later than 14 March 2022.
Ireland / Growing City
Despite the good news, preliminary data from the national census reveals a dire shortage in the housing market that will not go away anytime soon
France / Development / Public Spaces
The innovative project received funding from the participatory budget in Lille, France
Denmark / Copenhagen / Development / Social City
This was decided after an unprecedented agreement between the national and city governments
Croatia / Digital transformation
The town of Makarska has recently launched a new mobile service, aiming to cut down on paper use and stimulate citizens to go contactless
Finland / Vantaa / Green City / Innovation and Research
The invention promises to be revolutionary as it can decouple food production from agriculture and its environmental impacts
Spain / Innovation and Research / Mobility
Commercial unmanned aerial vehicles will far outnumber their crewed counterparts by the end of the decade and solutions are urgently needed
Finland / Vantaa / Green City / Innovation and Research
The invention promises to be revolutionary as it can decouple food production from agriculture and its environmental impacts
Finland / Energy efficiency
The country wants to become a leader in hydrogen production and export
Italy / Milan / Green City
The arid weather phenomenon is affecting the agricultural sector in Northern Italy to almost unprecedented levels
Lithuania / Vilnius / Culture and Tourism / Public Spaces
The splendid initiative that turns advertising spaces into art canvases is back for its third edition
Finland / Helsinki / Green City / Welfare and Health
Dust particle concentrations can still present a tough challenge to beat, though
Germany / Munich / Culture and Tourism / Mobility
The cancellation hits in the middle of the travel season and is caused by serious labour shortages coupled with a sudden rise of Covid cases
New European Bauhaus
These will be spread across 11 EU countries and will serve to support the EU Missions
New European Bauhaus
The European Commission has accepted to develop the idea
Portugal / Matosinhos / Interviews / New European Bauhaus
An interview about AYR, one of the 2021 New European Bauhaus Prize winners

Portugal / Matosinhos / Interviews
A conversation with the Mayor of Matosinhos, Portugal's first UN Resilience Hub

Interviews
An interview with Nigel Jollands and Sue Goeransson from the European Bank for Reconstruction and Development

Greece / Athens / Interviews / Welfare and Health
An interview with the President of the City of Athens Reception & Solidarity Centre