The average price for housing in Luxembourg City is 1.35 million euros
Housing costs in Luxembourg – going up at an alarming rate
Eurostat study shows the rise of housing prices across the EU
In the last year, housing prices across the EU have gone up, however, Luxemburg tops the chart. This was made evident by a report from Eurostat, published on Thursday, 8 June 2021.
Prices increased by an average of 6.1% across the bloc, compared with the beginning of 2020 – the steepest annual increase since 2007. Meanwhile, the prices in Luxembourg have gone up by a whopping 17% compared to last year, a jump of 12 percentage points higher than the EU average.
Denmark saw the second-highest rise at 15%, followed by Lithuania and the Czech Republic at 12% and the Netherlands at 11%. The only country where prices fell was Cyprus, at -6%.
The strange phenomenon of housing deflation
Housing deflation is another big problem in Europe in general. This term refers to a disbalance between inflation in a given country's market overall and the housing prices.
In fact, for the first time in at least 20 years, housing prices increased more than the inflation across the board in the European Union. Here Luxembourg "shines" with the difference between prices and inflation sitting at more than 13%. For comparison, the runner-ups – Croatia and Portugal, sit at a humble 7.4%, and Slovakia at 7.2%.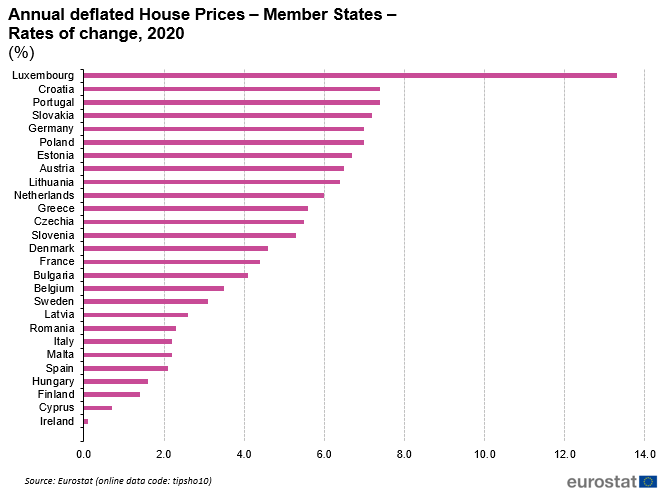 Deflated housing prices by a member state in the European Union, 8 July 2021, Source: Santosv on Eurostat
Despite multiple efforts to provide affordable housing and combat the crisis, this trend does not board well for the EU housing market of tomorrow.
Luxembourgers are fleeing for neighbouring countries
Over 70,000 Luxembourgers have left the Grand Duchy to live in Belgium, Germany and France, with the latter being the most popular destination, welcoming 28,000 "housing refugees".
This is not a major surprise, considering that Luxembourg is famous for its eye-watering housing prices. Recently, according to another Eurostat publication, Luxembourg's housing costs were determined to be a staggering 70% more expensive than the EU average.
According to Statec, the Luxembourg statistical agency, the average price of a house in the city is 1,35 million euros. Of course, the price goes down in the surrounding countryside, but the national average sits at about 900,000 euros.
Whether or not this unsustainable trend keeps on going remains to be seen.
For more information on what European cities are doing to fight the housing crisis, follow us on Facebook, Twitter and Instagram.
Belgium / Development
And it will also advise you on the right way to do this
Ireland / Growing City
Despite the good news, preliminary data from the national census reveals a dire shortage in the housing market that will not go away anytime soon
France / Development / Public Spaces
The innovative project received funding from the participatory budget in Lille, France
Croatia / Digital transformation
The town of Makarska has recently launched a new mobile service, aiming to cut down on paper use and stimulate citizens to go contactless
Finland / Vantaa / Green City / Innovation and Research
The invention promises to be revolutionary as it can decouple food production from agriculture and its environmental impacts
Spain / Innovation and Research / Mobility
Commercial unmanned aerial vehicles will far outnumber their crewed counterparts by the end of the decade and solutions are urgently needed
Italy / Turin / Public Spaces / Social City
The property, together with others that have been confiscated, will be converted for social welfare uses
Portugal / Braga / Education and Sport / Green City
The city also led awareness-raising actions to show the impressionable youths how circularity is created first-hand
Finland / Vantaa / Green City / Innovation and Research
The invention promises to be revolutionary as it can decouple food production from agriculture and its environmental impacts
Italy / Turin / Public Spaces / Social City
The property, together with others that have been confiscated, will be converted for social welfare uses
Portugal / Braga / Education and Sport / Green City
The city also led awareness-raising actions to show the impressionable youths how circularity is created first-hand
Spain / Barcelona / Social City
This is just one of many measures that the municipal authorities have taken to tackle this social ailment
New European Bauhaus
These will be spread across 11 EU countries and will serve to support the EU Missions
New European Bauhaus
The European Commission has accepted to develop the idea
Portugal / Matosinhos / Interviews / New European Bauhaus
An interview about AYR, one of the 2021 New European Bauhaus Prize winners

Portugal / Matosinhos / Interviews
A conversation with the Mayor of Matosinhos, Portugal's first UN Resilience Hub

Interviews
An interview with Nigel Jollands and Sue Goeransson from the European Bank for Reconstruction and Development

Greece / Athens / Interviews / Welfare and Health
An interview with the President of the City of Athens Reception & Solidarity Centre