Jana Pawła II Avenue reconstruction, Source: City of Warsaw
Important infrastructure project started in Warsaw
The capital has set up a website to inform citizens of this major investment on Jana Pawła II Avenue
On Monday, the development of an important infrastructure project started in Warsaw. Namely, the reconstruction of Jana Pawła II Avenue and the Czterdziestolatka Roundabout has finally begun, reported local authorities. As the works provoke great interest among the local inhabitants, the city launched a website dedicated to the investment.
Keeping citizens informed about the progress of the works
The renovations are taking place in the central part of the Polish capital, where thousands or maybe even hundreds of thousands of people cross daily. As this is a recognisable and representative space, it is natural that the works spark powerful emotions.
Since the area will undergo dramatic changes, the responsible authority has prepared a set of visualisations to showcase what it will look like in the future. All technical documentation, including the design of permanent traffic organization and the design of new greenery, are also available for consultation, reassures the municipality.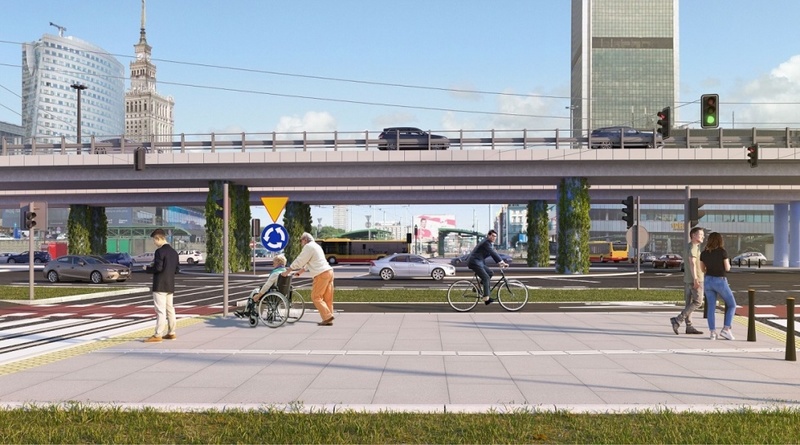 After the end of the works, the roundabout and tram stops will be more easily accessible. Photo: City of Warsaw
All information relative to the project will be stored on a website, specially created to keep citizens up to date with what is going to change and for what purpose. The site will be updated on a continuous basis through its News section, promise officials.
Finally, in the coming days, the contractor will set up several information boards containing the most important facts about the investment. The boards will stand primarily around the Czterdziestolatka Roundabout.
Why is the project important?
The project claims to work towards a modern, accessible, green and aesthetic space which will be fit perfectly in the capital's downtown and which will be safer for all road users. It will create more space for pedestrians, improve accessibility to people of different physical abilities and to places on the Alley that could hardly be reached on foot before like the Central Station and the tram stops.
The first changes to traffic in Warsaw have already been made - with the beginning of work on Monday. The project is expected to complete on 30 November 2020.
Ireland / Development / Digital transformation
The government's new Living Islands Policy wants to reinvigorate offshore communities
Netherlands / Amsterdam / Development / Green City
The five islands have a combined area of more than 700 square metres
Croatia / Zagreb / Development / Energy efficiency
A new project calls for photovoltaics, charging stations and energy-efficiency renovations
Ireland / Development / Digital transformation
The government's new Living Islands Policy wants to reinvigorate offshore communities
Austria / Salzburg / Digital transformation / Education and Sport
It will show all open-air sports facilities in the city, plus 12 running routes
Lithuania / Digital transformation / Innovation and Research
The Baltic country prepares to respond to rising air traffic and to futureproof the sector
Spain / Madrid / Mobility
Locally designed, a prototype will be created next year so that the residents of the city can have their say as well
Spain / Mobility / Social City
The special offer popularizing railway journeys among the 18-30 age group will be available until 15 September
Belgium / Brussels / Mobility / Welfare and Health
The camera and goggles system helps patients to receive emergency specialised care, while they are still en route to the hospital
Spain / Mobility / Social City
The special offer popularizing railway journeys among the 18-30 age group will be available until 15 September
Italy / Florence / Culture and Tourism / Social City
In fact, in the UNESCO-protected old town priority will be given to long-term tenants
Belgium / Brussels / Mobility / Welfare and Health
The camera and goggles system helps patients to receive emergency specialised care, while they are still en route to the hospital
Estonia / Tallinn / Green City / New European Bauhaus
The practical art objects are competing for one of the 2023 New European Bauhaus Prizes
New European Bauhaus
Cast your vote before 24 May and do your part in promoting the NEB values
New European Bauhaus
The new itineraries are part of the DiscoverEU programme, which lets 18-year-olds travel by train between important European sites

Interviews / Read Twice
An interview with the president of the European Federation of Journalists

Interviews
A talk with the head of Mission Zero Academy on the benefits for municipalities if they go the zero waste way

Romania / Cluj-Napoca / Digital transformation / Interviews / Politics and Reforms
A talk with Nicolae Urs, one of the key figures behind the city's new data platforms and online services strategy