A visualisation of the new design, Source: Arup / COBE, City of Berlin
New Mühlendamm bridge in Berlin offers flexibility in the coming green transition
The winning design will allow for flexibility and vehicle reduction
The City of Berlin announced the winning design for the redevelopment of Mühlendamm bridge on 28 July. The local engineering office Arup Deutschland GmbH and the architects from COBE A / S from Copenhagen submitted the winning design and according to the ten-person jury, it is the best because it offers a lot of flexibility for the coming green energy transition in Germany.
Several unique challenges that need a special approach
Currently, the Mühlendamm bridge in Mitte has around 72,000 vehicles and over 2,500 trucks passing through it every day. As such, it is one of the most important arteries through the heart of Berlin. However, the bridge was constructed in the 1960s and a number of loadbearing and structural defects have developed over the years, making swift reconstruction necessary.
The competition participants, in turn, had to meet complex requirements in terms of design, functionality, sustainability, construction, economic efficiency and the urban-architectural integration into the existing heterogeneous environment of the historic centre.
For starters, the Mühlendamm cannot be completely closed for the duration of the construction. Instead, first, half of the bridge will be closed off and rebuilt according to the new design, then the other half will undergo the same process.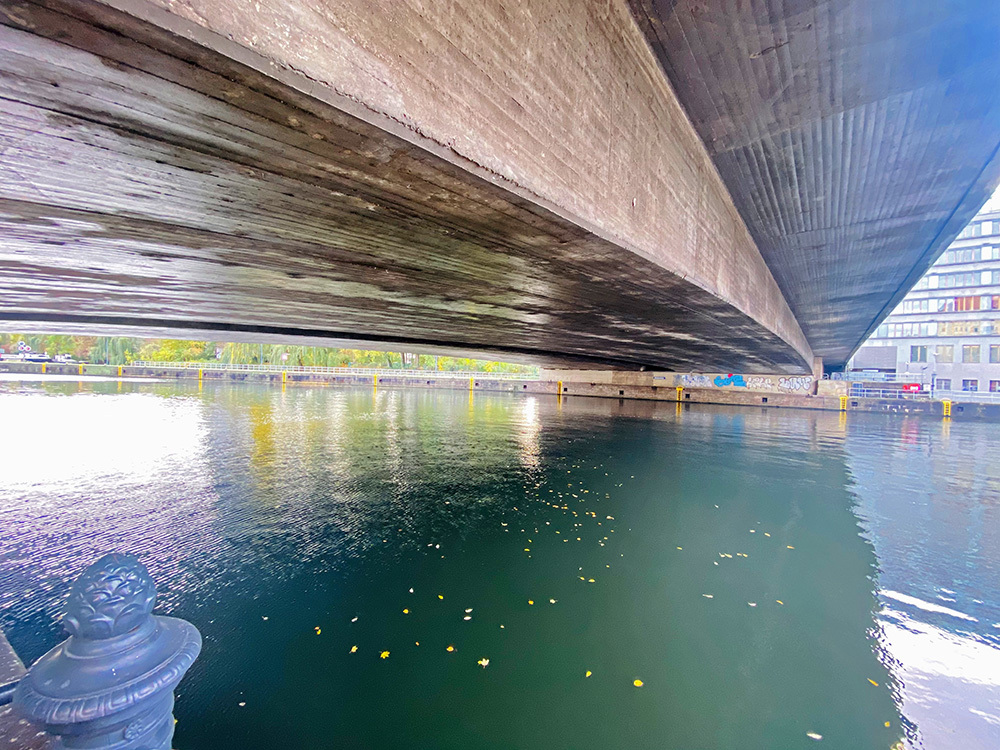 A view of the underbelly of the bridge, Source: City of Berlin
Furthermore, there is a turning point for freight and passenger traffic in the Spee river right underneath the bridge that has to remain open. This makes the construction of loadbearing columns in the river impossible.
According to the jury, the new bridge does all this and more
The new structure will span the Spree with a slight concave curve on both sides, connecting the banks and integrating the adjacent urban space. Additionally, instead of the six car lanes on the old bridge, the new one will have only four, with two of them being transformed into tramlines, that will connect Potsdamer Platz and Hallesches Tor.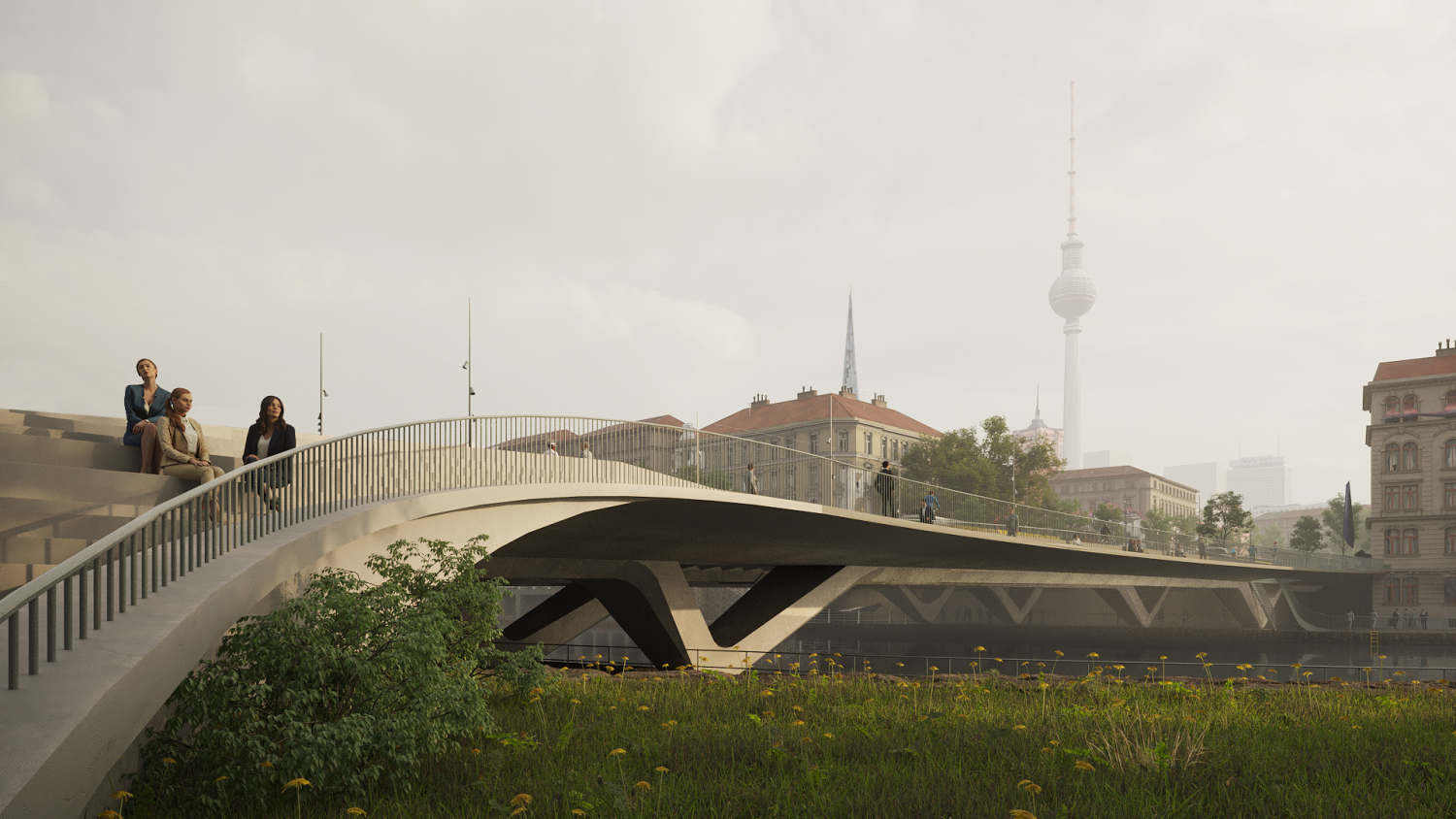 The new bridge will connect the adjacent urban spaces,
Source: Arup / COBE, City of Berlin
Lane reduction is part of the future vision for Berlin that city planners are trying to account for in this design, as over the coming years Germany has to reduce CO2 emissions and cars. One of the best ways to reduce traffic is to cut down on vehicle capacity.
Ephraim Gothe, District Councillor for Urban Development in Mitte and member of the jury expressed his desire for a very quick downgrade to the bridge's car lanes after its construction. The vehicle lanes can be reduced to just one per direction - in favour of more bicycle and pedestrian traffic.
Regine Günther, Senator for Environment, Transport and Climate Protection was quoted in a press release, saying: "The future Mühlendamm Bridge will be a bridge for the Berlin mobility transition, with plenty of space for the city-friendly modes of transport tram, bicycle and pedestrian traffic. "
Belgium / Development
And it will also advise you on the right way to do this
Ireland / Growing City
Despite the good news, preliminary data from the national census reveals a dire shortage in the housing market that will not go away anytime soon
France / Development / Public Spaces
The innovative project received funding from the participatory budget in Lille, France
Malta / Green City / Innovation and Research
Abandoned fishing gear is one of the most dangerous threats to the marine environment, but also to divers and underwater heritage
Croatia / Digital transformation
The town of Makarska has recently launched a new mobile service, aiming to cut down on paper use and stimulate citizens to go contactless
Finland / Vantaa / Green City / Innovation and Research
The invention promises to be revolutionary as it can decouple food production from agriculture and its environmental impacts
Malta / Green City / Innovation and Research
Abandoned fishing gear is one of the most dangerous threats to the marine environment, but also to divers and underwater heritage
Italy / Culture and Tourism / Mobility
Trenitalia has announced that it wants to reduce the phenomenon of domestic animals being left behind alone while their owners go on holidays
Italy / Turin / Public Spaces / Social City
The property, together with others that have been confiscated, will be converted for social welfare uses
Italy / Culture and Tourism / Mobility
Trenitalia has announced that it wants to reduce the phenomenon of domestic animals being left behind alone while their owners go on holidays
Italy / Turin / Public Spaces / Social City
The property, together with others that have been confiscated, will be converted for social welfare uses
Portugal / Braga / Education and Sport / Green City
The city also led awareness-raising actions to show the impressionable youths how circularity is created first-hand
New European Bauhaus
These will be spread across 11 EU countries and will serve to support the EU Missions
New European Bauhaus
The European Commission has accepted to develop the idea
Portugal / Matosinhos / Interviews / New European Bauhaus
An interview about AYR, one of the 2021 New European Bauhaus Prize winners

Portugal / Matosinhos / Interviews
A conversation with the Mayor of Matosinhos, Portugal's first UN Resilience Hub

Interviews
An interview with Nigel Jollands and Sue Goeransson from the European Bank for Reconstruction and Development

Greece / Athens / Interviews / Welfare and Health
An interview with the President of the City of Athens Reception & Solidarity Centre