STH visualisation, Source: The concept developed by Foster+Partners proposes construction of two terminal buildings, connected and integrated, via for example a shuttle train / STH
Poland approves the first stages of a mega communication hub
Located between Warsaw and Lodz, it should host one of the top 10 airports in the world
On Wednesday 28 October, the Polish government approved the establishment of a work programme for the first stage of the Solidarity Transport Hub (STH). With a horizon for the end of 2023, the investment is expected to reach about PLN 12,8 billion (2.77 billion euros), at its first stage.
The money will be spent on preparation and design works and land purchase. Some 2 billion of the total amount come from the European Union.
A new transport system for Poland
According to a media release by the Council of Ministers, STH should become a whole new transport system, with airport, road and railway components. Located in Baranów between Warsaw and Lodz, it previews the construction of the Solidarity Port - the central airport for Poland and a transfer hub for Central and Eastern Europe. The investment will also cover a network of 1,800 km of railway lines and 400 km of new expressways.
With this mega project, the government wants to create a universal passenger transport system by building and operating a profitable, modern transport hub. Their objective is to turn it into one of the top ten airports in the world with a capacity to handle up to 45 million passengers a year.
The project also aims to rebuild the existing national rail transport system and make it a more attractive alternative to road transport. Thus, the system will cover all areas of Poland, while ensuring the development and permanent integration of the Warsaw and Łódź agglomerations.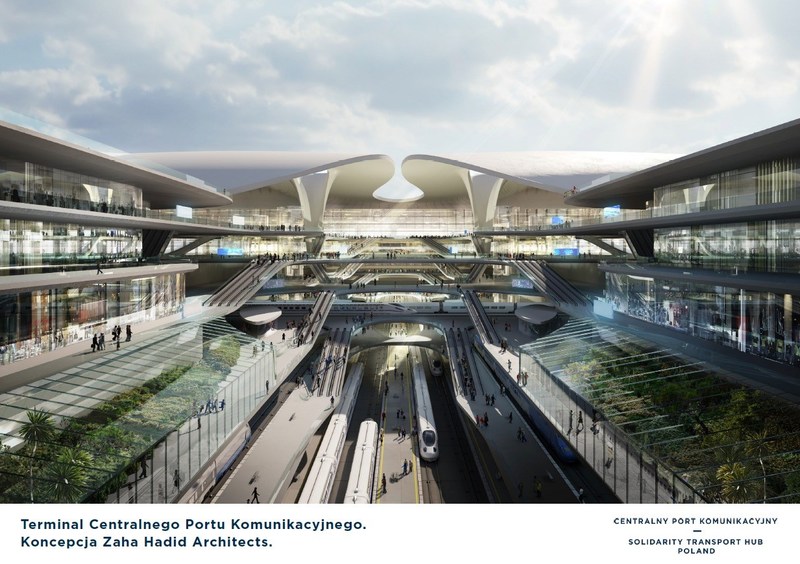 One of the alternative designs for the STH, prepared by Zaha Hadid Architects. Here the railway station is directly under the airport, allowing the passengers to observe oncoming railway traffic from the upper levels. This and other firms were invited to present their visions of the hub, which will serve as an inspiration for the master plan from 2021. Image: Zaha Hadid, STH
According to the concept, Port Solidarność will be part of the STH - a junction connecting air, rail and road transport. The investment includes not only a new airport (hub), but also a railway station integrated with the airport.
There will also be the so-called airport city, where, among others, business centres, hotels, parking lots, service buildings and a logistics centre will be built. The airport-related stage is to be completed by 2027.
The railway component involves the construction of new lines with a length of approx. 1,800 kilometres, the modernization of the existing railway lines and the construction of new sections. They are to be completed by 2034.
Finally, the road investments involve the construction of a ring road of the Warsaw Agglomeration facilitating access from different directions.
The first stage of the project, which was given the green light on Wednesday, extends to four years. It involves mostly preparatory activities and the purchase of real estate before the end of 2020.