'Roots' will spring up in the large open space in the centre, Source: Peter Tschentscher on Facebook
'Roots', Germany's highest wooden skyscraper broke ground in Hamburg
Mayor Tschentscher praised the project for mixing low-carbon technologies and modern construction
Yesterday, Germany's tallest wooden skyscraper broke ground in Hamburg. The building is called 'Roots' and the impressive concrete and wooden structure, sitting at 65 metres and 19 floors. The Mayor of Hamburg, Peter Tschentscher, attended the ceremony in HafenCity and symbolically laid the foundation stone together with Fabian von Köppen, the head of Garbe Immobilien-Projekte GmbH, and Jörg Soehring, the board of directors of the Deutsche Wildtier Foundation.
Building with carbon-neutral materials – it is worth it
The building is set to finish in 2023 and it will be the tallest wooden structure in Germany. Only the central stairwell and the foundation stone are made from concrete. Façades, ceilings and room walls are made of wood - up to the 18th floor. The foundation stone, however, needed to be significantly thinner than normal, because the building is going to be significantly lighter than usual.
On the other hand, timber construction is around 12% more expensive than concrete and could end up costing even more, considering the recent rise in the price of wood in Europe. However, the financial cost of the building will be offset by the fact that wood is a carbon-neutral material. For 'Roots' this means 5,500 cubic metres of timber.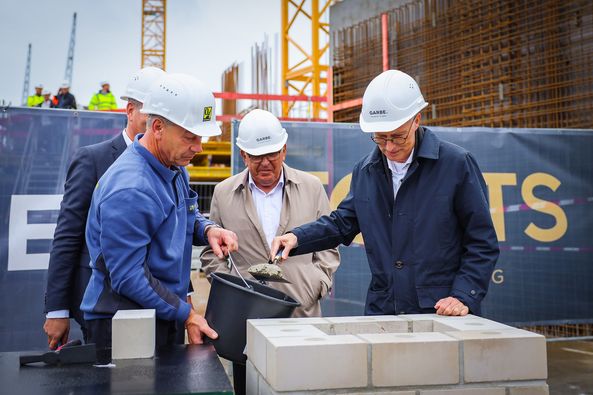 Mayor Tschentscher pouring concrete in the thin foundation slab,
Source: Peter Tschentscher on Facebook
The building will have 128 condominiums and another 50 that will be publicly funded. At the same time, the Deutsche Wildtier Foundation will use 4,000 square metres of the building as their headquarters. The space they occupy will have offices, exhibition and restaurant spaces.
Mayor Tschentscher commented on Facebook, that he is a son of a timber merchant who also traded large quantities of wood for the construction industry, creating a line continuity with the good practices of the past.
He continued: "HafenCity meets the highest standards for sustainable urban development - with attractive apartments, modern workplaces and low-emission mobility. With the project 'Roots', Germany's largest wooden skyscraper and one of the most modern and sustainable residential and office buildings is being built in the Quartier Elbbrücken."
Netherlands / Amsterdam / Development / Public Spaces
It involves all the five senses, apparently
Germany / Mobility / Politics and Reforms
Germany's new approach has convinced hundreds of thousands of people to start using public transport for the first time
Bulgaria / Sofia / Mobility / Politics and Reforms
Drivers will be legally required to push their scooters manually in pedestrian areas and parks
Bulgaria / Greece / Athens / Sofia / Thessaloniki / Digital transformation / Mobility
Greece and Bulgaria are set to build one of the first 5G cross-border corridors in Europe
Finland / Digital transformation / Welfare and Health
The feline registry is expected to start operating in 2026
Luxembourg / Culture and Tourism / Innovation and Research
The team presented the final report about a year, which was supposed to put the Luxembourgish city on the cultural map of Europe
Netherlands / Amsterdam / Development / Public Spaces
It involves all the five senses, apparently
France / Lyon / Public Spaces / Social City
What you pay for having your car resting in the city will now depend on several different factors
Germany / Mobility / Politics and Reforms
Germany's new approach has convinced hundreds of thousands of people to start using public transport for the first time
France / Lyon / Public Spaces / Social City
What you pay for having your car resting in the city will now depend on several different factors
Denmark / Mobility / Social City
Fredensborg Municipality is inviting residents to take the bikes for a spin…lasting up to 3 months
Culture and Tourism / Mobility
After all, sleeping carriages are basically hotels on wheels
Estonia / Tallinn / Green City / New European Bauhaus
The practical art objects are competing for one of the 2023 New European Bauhaus Prizes
New European Bauhaus
Cast your vote before 24 May and do your part in promoting the NEB values
New European Bauhaus
The new itineraries are part of the DiscoverEU programme, which lets 18-year-olds travel by train between important European sites

Interviews / Read Twice
An interview with the president of the European Federation of Journalists

Interviews
A talk with the head of Mission Zero Academy on the benefits for municipalities if they go the zero waste way

Romania / Cluj-Napoca / Digital transformation / Interviews / Politics and Reforms
A talk with Nicolae Urs, one of the key figures behind the city's new data platforms and online services strategy