TIER's e-scooters, Source: Jonas Jacobsson / Unsplash
Scooter operator TIER and tech platform Luna partner to create computer vision-equipped e-scooter fleet
The strategic partnership announcement follows up a pioneering AI-based research pilot across Dublin City University campuses
Europe's leading e-scooter operator TIER and Irish micromobility tech platform Luna have entered into a strategic partnership to explore the piloting and deployment of computer vision and smart city technology on shared e-scooter fleets, across Europe and the Middle East.
Yesterday's announcement came during an Enterprise Ireland trade mission to Germany led by Tánaiste (Irish Deputy Prime Minister) and Minister for Enterprise, Trade and Employment, Leo Varadkar who met in Berlin with representatives from Luna and Tier. The topics discussed included the bilateral cooperation within the e-mobility and automotive industry, and the future of e-scooter sharing in Ireland once the respective legislation is passed.
Dublin pilot proliferates
The strategic partnership builds on a Dublin pilot project across DCU's five campuses, which is partnered by TIER, Luna, Smart DCU and Insight SFI Research Centre for Data Analytics. TIER and Luna are now eyeing possibilities to undertake similar projects in Paris, Spain and the Middle East.
For example, high-fidelity and high-frequency imagery captured by a portion of TIER's fleet of 5,000 scooters stationed in Paris can assist the Mayor's Smart City ambitions. In the Middle East, bespoke computer vision solutions can tackle local issues around safety, infrastructure optimisation, and municipal governance requirements.
More precise street mapping
TIER and Luna also pledge further collaboration with various digital mapping platforms to improve the reliability of street data. Existing mapping platforms scan cities once or twice a year, while computer vision-enabled scooters can capture and provide additional street level data on a daily basis.
Finally, TIER and Luna are embarking on a technical integration project to examine how Luna computer vision hardware can be embedded into TIER vehicles at the point of manufacture. This will allow Tier to develop a next-generation e-scooter with deeply integrated Luna computer vision technology, similar to the use of Advanced Driver Assistance Systems (ADAS) in the car industry.
To meet the increasing workload on future pilot projects, Luna will create additional 15 full time jobs to the current 5, covering computer vision/AI, hardware, IoT and project management roles in Ireland.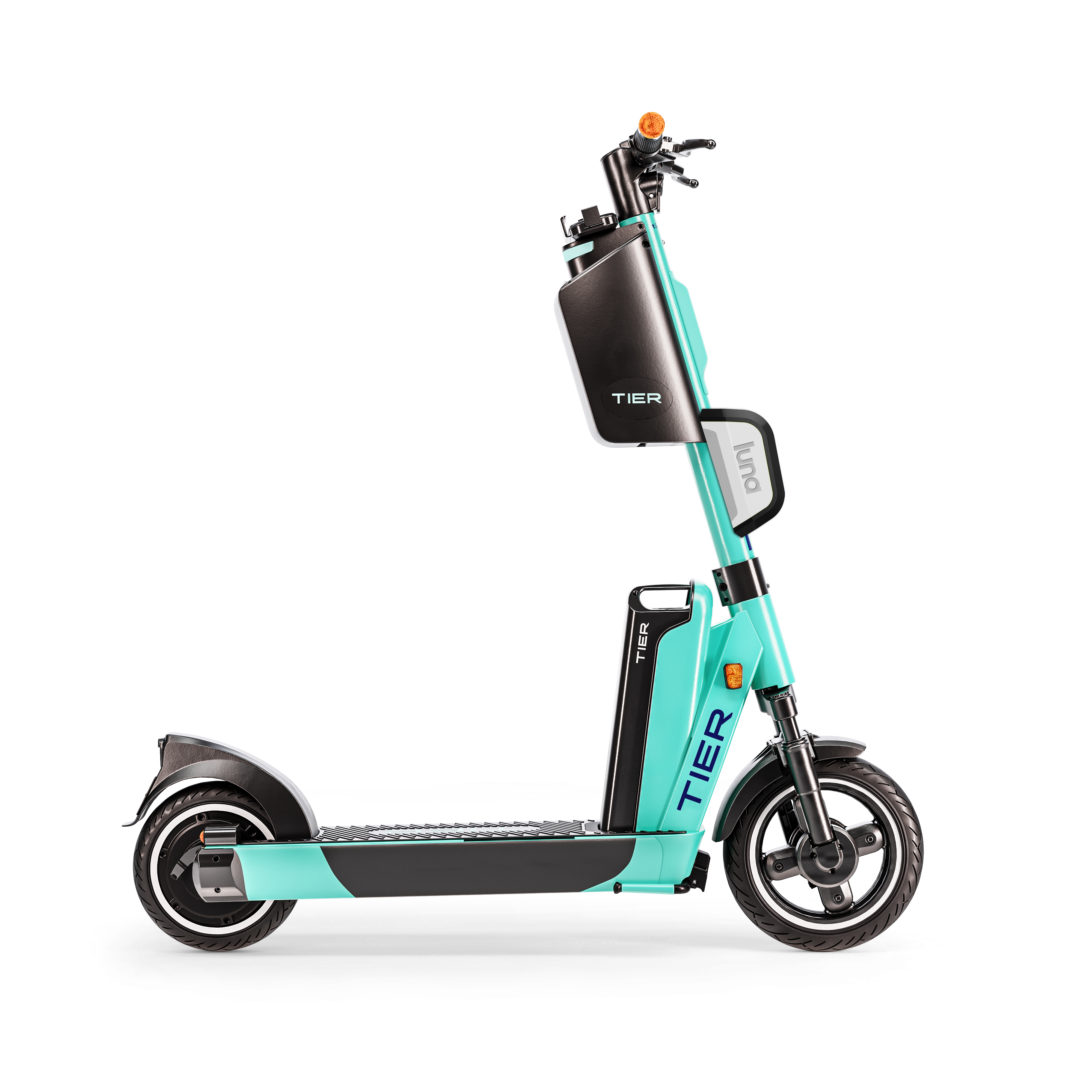 Tier's e-scooter of the future. Source: Beachhut PR
Addressing smart city challenges
Speaking at the announcement of this strategic partnership, Tánaiste Leo Varadkar said: "Ireland is introducing a new law to allow for the legal usage of scooters on our roads in our towns and cities, as they become an increasingly popular option for commuters. These kinds of innovative partnerships can provide Ireland with a 'second mover advantage', helping us avoid some of the safety and other teething issues of earlier e-scooter schemes elsewhere."
Matthias Laug, CTO and Co-Founder of TIER, said: "We see computer vision as a valuable tool in our mission to change mobility for good and to lead the way towards seamless, sustainable and safe micro-mobility. Alongside our world-leading parking capabilities with Fantasmo, this powerful collaboration with Europe's leading computer vision and edge AI start-up in the scooter space, allows us to explore the full potential of this exciting technology on our fleet. Luna thinks about cities in the same way as we do, and we look forward to jointly developing new solutions that address some of the key smart city challenges, from pavement riding to infrastructure monitoring and from litter alerts to road condition reports."
Ireland / Dublin / Development / Social City
While supply is becoming virtually nonexistent, rents are increasing faster than anytime in the last 16 years
Development
Share your thoughts on how the European funds can work better for you and people like you
Finland / Culture and Tourism / Politics and Reforms
That's one area that still hasn't been directly affected by sanctions but as discontent with ongoing military aggression grows, this might change
Greece / Green City / Innovation and Research
The isle is a member of the Blue Municipalities Network, which aims to help clean up the Aegean Sea
Poland / Warsaw / Culture and Tourism / Digital transformation
This year, authorities will be boosting their efforts to get people familiar with different sides of the water body
Italy / Digital transformation / Economy and Finance
The country is keen on doing its part to ensure technological independency for the EU
Spain / Energy efficiency / Green City
The transportable solar-powered module was provided by the regional government
Spain / Energy efficiency
Few might have heard of Castile and Leon, yet it is only surpassed by Norway in that respect
Greece / Green City / Innovation and Research
The isle is a member of the Blue Municipalities Network, which aims to help clean up the Aegean Sea
Germany / Culture and Tourism
The route will feature 15 murals by artists from all over the world
Ireland / Dublin / Development / Social City
While supply is becoming virtually nonexistent, rents are increasing faster than anytime in the last 16 years
Bulgaria / Sofia / Culture and Tourism / Education and Sport
The building is adorned with murals by the Urban Creatures street art collective
New European Bauhaus
These will be spread across 11 EU countries and will serve to support the EU Missions
New European Bauhaus
The European Commission has accepted to develop the idea
Portugal / Matosinhos / Interviews / New European Bauhaus
An interview about AYR, one of the 2021 New European Bauhaus Prize winners

Interviews / Politics and Reforms
A conversation with the President of the European Committee of the Regions, about energy, climate change and the underrated importance of cohesion policy

Interviews
Interview with Herald Ruijters, Director, Directorate-General for Mobility and Transport (DG MOVE), European Commission

Portugal / Matosinhos / Interviews
A conversation with the Mayor of Matosinhos, Portugal's first UN Resilience Hub