Sofia , Source: Sofia Municipality
The coloured figures in the parks of Sofia will be replaced with greenery
Mayor Fandakova said that the coloured figure of the sun in front of the National Library and the coat of arms of Sofia will be the only ones preserved throughout the year
The Municipality of Sofia informed that this summer the coloured figures in the gardens and parks will be replaced by greenery. The only exceptions are the coloured sun in front of the National Library "St. St. Cyril and Methodius" and the coat of arms of Sofia at the alley "Yavorov".
They will serve to remind all residents and guests of the Bulgarian capital of the flowers that they will enjoy again next year and of the gardens through which they can once more walk through. Other places will be greened only during the summer and autumn.
"At the moment the spring flowers of the tulips and violets that were planted last fall are blooming in the parks and gardens of Sofia. In the new situation, we need to give up some additional costs. So my colleagues and I decided that we would also save money from summer blooms.", the Mayor of Sofia Yordanka Fandakova informed.
New trees are also currently being planted by the municipality along the streets and boulevards as part of cleaner air measures in the Bulgarian capital. The planting of 1,100 trees has already begun. The planting of another 800 young saplings in the "Boris Garden" also continues.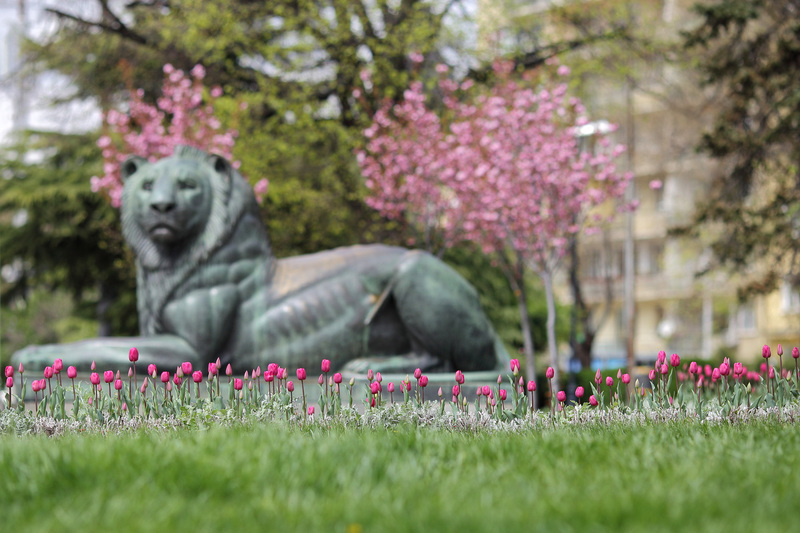 Spring colours. Photo by Sofia Municipality
Challenges and possible solutions
With the rapid urbanization of Sofia that has been taking place in recent years, many of the plant species can no longer thrive in urban environments. This requires some of them to be renewed or replaced with other more suitable flora.
Frequent repairs to the road infrastructure, which lead to the destruction of many species, are also a challenge. Subsequent restoration of the green space then takes decades.
One of the main priorities of the Sofia Municipality is to make the city greener and cleaner. The aim is to strike a balance between development and greenery - an end goal for all projects and annual initiatives spearheaded by the local government.