Zagreb earthquake, Source: City of Zagreb
Zagreb se oporavlja nakon potresa u dobi karantene
Glavni grad Hrvatske sanira posljedice potresa dok se bori protiv koronavirusa
Rano ujutro ove nedjelje Zagreb je pogodio najjači potres u posljednjih 140 godina. Oštećene su brojne kuće, zgrade i bolnice. Građani glavnog grada Hrvatske osjetili su čak 3 snažna potresa.
Najsnažniji od njih bio je jačine 5,5 po Richteru. Jedna djevojčica od 15 godina preminula je od ozljeda nakon što su se liječnici dva dana borili za njezin život. 17 ljudi je ozbiljno ozlijeđeno, no je u stabilnom stanju.
Osiguran je smještaj za ostale bez doma
Grad Zagreb je uveo dvije besplatne telefonske linije 0800 8805 i 0800 8802 za pomoć svima koji ostali bez svojih domova ili su u potresu teško oštećeni.
Još u nedjelju popodne osiguran je topli ručak za ljude ostali van svojih domova, hrana je dijeljena na 4 mjesta u gradu. Za sve one čiji su domovi oštećeni, osiguran je smještaj u studentskome domu Cvjetnom naselju. Za sada je ondje smješteno 176 građana.
Materijalne štete
Najveći su materijalne štete u samom centru grada gdje je većina zgrada stara. Dosad su građani prijavili više od 700 objekata za koje statičari trebaju procijeniti jesu li prigodni za daljini boravak i uporabu.
Između teško pogođena javna zgrada su Zagrebačka katedrala od koje je pao dio vrha južnog tornja, Hrvatski Sabor, kazalište Komedija, Muzej za umjetnost i obrt. Oštećena su i 63 objekta ustanova u sustavu znanosti i obrazovanja.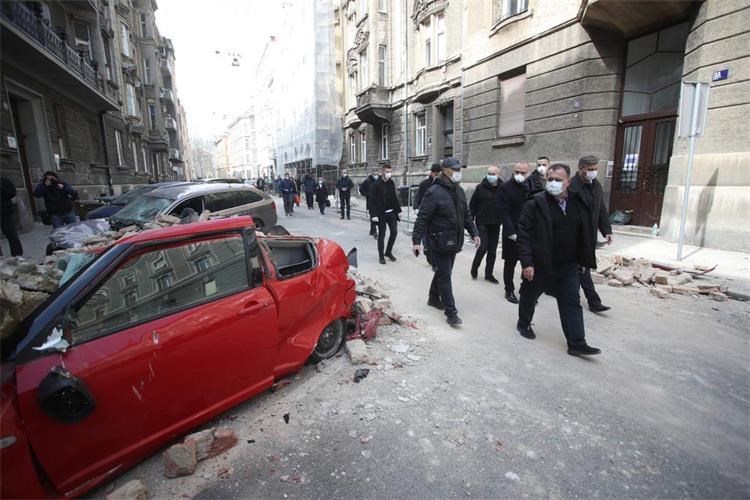 Hrvatski premijer Andrej Plenković, ministri vlade i predsjednik Zoran Milanović obišli su teško pogođena područja. Photo Vlada Republike Hrvatske
Saniranje posljedica u dobi borbe protiv koronavirusa
Unatoč snažnom potresu, državne i lokalne vlasti poručuju kako je koronavirus i dalje najveća opasnost i pozivaju građane da se pridržavaju sve mjere protiv širenja koronavirusa. Izanredna situacija učinila je to nemoguće u prvim momentima nakon potresa.
Kako bi se zaštitilo od potencijalnih novih potresa, odmah nakon prvog puno je ljudi izašlo na ulice, no u momentu panike nisu se svi pridržavali upute za dovoljnu distancu. Iako je križni stožer zabranio okupljanje više od petero ljudi, policajci, vojnici, vatrogasci i liječnici morali su izaći na ulice kako bi pomogli stradalima.
Grad Zagreb pozvao je sve stručnjake statičare, iz područja zidane i betonske konstrukcije, da se uključu u proces procjenjivanja stanje zgrada i kuća. Lokalne vlasti mole stručnjaci da ponesu sa sobom svoju zaštitnu opremu - maske, rukavice i šljemove. Ako nemaju, Ured za hitna stanje poručio je da će im osigurati potrebnu opremu. Trenutno na terenu je 300-tinjak statičara koji obilaze pogođene zgrade i kuće.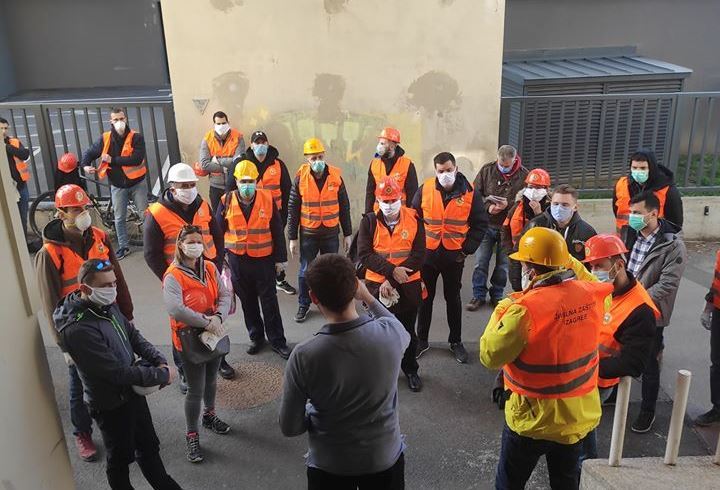 Hitni službi su na terenu bez obzira na opasnosti od koronavirusa. Photo: Grad Zagreb
Otvoren je račun za donacije
Nakon telefonske sjednice Hrvatska vlada je u utorak odlučila otvoriti račun za donacije financijskih sredstava u akciji "Zajedno za Zagreb". Odmah nakon toga je Grad Zagreb aktivirao račun za posebne namjene - sredstva za saniranje posljedica potresa. Svi koji to žele, pravne i fizičke osobe, sredstva mogu donirati na račun Grada Zagreba.
IBAN HR5723600001502749340
SWIFT ZABAHR2X

Belgium / Development
And it will also advise you on the right way to do this
Ireland / Growing City
Despite the good news, preliminary data from the national census reveals a dire shortage in the housing market that will not go away anytime soon
France / Development / Public Spaces
The innovative project received funding from the participatory budget in Lille, France
Croatia / Digital transformation
The town of Makarska has recently launched a new mobile service, aiming to cut down on paper use and stimulate citizens to go contactless
Finland / Vantaa / Green City / Innovation and Research
The invention promises to be revolutionary as it can decouple food production from agriculture and its environmental impacts
Spain / Innovation and Research / Mobility
Commercial unmanned aerial vehicles will far outnumber their crewed counterparts by the end of the decade and solutions are urgently needed
Italy / Turin / Public Spaces / Social City
The property, together with others that have been confiscated, will be converted for social welfare uses
Portugal / Braga / Education and Sport / Green City
The city also led awareness-raising actions to show the impressionable youths how circularity is created first-hand
Finland / Vantaa / Green City / Innovation and Research
The invention promises to be revolutionary as it can decouple food production from agriculture and its environmental impacts
Italy / Turin / Public Spaces / Social City
The property, together with others that have been confiscated, will be converted for social welfare uses
Portugal / Braga / Education and Sport / Green City
The city also led awareness-raising actions to show the impressionable youths how circularity is created first-hand
Spain / Barcelona / Social City
This is just one of many measures that the municipal authorities have taken to tackle this social ailment
New European Bauhaus
These will be spread across 11 EU countries and will serve to support the EU Missions
New European Bauhaus
The European Commission has accepted to develop the idea
Portugal / Matosinhos / Interviews / New European Bauhaus
An interview about AYR, one of the 2021 New European Bauhaus Prize winners

Portugal / Matosinhos / Interviews
A conversation with the Mayor of Matosinhos, Portugal's first UN Resilience Hub

Interviews
An interview with Nigel Jollands and Sue Goeransson from the European Bank for Reconstruction and Development

Greece / Athens / Interviews / Welfare and Health
An interview with the President of the City of Athens Reception & Solidarity Centre