Jupiter's descent
With municipal elections on the horizon, French President Emmanuel Macron has everything to lose
February 12, 2020 11:30
Anton Stoyanov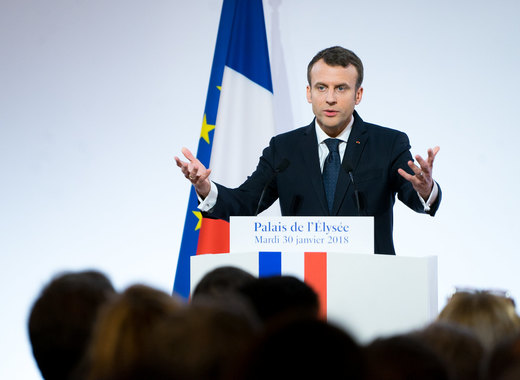 Source: Emmanuel Macron by Jacques Paquier on Flickr (CC BY 2.0)
In his first electoral test since the European elections of May 2019, French President Emmanuel Macron has everything on the line – again. The first round of municipal elections in France are set to be held in just over a month – on 15 March 2020, with a potential 2nd round held the week after, on 22 March.
The prelude
After falling just behind Marine Le Pen's far-right National Rally in last May's European Elections, La République En Marche! has been making attempts to cosy up to voters once more. But unfortunately for the party's leadership, pollsters and media and communications gurus, they have also been attempting to fulfil their electoral promises.
This has proven to be a large electoral liability for French President Emmanuel Macron, whose ambitious programme aimed at restructuring the state's economy and pension system might have sounded good on paper, but when push came to shove, citizens were less than pleased with the offer that was put on the table.
The French president fell into one of the classical trappings of his predecessors – believing that French society is ready to change and adapt to the times and that the time is ripe to be the driver of said change. Like many before him, he was wrong, but unlike them, he appears resolved to stay on course and is not ready to back down in the face of adversity.
Despite being faced with protests on the streets of Paris for the better part of a year – first the Yellow vests movement and then the strikes led by the Labour Unions, Macron and his Prime Minister Edouard Philippe have only been ready to offer small concessions rather than to back down from their plans. They chose a battle of attrition with the protesters and they have won.
The government's Pyrrhic victory on reforms is what carries them into the municipal elections of 2020. Battered and bruised from fights with protesters, French President Emmanuel Macron will have to swim against the current in order to ensure a political Renaissance on the local level.
Optics
La République En Marche! faces a few key challenges that might prove impossible to surmount. First off, are the optics. The party has been in power since 2017 and in that time its policies have generated an unprecedented amount of unrest that has all been captured on camera and is ready to haunt officials right up until election day. Having citizens getting beaten up by police on camera is not a good look for anyone, let alone during an election campaign.
To make Dracula blush
Second, it's the approach. The way Emmanuel Macron has managed to achieve his victories in the past has been to siphon the strength of the old traditional parties – the socialists and the centre-right Republicans. Yet channelling their inner vampire is unlikely to work this time.
On the one hand, it's because those parties don't have much more blood to give – large chunks of their voters have already abandoned them and if they haven't already joined LREM, they're unlikely to do it now.
On the other, local elections are different kind of fight, one that heavily favours already established politicians - people, in general, tend to vote for those they know. What worked so well in the other elections, e.g. that Macron and his crew were by-and-large unknown, will actively work against his party this time. Not only that, but the already established voter lines surrounding longstanding candidates will make it hard for the centrists to get into the 2nd round of the election – where they most likely stand the greatest chance of success.
Civil War
And finally, it's the constant bickering, infighting and hypocrisy that reign supreme among the party ranks. At the very forefront has been the rupture between two LREM candidates both standing for the Paris mayoral seat wanting to challenge incumbent socialist Anne Hidalgo.
The schism only deepened once Cédric Villani refused to stand down after the party chose his opponent Benjamin Griveaux, as its official frontrunner. They are now both running at the same time with Villani polling at 10% and Griveaux at 16%, effectively splitting the centrist liberal vote between themselves and potentially dooming either one's chances of facing Hidalgo in the run-off.
Then there's the Prime Minister, Edouard Philipe, who announced that he would like to run for mayor of Le Havre – a city over which he has presided in the past, as we talked in one of our Major Mayors articles. His ambition to resume his old post, while keeping a hold on his current one comes in direct conflict with the edict he himself issued aimed at preventing ministers from holding more than one official executive position.
And while having to deal with all the internal issues is a tumultuous challenge in and of itself, there's also the opposition one must contend with as well. Many mayors across the country are already firmly entrenched in their posts and are popular among the populace and those are not are being challenged not only by Emmanuel Macron but also by the far-right National Rally. Although Marine Le Pen's successes in national and local elections have been extremely modest so far, a shake-up following the disintegration of other political actors is not entirely out of the question.
The upcoming French municipal elections can best be summed up by saying that they will be fought between the president and his already contentious legacy. Still reeling from months of protest and police violence, LREM is hardly in the position to achieve the same levels of dominance as 2017. Yet, Emmanuel Macron is still president which in and of itself acts as a large magnifying glass for all of his party's candidates. Current polling suggests that while LREM's levels of support are a far cry from what they used to be a couple of years ago, they are still the top dog in town – and everyone will be looking to bring them down.
* * *
UPDATE 14.02.2020: LREM candidate for Mayor of Paris Benjamin Griveaux has withdrawn from the race after a private sex video was leaked to the press and published online. Mr. Griveaux resigned from several governmental posts last year in order to focus on his mayoral bid and was chosen as LREM's official candidate a few months ago, causing a split within the party.
TheMayor.EU stands against fake news and disinformation. If you encounter such texts and materials online, contact us at info@themayor.eu