Poland announces new rules agains Covid-19, Source: Krystian Maj / KPRM
152 districts of Poland will be in the red zone from Saturday
New rules will apply to the entire country
Poland is the latest European country to reinforce the restrictions on its territory as it faces a second wave of COVID-19. Earlier on Wednesday, Polish Prime Minister Mateusz Morawiecki announced on the new rules that will apply to the entire country starting Saturday 17 October. The list of districts that go from the yellow to the red zone has also been expanded to 152, including 11 voivodeship capitals.
Limiting social interactions on the entire territory of Poland
In Poland, new rules will be in effect for the entire country, effective tomorrow. Thus, for the part of the country that falls into the yellow zone:
Catering establishments may be open from 6:00 am - 9:00 pm with limited capacity and takeaway after 9 pm;
Public transport's occupancy shall not exceed 50 percent and 30 percent of seats;
sporting events will be held without an audience;
in cultural events only a quarter of the seats can be taken;
swimming pools, gyms and aquaparks are temporarily closed.
the number of people at weddings and other celebrations is limited to 20, with no possibility of dancing (as an exception, this rule starts from Monday 19 October);
religious ceremonies may be attended by max. 1 person on 4 m2;
public assemblies may be attended by max. 25 people;
universities and secondary schools go into hybrid teaching mode (online and onsite).
For the remaining districts (or powiats), which have qualified as red, the rules are even stricter. In addition to what is applicable in the yellow zone, they go even further:
limiting the number of people in retail outlets to 5 people per cash desk;
banning the organization of special events (weddings, mourning's, from 19 October);
during religious ceremonies there can be no more than 1 person per 7 m2;
public assemblies may be attended by up to 10 people.
in universities and secondary schools, distance learning is mandatory with the exception of vocational classes.
The Prime minister's office has also released a map with the powiats falling in the yellow and red zones: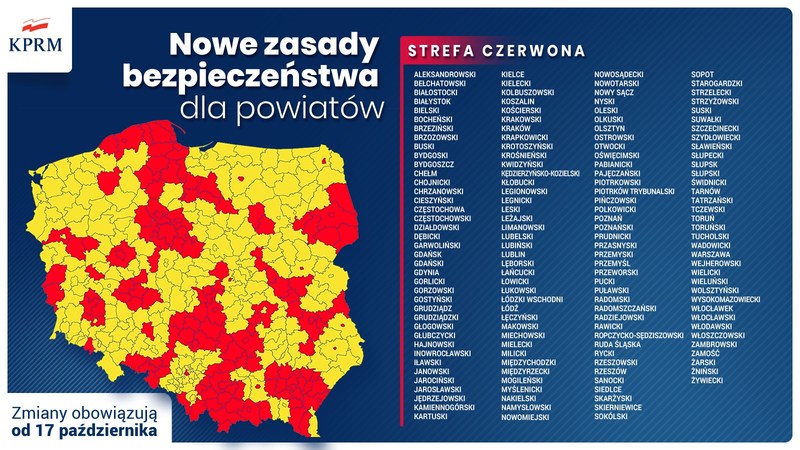 A map divides Poland into red and yellow powiats. Image: Prime Minister's Office
"Fighting the pandemic is our most important task. All our activities are subordinated to this. There is nothing more important for the government than ensuring the safety and health of Poles", Prime Minister Mateusz Morawiecki was quoted saying on the Government's website.
He also explained that government's strategy to combat the pandemic has three main goals – to support seniors, to give adequate access to treatment for patients with COVID-19 and to enact anti-pandemic measures that have the least impact on the economy and everyday life of Poles. The measures will be in place for at least several weeks and will be reassessed if the pandemic situation demands it.
UPDATE 23.10.2020: Prime Minister Mateusz Morawiecki announced that as of Saturday 24 October the entire territory of Poland will be in the red zone.
Netherlands / Amsterdam / Development / Public Spaces
It involves all the five senses, apparently
Germany / Mobility / Politics and Reforms
Germany's new approach has convinced hundreds of thousands of people to start using public transport for the first time
Bulgaria / Sofia / Mobility / Politics and Reforms
Drivers will be legally required to push their scooters manually in pedestrian areas and parks
Bulgaria / Greece / Athens / Sofia / Thessaloniki / Digital transformation / Mobility
Greece and Bulgaria are set to build one of the first 5G cross-border corridors in Europe
Finland / Digital transformation / Welfare and Health
The feline registry is expected to start operating in 2026
Luxembourg / Culture and Tourism / Innovation and Research
The team presented the final report about a year, which was supposed to put the Luxembourgish city on the cultural map of Europe
Netherlands / Amsterdam / Development / Public Spaces
It involves all the five senses, apparently
France / Lyon / Public Spaces / Social City
What you pay for having your car resting in the city will now depend on several different factors
Germany / Mobility / Politics and Reforms
Germany's new approach has convinced hundreds of thousands of people to start using public transport for the first time
France / Lyon / Public Spaces / Social City
What you pay for having your car resting in the city will now depend on several different factors
Denmark / Mobility / Social City
Fredensborg Municipality is inviting residents to take the bikes for a spin…lasting up to 3 months
Culture and Tourism / Mobility
After all, sleeping carriages are basically hotels on wheels
Estonia / Tallinn / Green City / New European Bauhaus
The practical art objects are competing for one of the 2023 New European Bauhaus Prizes
New European Bauhaus
Cast your vote before 24 May and do your part in promoting the NEB values
New European Bauhaus
The new itineraries are part of the DiscoverEU programme, which lets 18-year-olds travel by train between important European sites

Interviews / Read Twice
An interview with the president of the European Federation of Journalists

Interviews
A talk with the head of Mission Zero Academy on the benefits for municipalities if they go the zero waste way

Romania / Cluj-Napoca / Digital transformation / Interviews / Politics and Reforms
A talk with Nicolae Urs, one of the key figures behind the city's new data platforms and online services strategy