Ghent will be the European Youth Capital in 2024
19 municipalities will compete for European Youth Capital 2025
The selection features municipalities from across Europe, including the Ukrainian city of Lviv
Today, the European Youth Forum announced the 19 cities that will compete for the title of European Youth Capital 2025. The title itself is more than just a token of appreciation, as it serves as a tool to empower local authorities across the continent to give young people the space and attention they deserve.
A big list of contenders
This year 19 municipalities will compete for the title of European Youth Capital- one of the most prestigious signs of recognition for effective youth policy on the continent:
Alimos (Greece);
Antalya (Turkey);
Azuqueca de Henares (Spain);
Burgas (Bulgaria);
Chisinau (Moldova);
Dubrovnik (Croatia);
Fuenlabrada (Spain);
Gratwein-Straßengel (Austria);
Izmir (Turkey);
Komotini (Greece);
Ljubljana (Slovenia);
Lviv (Ukraine);
Madrid (Spain);
Mosjøen (Norway);
Pordenone (Italy);
Savona (Italy);
Stara Zagora (Bulgaria);
Strumica (North Macedonia);
Tromsø (Norway).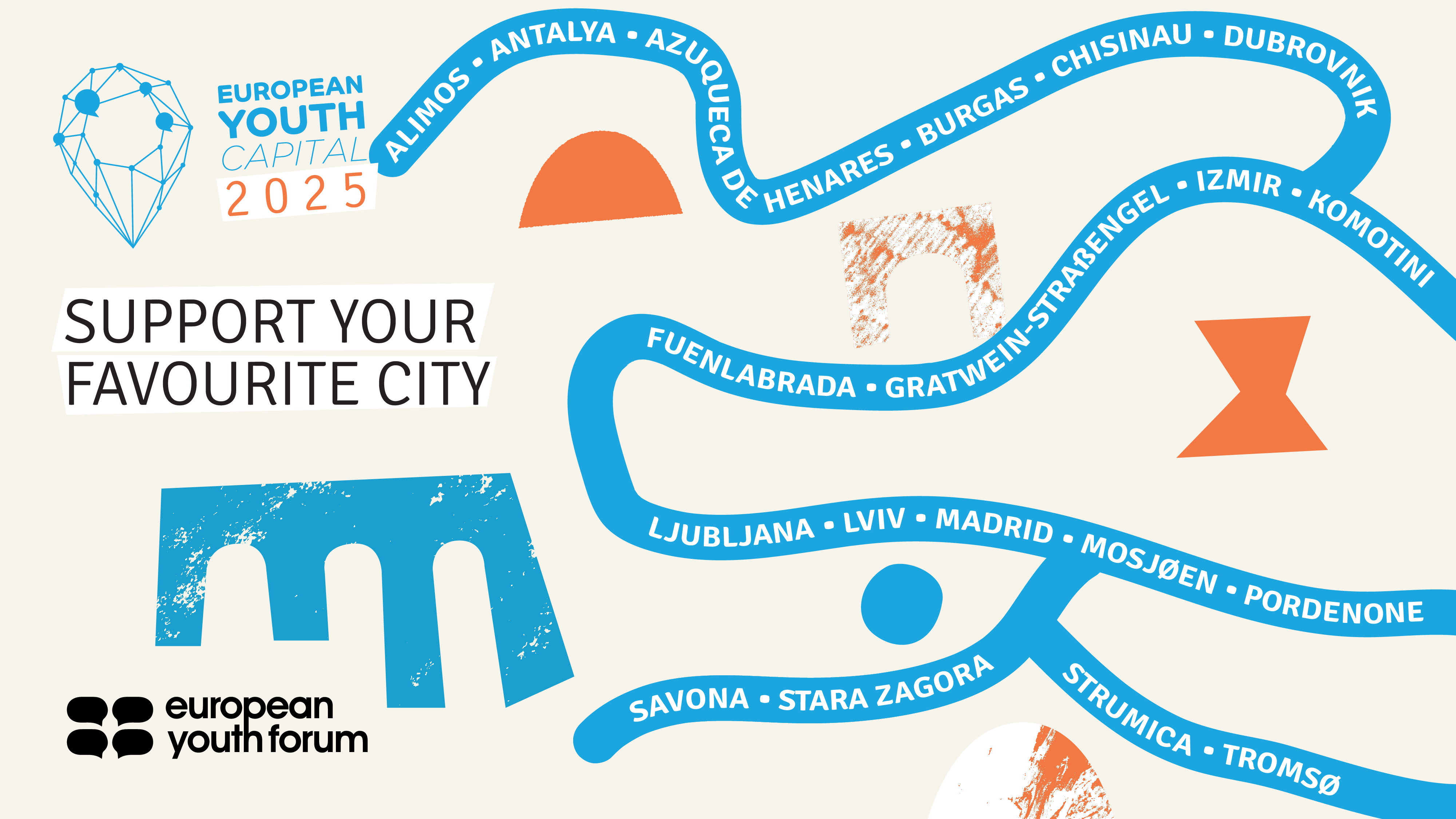 The selection process is underway, Source: European Youth Forum
The past, the present and the future
The European Youth Capital (EYC) has been around for more than ten years now, and as the title has shifted from city to city, it has left a strong impression. From 2009 in Rotterdam to 2022 in Tirana, the EYC has been a force for empowering young people to take a more active role in building a better Europe.
At the same time, according to Tirana Mayor, Erion Veliaj, this year's titleholder, young people in the Albanian capital have a chance to build on their European identity while being a part of a larger community.
According to Elke Decruynaere, Alderman for Education, Upbringing and Youth in Ghent, Belgium, the title-holder for 2024, the agenda priorities for the city, like more green space and sustainable mobility match what young people want. This creates formidable momentum for policy decisions, that can only be amplified by the title.
TheMayor.EU is a partner for European Youth Capital and you can follow us for more exciting updates on the events in the programme.
Belgium / Development
And it will also advise you on the right way to do this
Ireland / Growing City
Despite the good news, preliminary data from the national census reveals a dire shortage in the housing market that will not go away anytime soon
France / Development / Public Spaces
The innovative project received funding from the participatory budget in Lille, France
Croatia / Digital transformation
The town of Makarska has recently launched a new mobile service, aiming to cut down on paper use and stimulate citizens to go contactless
Finland / Vantaa / Green City / Innovation and Research
The invention promises to be revolutionary as it can decouple food production from agriculture and its environmental impacts
Spain / Innovation and Research / Mobility
Commercial unmanned aerial vehicles will far outnumber their crewed counterparts by the end of the decade and solutions are urgently needed
Italy / Culture and Tourism / Mobility
Trenitalia has announced that it wants to reduce the phenomenon of domestic animals being left behind alone while their owners go on holidays
Italy / Turin / Public Spaces / Social City
The property, together with others that have been confiscated, will be converted for social welfare uses
Portugal / Braga / Education and Sport / Green City
The city also led awareness-raising actions to show the impressionable youths how circularity is created first-hand
Italy / Culture and Tourism / Mobility
Trenitalia has announced that it wants to reduce the phenomenon of domestic animals being left behind alone while their owners go on holidays
Italy / Turin / Public Spaces / Social City
The property, together with others that have been confiscated, will be converted for social welfare uses
Portugal / Braga / Education and Sport / Green City
The city also led awareness-raising actions to show the impressionable youths how circularity is created first-hand
New European Bauhaus
These will be spread across 11 EU countries and will serve to support the EU Missions
New European Bauhaus
The European Commission has accepted to develop the idea
Portugal / Matosinhos / Interviews / New European Bauhaus
An interview about AYR, one of the 2021 New European Bauhaus Prize winners

Portugal / Matosinhos / Interviews
A conversation with the Mayor of Matosinhos, Portugal's first UN Resilience Hub

Interviews
An interview with Nigel Jollands and Sue Goeransson from the European Bank for Reconstruction and Development

Greece / Athens / Interviews / Welfare and Health
An interview with the President of the City of Athens Reception & Solidarity Centre