The direct line between Prague and Vienna was last available in the '90s, Source: ÖBB/Philipp Horak
Austrian Climate Minister wants to cut taxes on cross-border rail tickets
The announcement came just as authorities presented their plan for a Vienna-Prague direct train route
Yesterday, the Austrian Federal Minister for Climate Action, Leonore Gewessler, and the Governor of the state of Lower Austria, Johanna Mikl-Leitner, announced that a direct train connection from Vienna to Prague will be available as soon as this December. The move is part of the rail revival, happening across Central Europe, as more and more countries are revising their cross-border passenger rail connections.
The new route will be called 'Silva Nortica' and will take a projected five hours. This connection could become part of the Vienna-Prague-Berlin line, pledged in 2021. The 'Silva Nortica' will pass through Lower Austria, showcasing the country's vineyards and forests and cross the border at Gmünd.
According to Minister Gewessler, in shorter and mid-distance trips, passengers can take full advantage of the climate-friendly and cost-effective train and public transport services. However, cross-border train rides can be quite pricy, so to boost interest, she added that from 2023, cross-border train tickets will be exempt from a sales tax.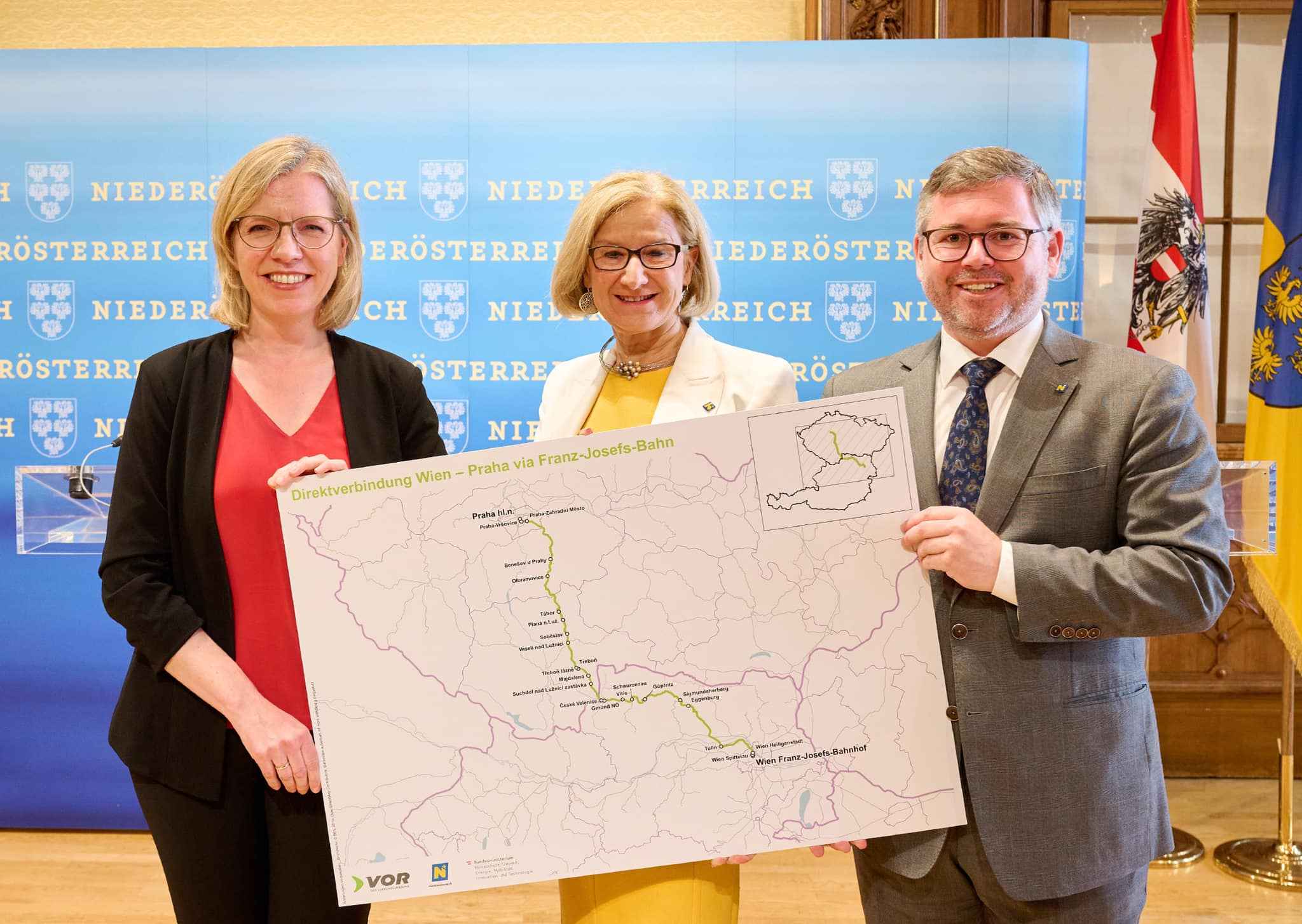 L-R: Minister for Climate Action, Leonore Gewessler,
Governor of the state of Lower Austria, Johanna Mikl-Leitner,
Source: Governor Johanna Mikl-Leitner on Facebook
Refitting the 19th century for a sustainable future
The direct train line from Vienna to Prague will start operating again for the first time in 26 years. Furthermore, it will take advantage of the Franz-Josefs-Bahn infrastructure. The Franz-Josefs-Bahn was a piece of rail infrastructure connecting Vienna with Egar, located near Karlovy Vary in the Czech Republic. The line was constructed in the mid-19th century, during the reign of Emperor Franz Joseph I of the Austro-Hungarian Empire.
Similar developments have been sprouting across the European Union, as governments are embracing trains as a way to move goods and people sustainably. This includes projects like the Vienna-Brno direct line, the Luxembourg-Brussels fast train, as well as the Berlin-Szczecin line, which is supposed to reinvigorate rural communities in Brandenburg.
To a large extent, the train revival has been spurred on by the European Year of Rail in 2021, which set the target of doubling high-speed rail traffic by 2030 and tripling it by 2050. In fact, connecting large urban centres in the EU with rail would create a quasi-public transport system, according to Minister Gewessler, that would fuel suitable mobility across the bloc.
Netherlands / Amsterdam / Development / Public Spaces
It involves all the five senses, apparently
Germany / Mobility / Politics and Reforms
Germany's new approach has convinced hundreds of thousands of people to start using public transport for the first time
Bulgaria / Sofia / Mobility / Politics and Reforms
Drivers will be legally required to push their scooters manually in pedestrian areas and parks
Bulgaria / Greece / Athens / Sofia / Thessaloniki / Digital transformation / Mobility
Greece and Bulgaria are set to build one of the first 5G cross-border corridors in Europe
Finland / Digital transformation / Welfare and Health
The feline registry is expected to start operating in 2026
Luxembourg / Culture and Tourism / Innovation and Research
The team presented the final report about a year, which was supposed to put the Luxembourgish city on the cultural map of Europe
Netherlands / Amsterdam / Development / Public Spaces
It involves all the five senses, apparently
France / Lyon / Public Spaces / Social City
What you pay for having your car resting in the city will now depend on several different factors
Germany / Mobility / Politics and Reforms
Germany's new approach has convinced hundreds of thousands of people to start using public transport for the first time
France / Lyon / Public Spaces / Social City
What you pay for having your car resting in the city will now depend on several different factors
Denmark / Mobility / Social City
Fredensborg Municipality is inviting residents to take the bikes for a spin…lasting up to 3 months
Culture and Tourism / Mobility
After all, sleeping carriages are basically hotels on wheels
Estonia / Tallinn / Green City / New European Bauhaus
The practical art objects are competing for one of the 2023 New European Bauhaus Prizes
New European Bauhaus
Cast your vote before 24 May and do your part in promoting the NEB values
New European Bauhaus
The new itineraries are part of the DiscoverEU programme, which lets 18-year-olds travel by train between important European sites

Interviews / Read Twice
An interview with the president of the European Federation of Journalists

Interviews
A talk with the head of Mission Zero Academy on the benefits for municipalities if they go the zero waste way

Romania / Cluj-Napoca / Digital transformation / Interviews / Politics and Reforms
A talk with Nicolae Urs, one of the key figures behind the city's new data platforms and online services strategy