The mayors of Warsaw, Kyiv, and Prague, Source: Rafał Trzaskowski on Facebook
European mayors express solidarity with Ukraine
They have invited Kyiv to join the Pact of Free Cities
Earlier this week, the mayors of Warsaw and Prague visited the Ukrainian capital and invited Kyiv to join the Pact of Free Cities. Founded in 2019 by the mayors of Bratislava, Budapest, Warsaw, and Prague, the pact aims to strengthen the values of freedom, dignity, democracy, and the rule of law.
As such, the invitation to join the Pact of Free Cities can be seen as a demonstration of solidarity with the citizens of Ukraine, who are currently facing war threats and pressure from Russia.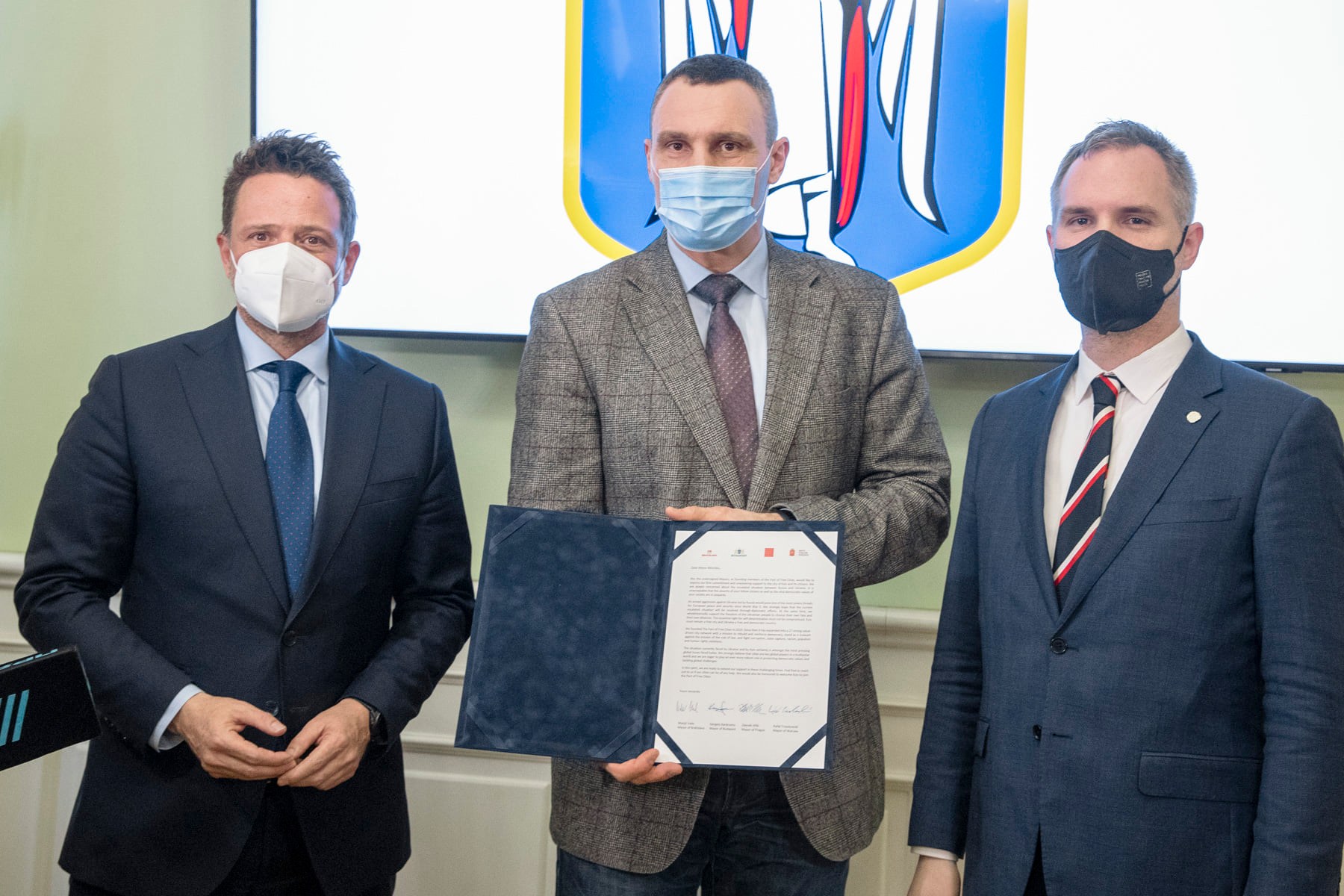 The mayors of Warsaw, Kyiv, and Prague
(Source: Rafał Trzaskowski on Facebook)
European cities ally with Kyiv
In a press release, the City of Kyiv reported that both the mayors of Warsaw and Prague offered their support, with Mayor of Warsaw Rafał Trzaskowski stating:
"We are with you, as a nation and as a city. Ukrainians are the largest foreign community in Warsaw. They help to develop our city. We appreciate it. And we are very worried about the events unfolding in Ukraine. Poland is the first country to recognise Ukraine's independence. We have always been friends and always ready to help."
Mayor Zdeněk Hřib echoed this statement on Facebook, writing that Kyiv must remain a free city. Taking this further, he revealed that the three mayors discussed and exchanged experiences in the field of security, with both Warsaw and Prague offering their assistance if necessary.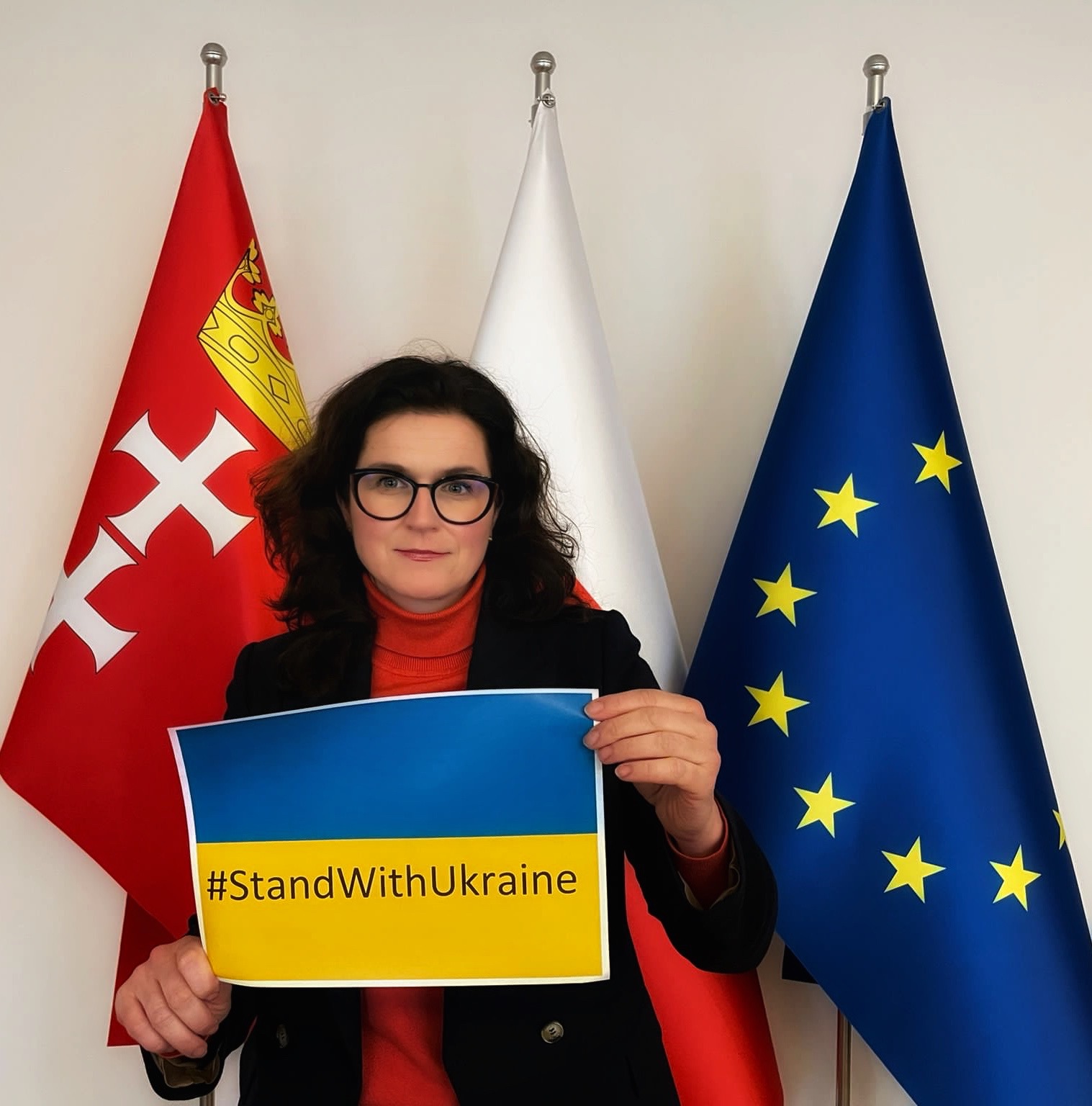 Mayor of Gdansk expresses solidarity with Ukraine
(Source: Aleksandra Dulkiewicz on Facebook)
Several other members of the Pact of Free Cities, including the mayors of Gdansk and Bratislava, also sided with Kyiv, sharing messages of support online. Commenting on the importance of such actions, the Mayor of Gdansk Aleksandra Dulkiewicz wrote:
"I am convinced that providing support from the heart of Europe will help Ukrainians survive this difficult time."
Showing solidarity makes a difference
Mayor of Kyiv Vitali Klitschko thanked the European mayors for their visit, noting that their show of solidarity can make a huge difference and potentially hinder Russia from invading Ukraine. More specifically, Mayor Klitschko commented:
"Ukraine has never faced such a threat since its independence. Threat to their statehood, territorial integrity, their citizens. We are a peaceful state and a peaceful people. And we do not threaten anyone. But we will defend our freedom and independence, our land from any aggressor.
And for us today, the support of every partner, every friend of Ukraine and Kyiv is important. And the broader and stronger such support will be, the more difficult it will be for Russia to launch a full-scale invasion of Ukraine, the probability of which is very high today."
Netherlands / Amsterdam / Development / Public Spaces
It involves all the five senses, apparently
Germany / Mobility / Politics and Reforms
Germany's new approach has convinced hundreds of thousands of people to start using public transport for the first time
Bulgaria / Sofia / Mobility / Politics and Reforms
Drivers will be legally required to push their scooters manually in pedestrian areas and parks
Bulgaria / Greece / Athens / Sofia / Thessaloniki / Digital transformation / Mobility
Greece and Bulgaria are set to build one of the first 5G cross-border corridors in Europe
Finland / Digital transformation / Welfare and Health
The feline registry is expected to start operating in 2026
Luxembourg / Culture and Tourism / Innovation and Research
The team presented the final report about a year, which was supposed to put the Luxembourgish city on the cultural map of Europe
Netherlands / Amsterdam / Development / Public Spaces
It involves all the five senses, apparently
France / Lyon / Public Spaces / Social City
What you pay for having your car resting in the city will now depend on several different factors
Germany / Mobility / Politics and Reforms
Germany's new approach has convinced hundreds of thousands of people to start using public transport for the first time
France / Lyon / Public Spaces / Social City
What you pay for having your car resting in the city will now depend on several different factors
Denmark / Mobility / Social City
Fredensborg Municipality is inviting residents to take the bikes for a spin…lasting up to 3 months
Culture and Tourism / Mobility
After all, sleeping carriages are basically hotels on wheels
Estonia / Tallinn / Green City / New European Bauhaus
The practical art objects are competing for one of the 2023 New European Bauhaus Prizes
New European Bauhaus
Cast your vote before 24 May and do your part in promoting the NEB values
New European Bauhaus
The new itineraries are part of the DiscoverEU programme, which lets 18-year-olds travel by train between important European sites

Interviews / Read Twice
An interview with the president of the European Federation of Journalists

Interviews
A talk with the head of Mission Zero Academy on the benefits for municipalities if they go the zero waste way

Romania / Cluj-Napoca / Digital transformation / Interviews / Politics and Reforms
A talk with Nicolae Urs, one of the key figures behind the city's new data platforms and online services strategy