Paris exits lockdown
France begins lifting lockdown restrictions today
At a press conference held on Thursday, the Prime Minister confirmed that the French de-escalation strategy is starting on 11 May
France is launching a new phase in its fight against coronavirus today. On 11 May starts a progressive process of the lifting of restrictions which will unfold within several weeks. This should allow the country to smoothly exit the lockdown that was first introduced on 17 March.
Red and green zones
At a press conference held on Thursday, the French Prime Minister Édouard Philippe revealed the government's strategy to alleviate the coronavirus restrictions. He underlined, however, that there are places in France which do not show significant progress in limiting the spread of Covid-19 and divided the country's territory into red and green zones. Accordingly, the de-escalation process in the former will be slower.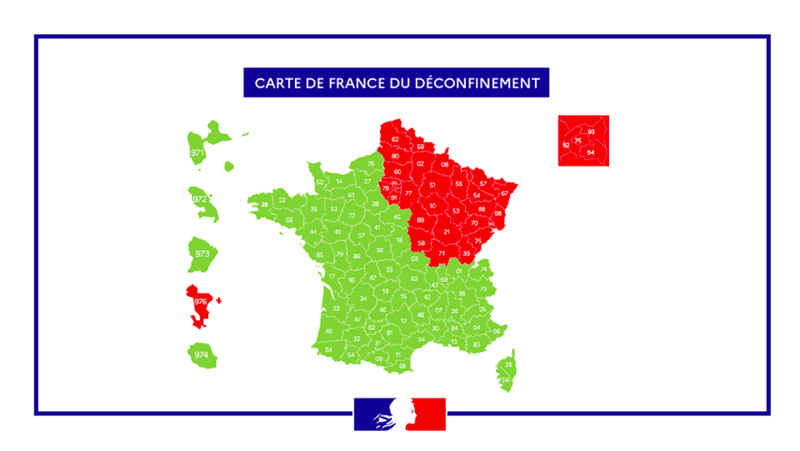 A map showing the plan to lift the lockdown in France, depending on the speed of the coronavirus spread and other factors. Image by the Government of France
Extra awareness in Paris region
Naturally, the French capital and its surroundings belong to the red zones, where the number of cases remains higher than expected and therefore need extra vigilance. The same goes for the regions around Calais, Strasbourg and Dijon. In Ile-de-France large commercial centres also won't reopen today.
In addition to the slower lockdown de-escalation, travellers on public transport of Paris in rush hours (6:30 – 9:30 and 16:00-19:00) will need a declaration signed by their employer. This should prevent crowding while giving priority to those who absolutely need to go to work via public transport.
Commercial establishments and schools reopen
As a major step of the de-escalation plan, since today 11 May, nurseries and primary schools and most businesses (including libraries, beauty salons, but not cafés, bars and restaurants) will reopen in both red and green zones. In the green zones, the reopening of secondary schools, cafés and restaurants appears possible from the beginning of June.
Starting today, the attendance of schools and nurseries will happen on a voluntary basis and with restricted groups size. The children of vital workers, such as healthcare personnel, will be given priority.
Also, from today, the elderly and the vulnerable are no longer required to stay at home but are advised to strictly observe social distancing.
For everyone above 11 years of age, face masks become mandatory on public transport, which will operate at half its capacity, informed the Ecological and Inclusive Transition Minister Elisabeth Borne.
According to estimations by Leigaro.fr, some 400,000 enterprises can reopen today. Combining this move with a return of thousands of children to their classrooms has been deemed far too risky of a move by many. Accordingly, it is yet to be seen whether the de-escalation strategy of the French government will continue as planned.
Belgium / Development
And it will also advise you on the right way to do this
Ireland / Growing City
Despite the good news, preliminary data from the national census reveals a dire shortage in the housing market that will not go away anytime soon
France / Development / Public Spaces
The innovative project received funding from the participatory budget in Lille, France
Croatia / Digital transformation
The town of Makarska has recently launched a new mobile service, aiming to cut down on paper use and stimulate citizens to go contactless
Finland / Vantaa / Green City / Innovation and Research
The invention promises to be revolutionary as it can decouple food production from agriculture and its environmental impacts
Spain / Innovation and Research / Mobility
Commercial unmanned aerial vehicles will far outnumber their crewed counterparts by the end of the decade and solutions are urgently needed
Italy / Turin / Public Spaces / Social City
The property, together with others that have been confiscated, will be converted for social welfare uses
Portugal / Braga / Education and Sport / Green City
The city also led awareness-raising actions to show the impressionable youths how circularity is created first-hand
Finland / Vantaa / Green City / Innovation and Research
The invention promises to be revolutionary as it can decouple food production from agriculture and its environmental impacts
Italy / Turin / Public Spaces / Social City
The property, together with others that have been confiscated, will be converted for social welfare uses
Portugal / Braga / Education and Sport / Green City
The city also led awareness-raising actions to show the impressionable youths how circularity is created first-hand
Spain / Barcelona / Social City
This is just one of many measures that the municipal authorities have taken to tackle this social ailment
New European Bauhaus
These will be spread across 11 EU countries and will serve to support the EU Missions
New European Bauhaus
The European Commission has accepted to develop the idea
Portugal / Matosinhos / Interviews / New European Bauhaus
An interview about AYR, one of the 2021 New European Bauhaus Prize winners

Portugal / Matosinhos / Interviews
A conversation with the Mayor of Matosinhos, Portugal's first UN Resilience Hub

Interviews
An interview with Nigel Jollands and Sue Goeransson from the European Bank for Reconstruction and Development

Greece / Athens / Interviews / Welfare and Health
An interview with the President of the City of Athens Reception & Solidarity Centre