Cannes


Mayor
David Lisnard
Biography
Brief history
By the 2nd century BC, the Ligurian Oxybii established a settlement known as Aegitna. Historians are unsure what the name means. The area was a fishing village used as a port of call between the Lerins Islands. In the 10th century the town was known as Canua. The name may derive from "canna," a reed. Around 1530, Cannes detached from the monks who had controlled the city for hundreds of years and became independent.
During the 18th century, both the Spanish and British tried to gain control of the Lérins Islands but were chased away by the French. The islands were later controlled by many, such as Jean-Honoré Alziary, and the Bishop of Frejus.
In the 20th century, new luxury hotels such as the Carlton, Majestic, Martinez and JW Marriott Cannes were built. The city was modernised with a sport centre, a post office, and schools. There were fewer British and German tourists after the First World War, but more Americans. Winter tourism gave way to summer tourism and the summer casino at the Palm Beach was constructed. The city council had the idea of starting an international film festival shortly before World War II. The first edition of the Cannes International Film Festival opened on 20 September 1946 in the Casino Municipal.
Cannes is a city located on the French Riviera. It is a commune located in the Alpes-Maritimes department. The population of the city is around 75 000 inhabitants.
City Hall

1 Place Bernard Cornut-Gentille CS 30140

CS 30140
06414 Cedex Cannes, France
The area around Cannes has developed into a high-tech cluster. The technopolis of Sophia Antipolis lies in the hills beyond Cannes. The Film Festival is a major event for the industry. There is an annual television festival in the last week in September.
The economic environment is based on tourism, business fairs, trade and aviation.
Cannes hosts the Cannes Mandelieu Space Center, headquarters of Thales Alenia Space, the first European satellite manufacturer.
TOURISM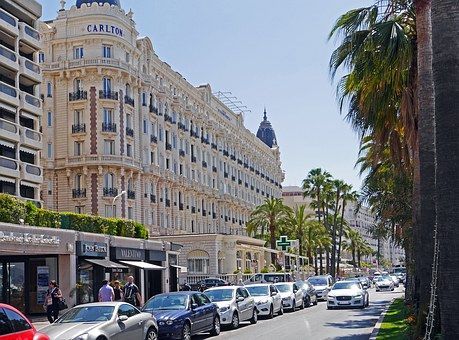 The city is host to the annual Cannes Film Festival, Midem and Cannes Lions International Festival of Creativity. The city is known for its association with the rich and famous, its luxury hotels and restaurants, and for several conferences.
The Cannes Festival, called until 2002 the International Film Festival (Festival international du film), is known in English simply as the Cannes Film Festival. It previews new films of all genres, including documentaries, from all around the world. Founded in 1946, the invitation-only festival is held annually (usually in May) at the Palais des Festivals et des Congres.