A view of the theatre and the House of Music, as well as the corner of the Museum Hofburg in the reflection
Kulturquartier: the future inner-city jewel of Innsbruck
The need for open, free public spaces was made clear by the pandemic and the city is answering accordingly
On Monday, the city of Innsbruck presented their plan for the creation of Kulturquartier – a cultural district nestled between the Landestheater and the Haus der Musik. The open space will include greenery and mixed-use streets, as well as urban furniture and a fountain.
This decision is provoked by the aftermath of the pandemic, which proved the necessity for open public spaces, especially for young people in the city. Construction is scheduled to start in spring 2022, with the redevelopment set to be completed in summer 2022.
A city needs consumption free zones
The creation of consumption free zones is a novel concept, emerging from the pandemic, with a lot of cities thinking about the creation of public spaces where you do not need to participate as a consumer. This has largely been prompted by the social distancing measures and restrictions to bars and restaurants, leading to people taking back the streets, using them as gathering spaces.
The city of Innsbruck is rather quick in the adoption of the concept, with Kulturquartier set to overtake the heart of town, around Universitätsstraße, the local theatre, the House of Music, the Folk Art Museum, the Jesuit Church and the University, becoming an inner-city jewel.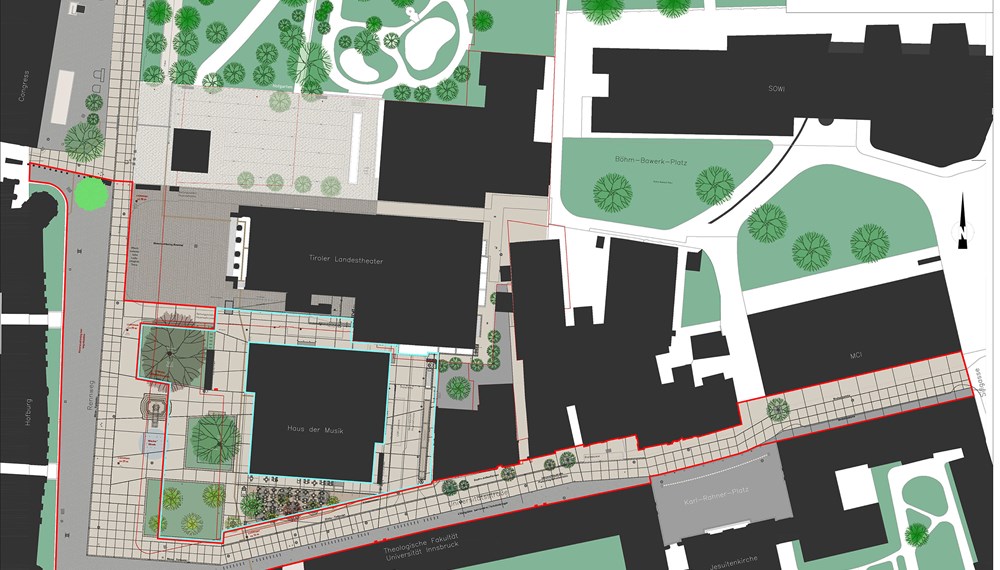 The grey areas on the old town side show the cobblestone area, while the beige
area will be paved with large concrete slabs,
Source: © Office for Civil Engineering / City of Innsbruck
The establishment of a temporary pedestrian zone will be enabled by retractable bollards, allowing the space to be used for events or families taking casual car-free walks in the afternoon as City Councillor for Economic Affairs, Christine Oppitz-Plörer stated in a press release.
The cultural quarter is said to cost 5.2 million euros, with up to 45% covered by a federal investment program. The first steps towards redevelopment will start in October, with the laying of cables and the actual work starting in spring 2022. The inauguration of the new Kulturquartier is set for next summer.
Mayor Georg Willi added: "Thanks to the favourable financial situation in the 2020 budget year and the rapid completion of the old town construction site, a time window has opened up that we are now using to bring forward this project, which is extremely important for inner-city development.
A new inner-city jewel is emerging on the border with the old town, creating attractive opportunities for a more vibrant urban life."
Belgium / Development
And it will also advise you on the right way to do this
Ireland / Growing City
Despite the good news, preliminary data from the national census reveals a dire shortage in the housing market that will not go away anytime soon
France / Development / Public Spaces
The innovative project received funding from the participatory budget in Lille, France
Croatia / Digital transformation
The town of Makarska has recently launched a new mobile service, aiming to cut down on paper use and stimulate citizens to go contactless
Finland / Vantaa / Green City / Innovation and Research
The invention promises to be revolutionary as it can decouple food production from agriculture and its environmental impacts
Spain / Innovation and Research / Mobility
Commercial unmanned aerial vehicles will far outnumber their crewed counterparts by the end of the decade and solutions are urgently needed
Italy / Turin / Public Spaces / Social City
The property, together with others that have been confiscated, will be converted for social welfare uses
Portugal / Braga / Education and Sport / Green City
The city also led awareness-raising actions to show the impressionable youths how circularity is created first-hand
Finland / Vantaa / Green City / Innovation and Research
The invention promises to be revolutionary as it can decouple food production from agriculture and its environmental impacts
Italy / Turin / Public Spaces / Social City
The property, together with others that have been confiscated, will be converted for social welfare uses
Portugal / Braga / Education and Sport / Green City
The city also led awareness-raising actions to show the impressionable youths how circularity is created first-hand
Spain / Barcelona / Social City
This is just one of many measures that the municipal authorities have taken to tackle this social ailment
New European Bauhaus
These will be spread across 11 EU countries and will serve to support the EU Missions
New European Bauhaus
The European Commission has accepted to develop the idea
Portugal / Matosinhos / Interviews / New European Bauhaus
An interview about AYR, one of the 2021 New European Bauhaus Prize winners

Portugal / Matosinhos / Interviews
A conversation with the Mayor of Matosinhos, Portugal's first UN Resilience Hub

Interviews
An interview with Nigel Jollands and Sue Goeransson from the European Bank for Reconstruction and Development

Greece / Athens / Interviews / Welfare and Health
An interview with the President of the City of Athens Reception & Solidarity Centre